As the school year wound down, it was field day at Hickman Elementary School, meaning a lot of time would be devoted to playing outside.
"The thing is, it's also a day where the students don't always make the best clothing choices," said Julie Bollinger, a counselor at Hickman.
Add the warmer weather and lots of bottled waters are needed, along with underwear and clothing for the children who have accidents.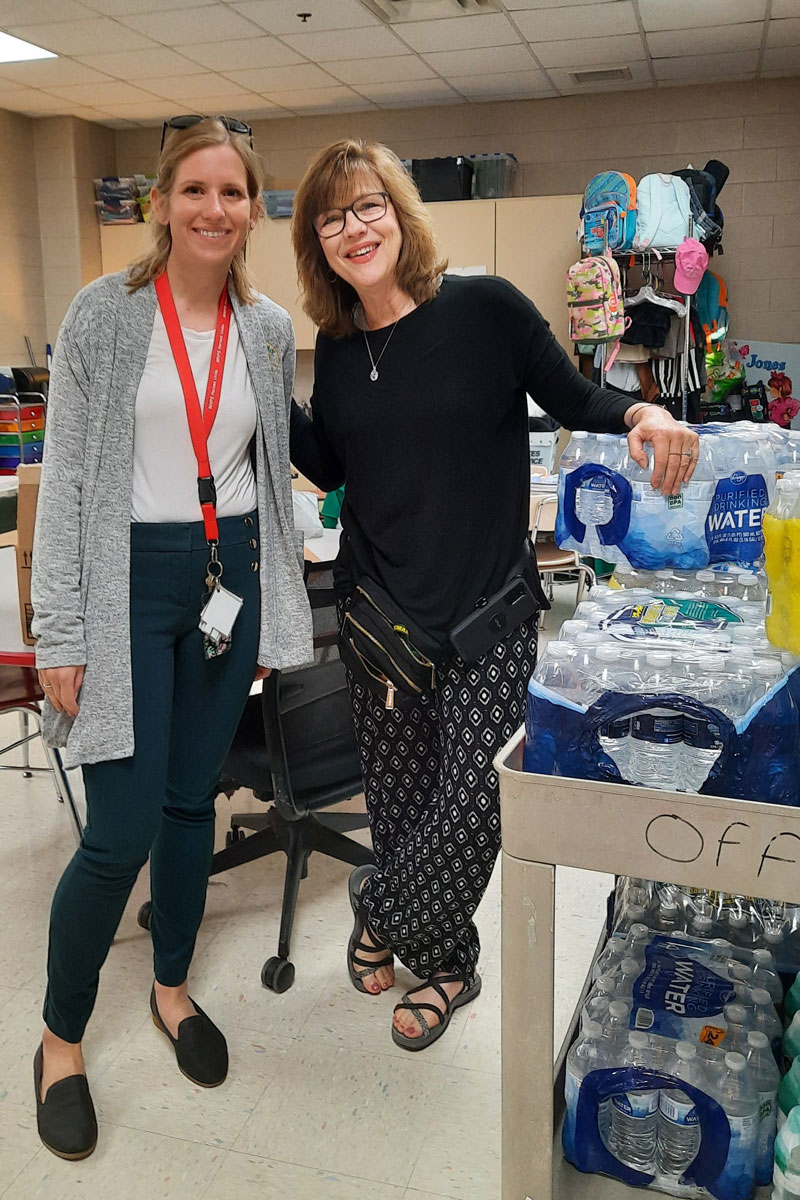 Julie Bollinger (l) and Carole Scates (r) of Hickman Elementary School, pose with some donations from Connection United Methodist Church, Nashville, Tennessee. Photo courtesy Connection UMC.
Help came from Connection United Methodist Church, located near Hickman in the Donelson neighborhood. It often does.
Intentional community connections
When you choose the word "Connection" as your church's name, you better be ready to live up to it.
The former Andrew Price Memorial United Methodist Church and Hickory Bend United Methodist Church voted to merge in December 2019. "Connection" was chosen as the name of the new entity, and the members have been expanding their reach ever since, with one major hiccup because of the coronavirus.
In addition to its ongoing partnership with Hickman Elementary, Connection:
Expanded its outreach to homeless people who live in the area;
Participates in Operation Launch Pad, which provides emergency housing, food, bus passes and other services to LGBTQ+ youth;
Is a Habitat for Humanity sponsor in its efforts to build new, quality, affordable homes;
Hosts church plant The Rising Church;
Hosts the Nashville Evangelical Ethiopian Church;
Hosts Music City Bronze, a community hand-bell ensemble;
Hosts Al-Anon meetings for family and friends of alcoholics; and
Hosts Insight Counseling Centers, which offer affordable counseling services.
Supporting mental health
The Insight Counseling Centers location in Donelson is housed at the former home of Andrew Price, and they don't pay any rent.
"They in turn, from time to time do some kind of mental health event at the church that I trust is real ministry to the folks who participate," said the Rev. Melisa Derseweh, senior pastor at Connection.
In addition, Insight works with pastors and churches to get people who can't afford it the counseling that they need.
"They do scale pricing based upon someone's income," Derseweh said. "But if I have someone who's willing to participate in counseling but is not in a position to afford it, then the church picks up the tab for them.
"Not every place would like be okay with doing it that way."
Helping schools
Connection and Hickman remain in contact about the needs of the school.
"They are right down the road from us … and they do reach out quite often or I will reach out to them," Bollinger said.
At the beginning of each school year Hickman's "counselor treasure box" needs stocking.
"It's full of small little goodies that kids can pick out when they level up in their reading scores," she said. "Them donating items for that counselor treasure box has been very helpful and motivating to kids to work on their reading and math skills."
In a nice turnabout, the school donates bread it gets from Panera for use by the church.
Meeting physical needs
"I get the Panera donations on a weekly basis, so I try to reciprocate their kindness," said Carole Scates, who does parent and community engagement for Hickman as well as teaching English as a second language.
"Because they have an outreach program to provide food for families, I take them all of the unused bread that we collect from Panera."
Former students have visited and mentioned that the church-school connection influenced them, Scates said. It dates back to before the merger.
"They saw examples of what they wanted to be when they grew up when they saw the generosity of others and people taking a direct interest in their welfare and their education," Scates said. "So they want to give back as well, because that's what they saw."
Rethinking church
When Andrew Price and Hickory Bend were considering the merger, leadership of both churches "began to think about, 'How do we Rethink Church?' to use a really good United Methodist term," Derseweh said.
Derseweh was pastor of both churches before the merger, and said the folks at Connection are still thinking about the best ways to connect and serve, including the possibility of transitioning one of the campuses as a space for affordable housing.
"We've begun thinking about doing some things a little differently with (some of our ministries)," Derseweh said, "pouring a lot of energy into figuring out what to do with one or both campuses that would be a greater help to our neighbors, long term."
Jim Patterson is a Nashville freelance writer. Contact him by email.
This content was published May 25, 2022.