As part of The United Methodist Church's Baptismal Covenant, new members promise to faithfully participate in a local congregation through their prayers, presence, gifts, service and witness. But, how can they go beyond the words they profess to actually living into these vows? In a special five-part series, we look at each aspect of this membership vow, and how United Methodists can answer the call to serve Christ through the local church.
Before their confirmation at Broadway United Methodist Church in Indianapolis, candidates receive their gifts from family, friends and clergy. But it's not presents they are accepting.
At a special meal in their honor, each young person's spiritual gifts are revealed.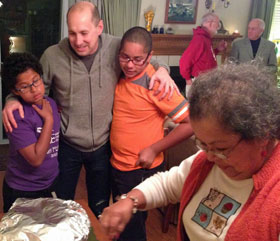 At Broadway United Methodist Church in Indianapolis, confirmation candidates are honored at special meals in which family and friends share the gifts they see in each young person. Here, Montez Martinez, right, is celebrated, alongside brother Michael, left, and family friend David Gulley. Photo courtesy the Rev. Mike Mather.
One by one, guests stand up and share the God-given gifts they see in the candidate's life. They spotlight the attributes that make that person special.
"Then, the young person is asked to say what they think the calling claim of God in their life is," said Mike Mather, Broadway's senior pastor.
The goal, he said, is to help these confirmation candidates understand how they might use God's gifts in the local church and the community for the benefit of the world.
"Once we started with everybody else telling the young person what gifts they saw in their life, then, when it came to the young person, it became much richer and more interesting."
Before a laying on of hands, Mather said, he turns back to the group and asks if anyone wants to join their own gifts to that of the young person's to build on God's blessings.
As part of the Baptismal Covenant, United Methodists vow to participate in a local congregation through their prayers, presence, gifts, service and witness. While the term "gifts" often brings to mind money, there's much more to it.
"It's not just about finances. It's about our whole lives. That includes our spiritual gifts. That includes talents we have. That includes everything that we've received from anybody. We offer all of that to God," said the Rev. Taylor Burton-Edwards, former director of worship resources for Discipleship Ministries. "How does your life become a channel of God's overflowing gifts to you and through you to the world?"
Burton-Edwards said it's important for church leaders to ask members what gifts they have to offer so that they can figure out how best to utilize their time and talents.
It's not about slotting people into particular committees that the church already has set up, he said, but rather putting church members' gifts to work in new ways.
Discover Your Spiritual Gifts
At Broadway UMC, that idea changed the church's ministries. Mather said all of the church's mission-related programming had been based on people being needy, not gifted.
"That isn't what we actually believe. That isn't what we say in our baptismal vows, so why are we treating people like that? So, we stopped asking people how poor they are, how needy they are, and started asking people how gifted they are."
Now, he said, the church doesn't "serve" people in its community, it "hangs out" with them. They share meals together and talk about their passions.
"We find out that people that we thought of as needing something were actually needed. They had something to offer. And so we not only receive those gifts but find other ways to celebrate them," Mather said.
Connecting people with shared gifts and building on those talents can begin to make a real difference in the community, he said.
Making a difference is what led Ridge Pilcher to The United Methodist Church. The 78-year-old became a United Methodist six years ago at the urging of her late husband, a longtime member. He thought she would like the new pastor at Havre de Grace United Methodist Church in Harford County, Maryland. He was right.
Pilcher also found herself drawn to John Wesley's call to social action. While she had always been involved in social justice issues, she was eager to continue that work after retiring as a nurse with HealthCare for the Homeless in Baltimore.
She considers her gift to be healing and found several ministries at Havre de Grace that called to her heart. Having two sons who battled addiction problems helped her realize the importance of providing compassion and support to those who have hit rock bottom.
"It's understanding, accepting the whole person and meeting that person where they need to be met, and loving them, and that makes all the difference. That's how healing happens. When somebody has a devastating illness or a horrible experience, they're homeless or they can't get off drugs, they need the healing love that can be offered. If you really love God, you really love people. That's how I'm living. That is the most important thing."
For those exploring what gifts they have to offer, Burton-Edwards recommends taking a spiritual gifts assessment. Discipleship Ministries offers several resources to help, including two books by the Rev. Dan R. Dick, assistant to Bishop Hee-Soo Jung of the Wisconsin Conference. "Equipped for Every Good Work: Building a Gifts-Based Church," co-written by Dick's wife, Barbara, helps people discover and develop their spiritual gifts. The sequel, "Beyond Money," looks at the things United Methodists can do beyond financial giving.
And while stewardship is about more than money, financial gifts are an important piece of the puzzle. Church leaders need to talk to members about being faithful stewards and the practice of giving. Don't assume that people don't want to hear stewardship sermons, Dick said.
"What research has shown is that two or three vocal people will say, 'We don't like hearing about money in the church.' And many pastors and preachers will assume that that opinion is representative of a larger group, when, in fact, the majority of laity are saying, 'We need to understand giving as a spiritual discipline. We need to understand giving as a way to grow in our faith.'"
Burton-Edwards said if United Methodists can look beyond "begrudgingly giving 1.8 percent of their income to the church budget every year," they can experience that spiritual growth. Their gifts — of time, money and talents — can be deployed in ways they may not have imagined.
"As Jesus said, 'Where your treasure is, there will your heart be also.' The greatest investments we make better be toward advancing the work of God's Kingdom in the world."
This feature was originally published November 9, 2017.
Julie Dwyer is a writer and editor for United Methodist Communications. Reach her at [email protected].