Hot dish is a church supper favorite with meat, vegetables and potatoes. This dish is easy and sure to feed a crowd.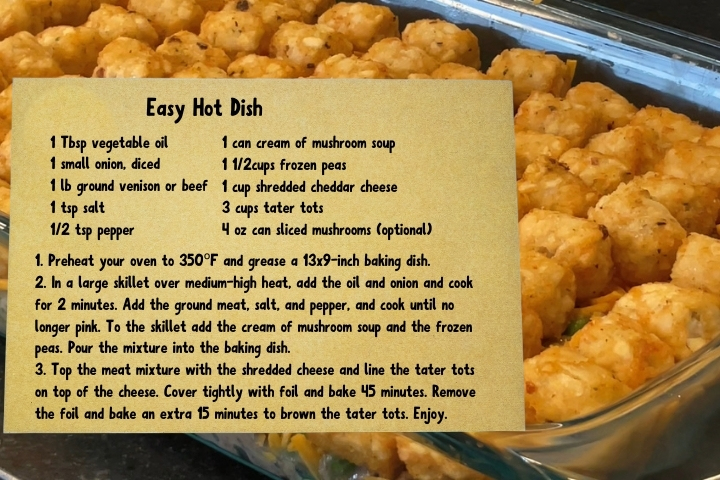 **Don't miss our video "What is Hot Dish?"**
In a previous video we talked about the Upper Midwest meat and potatoes staple called hotdish. Hotdish first appeared at potlucks and in church cookbooks in the 1930's. My favorite hotdish recipe includes a layer of tater tots or potato puffs on top. This recipe calls for ground venison which is delicious, but ground beef will work too.
Start by dicing an onion, which we're going to fry in a bit of vegetable oil. Add the ground beef or venison, pepper and salt, and cook until the pink disappears. With ground beef, you'll need to drain the fat that cooks out. That's not necessary with venison because it's so lean.
Next, add 1 can cream of mushroom soup and the frozen peas and give this a mix. Sometimes I like to add a 4oz can of sliced mushrooms.
We're going to pour this into a 13x9 inch baking dish. Sprinkle one cup shredded cheddar cheese on top. Then arrange the tater tots to cover the top.
Cover with foil and bake for 45 minutes at 350. Take it out, remove the foil and bake 15 more minutes to crisp the tots.
Hot dish is a hearty comfort food. I like to freeze the leftovers in individual portions for lunches. Enjoy!
For more favorite Methodist recipes, and food and fellowship stories, visit our webpage: UMC.org/OurUMTable or our page on Pinterest.
This video was produced by United Methodist Communications in Nashville, TN. Contact is Joe Iovino.
This video was first posted on August 28, 2023.
UMC.org is a ministry of United Methodist Communications. For more than 80 years, we have been delivering messages of hope and leading the way in communications ministry. Join us in this vital work by making a tax-deductible donation at ResourceUMC.org/GiveUMCom.