Shirley Bachelder's bucket list has ballooned into a lifetime of adventures and celebrations.
She celebrated her 95th birthday on April 3, 2016, with her Sunday school class at Christ United Methodist Church near Nashville, Tenn. At one time, billboards around the city showed Bachelder's image with a message she says God asked her to share: Love one another. The story of her billboards went viral, with the nongenarian receiving messages from around the world.
We first wrote about Bachelder in November 2014, when the 93-year-old made her way to a remote Tennessee field at 5:45 a.m. in 27-degree weather. There she swung her short legs into a wicker gondola to take a hot air balloon ride, a testament to her spunk. With a delicate silk flower garland worn atop her woolen hat, this whippersnapper checked another item off her bucket list.
"I would have gone up in that balloon even if it was below zero," she said. "All I needed was a couple pairs of gloves, my Egg McMuffin and a cup of coffee and I was ready to go."
Was the sunrise balloon flight to Leiper's Fork, Tennessee, a dream come true for the California transplant?
"God was there," she said. "I felt so close to Him and felt him saying, 'Well, what do you think Shirley?'"
When fellow Christ United Methodist Church member Allen Johnston discovered Bachelder had "hot air balloon ride" still unchecked on her bucket list, he conspired with his Sunday school class to make the aerial adventure happen. On November 3, 2014, "Miss Shirley," in the company of another 90-something church member, lifted up, up and away.
"Shirley always has a great story," Johnston said. "She's so happy in her life. She's just contagious!"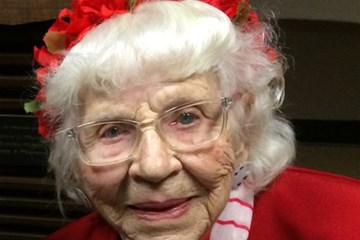 After she turned 80, Shirley Bachelder always wore a flower garland in her hair as a way to honor God.
Shirley's halo
At Bachelder's 80th birthday she looked around the purple-decked room (purple is her signature color) and counted her blessings. She wanted to find a way to honor God. Ever since she's worn a flower "gratitude garland" in her hair—even on her hot air balloon ride! Some people call it her "halo."
"I told God, 'I will celebrate every day with you and thank you each day for everything," she exclaimed.
Christ UMC friends will continue helping their beloved member fulfill her bucket of wishes: taking a trip to Ireland, becoming a contestant on "Wheel of Fortune"(she's hoping to audition for a second time), visiting a butterfly house, and even sighting a bluebird in Tennessee.
"If you have a bucket list, it proves you're still alive," Bachelder explains. "People who have stopped looking forward to creative things have made up their minds to die. We all need some crazy scheme in mind to keep us excited, so we can face life with a lot of fun and love."
Bachelder started on her bucket list when she was just 9 years old, fascinated by stories her teachers told of faraway places and out-of-the-bucket ideas. Her bucket list has led her to do everything from going back to college at age 50 (graduating with honors at 60), publishing stories in Reader's Digest, and sampling all kinds of foods. Ostrich…yummy. Buffalo…tasty. Whale…no thank you!
A few years ago, an acquaintance suggested she see a geriatric doctor who would likely tell her to slow down. But being put out to pasture is not on Bachelder's bucket list.
"I've been to several geriatric doctors and none of them have ever told me to slow down," she says emphatically. "Life is for the living and I won't coast to the finish line!"
This story was published in its original form in 2016.
Editor's note: Shirley Bachelder passed away on November 30, 2020, at the age of 99.