The first idea for a mural at Dallas Indian United Methodist Church in Texas was to portray Jesus with Native American skin tone. It made sense, given the congregation is 94 percent Native American.
It didn't turn out that way.
Something — artist Damon Neal and church pastor the Rev. JB Jackson say it's the Holy Spirit — caused Neal to transform the mural into "A Window to Heaven," replete with many of God's creations integrated into the clouds.
Inspired by the Holy Spirit
"I believe every stroke has been inspired by the Holy Spirit," Jackson said. "Damon's very highly spiritually sensitive to the leading and guiding of the Spirit."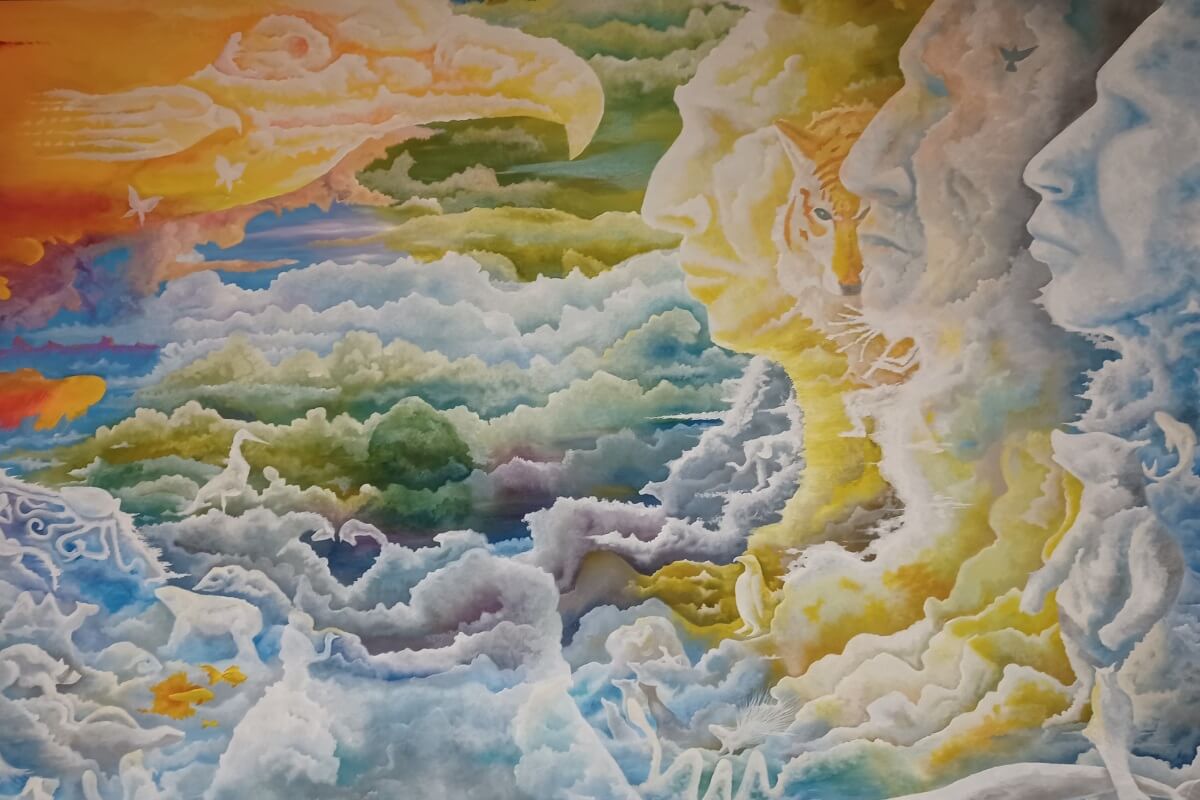 Artist Damon Neal's mural, titled, "A Window to Heaven," located at Dallas Indian United Methodist Church, is a part of God's plan of healing for the artist, he says. Photo courtesy of Dallas Indian UMC.
Neal decided on a background of clouds for the Native American Jesus mural, and got to work. But, possibly inspired by the late Native American artist Enoch K. Haney, he started subconsciously incorporating animals and other images in the clouds.
"This one particular cloud started looking like a fish," Neal said. "Hmm, that's not right. Let me go on this other side of the wall, and we'll do some more clouds."
Animals started showing up
When he did that, shapes of other animals started showing up.
"I was just amazed at how they were just slowly popping up, just strategically being placed," he said. "Not just random animals. They're strategically being placed."
"A Window to Heaven," as the painting is now called, includes birds, a bear, an octopus, Native Americans and even a Brussel sprout.
"I hate Brussel sprouts," Jackson said. "But I had a sermon and I said things that you hate, God knows that we need it. And it's up there."
Comfort in grief
"A Window to Heaven" is the first major project Neal has attempted since the deaths of his brother and father.
"Back in July 2020, I lost my brother to COVID," he said. "And then last year, January 11, I lost my father to a heart attack."
Neal, who regularly won art competitions in high school, opted to quit studying art in college when his parents needed his help. He still plays that caregiver role for his mother, who is a cancer survivor. He doesn't regret quitting school, believing that God had a different path in mind.
"I can always come back next year, right?" Neal said. "Well, a year turned into two years, three years, and 22 years later I'm still here taking care of my mother."
His faith has sustained him as the years went by, even when he lost his father and brother, he said. His grandmother and grandfather were instrumental in the growth of Methodism among Native Americans.
"My grandmother, her name is Dr. Rev. Lois Neal. She was married to my grandfather, the Rev. Oliver Neal," Damon Neal said.
"My grandfather established a lot of Native American Methodist churches in Oklahoma and California," he added.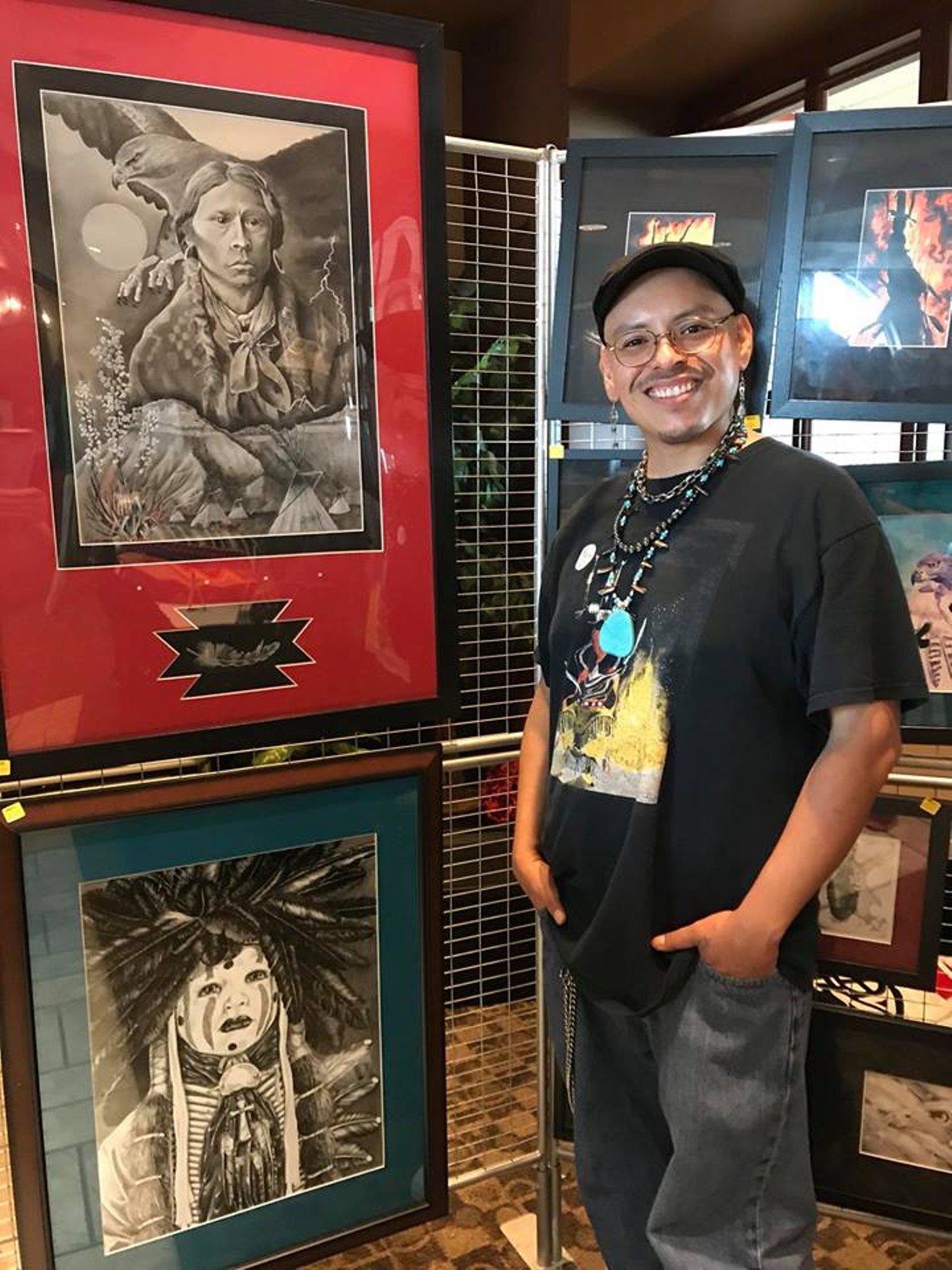 Artist Damon Neal, member at Dallas Indian United Methodist Church. Photo courtesy of Dallas Indian UMC.
The mural is a big part of God's plan for him, Neal believes.
"It was like the Lord was taking … every negative thought I had," Neal said. "He'll take that and he will literally mold it into something else (and) put it on the (mural). So that's a physical transformation of taking a negative and putting it into a positive."
Artistic instincts lead the way
Neal's interest in art began as a child when he tried to emulate the doodles of his mother. At first, he mostly drew martial arts film star Bruce Lee and ninjas.
In kindergarten, he drew blue pumpkins instead of orange for a Halloween project.
"I just kind of follow my instincts, just go with my gut feeling," he said. "That separated me from everybody. It's just been that way my whole life and I've kind of become accustomed to that."
Neal's mother suggested he take up Native American themes when he was in seventh grade.
"I started doing more research into my family heritage and other Native cultures around us," said Neal, who has Apache, Cherokee and other tribes as forebears. "It really opened up my eyes to my own culture."
Present in the process
"The Window to Heaven" is 95 percent finished, Jackson, the church pastor, believes.
"It has been for Damon and his family about healing," Jackson said.
"I can see him just holding on to that (mural), right?" he said. "Making it last as long as he can until he gets to a place where he can let it go. That's what I believe that he's going through now."
Neal admits he's in no hurry.
"It's a wall of inclusion," he said. "Everyone is accepted; every faith is accepted. … Even now, I'm still learning," he said. "As I'm creating it, I'm still learning from the mural."
Jim Patterson is a Nashville freelance writer. Contact him by email.
This story was published June, 23, 2022.