In these casual, one-on-one conversations with our United Methodist bishops. we get behind their bios to chat about their early lives and influences, their calls to ministry, and what they do when they have time to relax. Each bishop also recommends a practice they use to help keep them close to God each day. These audio recordings offer a great way to get to know the bishops of The United Methodist Church. Explore similar conversations with other United Methodist leaders at Get Your Spirit in Shape.
Meet the influential bishop who was the first Hispanic woman elected bishop, and serves as a leader in social justice ministries.
Meet the bishop of the Central and Southern Europe Episcopal Area that serves 14 countries on two continents.
The North Alabama Conference Bishop talks about how her athletic background continues to inform her spiritual life today.
The New York area bishop shares about his interest in every person's story, his knowledge of glass and his love of his work.
The former president of the Council of Bishops talks about his call to ministry, his faith journey and more.
In this "Meet a Bishop" episode, the Boston Area bishop talks about growing up in India, pastoral visits to coffee estates, and pilgrimages to Taizé.
United Methodist bishop is a trained pastoral counselor, a chess player, an avid reader, and secret musician ... but he told us what he plays!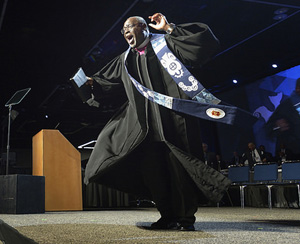 Bishop James Swanson is a powerful preacher. Photo by Paul Jeffrey, United Methodist News Service.
The bishop shares how his home church shaped him, the importance of "glory sightings" and the spiritual reason he carries a rock in his toiletry bag.
South Georgia bishop discusses early life in church, the question that called him from science to ministry, and keeping his spirit in shape today.
Clips from our 'Meet a Bishop' chats teach how God shapes us as disciples of Jesus, even when things don't happen the way we planned.
Growing up in Korea, his conversion to Christianity at 16 started him on a lifelong pursuit of building bridges between the gospel, culture and faith groups.
The United Methodist Council of Bishops president and Florida's bishop, shares his faith journey, enjoying baseball, and intentionally taking Sabbath.
Growing up in the Soviet Union, he was skeptical of the Christian faith. When friends invited him to church events, he found joy and purpose in Jesus.
Growing up in poverty, life was not easy. In church, this future bishop found there was "always enough," "always room," and he was "always welcome."
A pastor's kid and former school psychologist, this United Methodist bishop encourages us to see beyond barriers and embrace possibilities
United Methodist bishop, musician, author, and endurance athlete shares about her life, call to ministry, and how she keeps her spirit in shape.
At 11 years old, he was asked to acolyte in his United Methodist church, "Lighting the candles. Firing up the church. I think that's been my mantra ever since."
A United Methodist bishop shares about her roots in the church, her call from medicine to ministry, a love of shoes, and her rich prayer life.
Raised in a church his grandparents founded, the Philippines United Methodist bishop is passionate about serving the poor, caring for the planet, and sharing the gospel with others.
The Great Plains bishop shares his call to ordained ministry from a career as a high school teacher, football coach, and business owner.
Bishop Sue tells us about her early career in law, her call to ministry, her love of books and Broadway, and her daily practice of silence.
In this conversation, we learn that the bishop of the Germany Central Conference once studied food technology, plays the sax, and speaks four languages.