Arroz Caldo is a thick soup made with chicken and rice that is a favorite in the Philippines. This porridge is inexpensive and quick to make and the rich flavors of garlic, ginger and Filipino fish sauce are rich and satisfying. Arroz caldo can be customized to taste by topping with chopped boiled eggs and fried garlic. Some people prefer a thinner soup with more broth. This recipe I share in the video is the one I grew up eating. It is very simple, with few ingredients and embellishments. One change I do make is to use a rich chicken broth in place of the water. You can also substitute cut-up chicken for easier serving, but bone-in chicken adds extra flavor.
Many Filipino families have traditions to usher in the New Year including eating arroz caldo. Each tradition has a special significance. Here are a few:
Arroz Caldo - The sticky rice is said to make good fortune stick to you, and the rice expands in the soup like your blessings in the New Year.
Jumping at Midnight – Some believe jumping as high as you can at midnight will make you taller. I remember doing this as a kid. Sorry, it doesn't work!
Making Loud Noises – Some may blow horns, play loud music, or set off fireworks. The loud noise are intended to drive evil spirits away.
Serving 12 Different Round Fruits – The round shape symbolizes money, and you need twelve to represent each month of the coming year.
Opening Windows and Doors – This New Year's tradition is said to welcome good luck and prosperity into your home.
---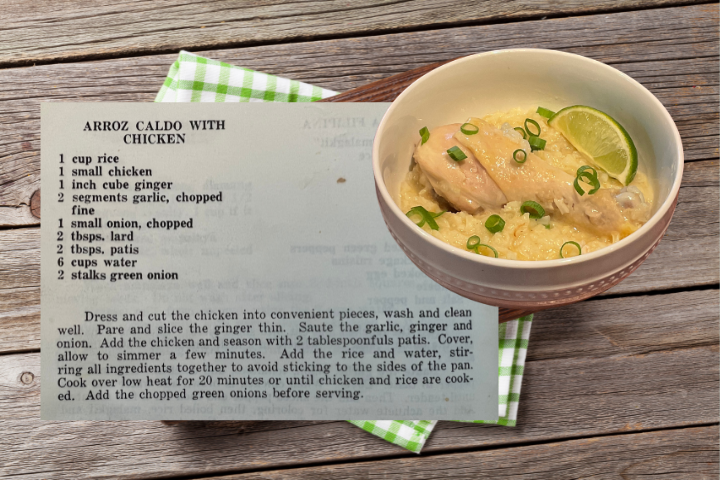 For more favorite Methodist recipes, visit our webpage: UMC.org/OurUMTable or our page on Pinterest.
This video was produced by United Methodist Communications in Nashville, TN. Contact is Joe Iovino.
This video was first posted on December 13, 2022.
UMC.org is a ministry of United Methodist Communications. For more than 80 years, we have been delivering messages of hope and leading the way in communications ministry. Join us in this vital work by making a tax-deductible donation at ResourceUMC.org/GiveUMCom.