A spiritual movement started when, "Four young students … agreed to spend their evenings together" on their college campus (John Wesley's "Thoughts upon Methodism"), and spread across their nation. Nearly 300 years later, United Methodists are still on the move.
Roots of a movement
The group of Oxford students, including John Wesley and his brother Charles, sought to grow as disciples of Jesus Christ. Together they attended church, studied the Bible, visited prisons, tutored children, and served the poor. This "Holy Club" grew through the years. As the students graduated, many of them, including the Wesleys, became priests in the Church of England.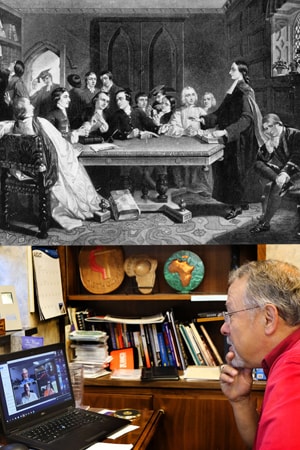 The small groups that started the Methodist movement are still an important part of United Methodism today! Top image used with permission from the Methodist Collection of Drew University. Lower photo by Kathleen Barry, United Methodist Communications.
Called to invite others to follow Jesus, especially those who might feel out of place at church, they started giving sermons in parks, town squares, and wherever people gathered. They called it "field preaching." It was an unusual practice for its time.
John Wesley wrote, "I should have thought the saving of souls almost a sin if it had not been done in a church" (Journal of John Wesley, March 31, 1739).
Preaching outside was a radical move, but Wesley was always practical — hence the name, Methodist.
Remembering how helpful the Oxford small group was for his spiritual journey, Wesley gathered the people who responded to the field preaching into societies, classes and bands. Like his Oxford Holy Club, the faithful studied, served and watched over one another in love.
These practices caught on and soon spread throughout England, keeping Wesley on the move. He rode an estimated 250,000 miles on horseback throughout his life to preach, spend time with small groups, visit the poor, and encourage Methodists all over England.
Across continents
When some adventurous Methodists moved to America, they took their faith practices with them. John and Charles spent several months in the colonies early in their ministries, and later sent Methodist preachers to help spread the Gospel in the new land.
During the American Revolutionary War, Church of England clergy returned to the motherland, which created a shortage of ordained clergy in the new nation at the end of the war.
When his church refused to send those clergy back and denied his request to have several Methodist lay preachers ordained to take their place, Wesley took matters into his own hands. He ordained a couple of preachers to serve in the United States and authorized Thomas Coke to ordain Francis Asbury and supplied them with what they needed to form and lead a new church in the new nation. Asbury and Coke served as bishops of the Methodist Episcopal Church, the very first Methodist church. A church that was on the move.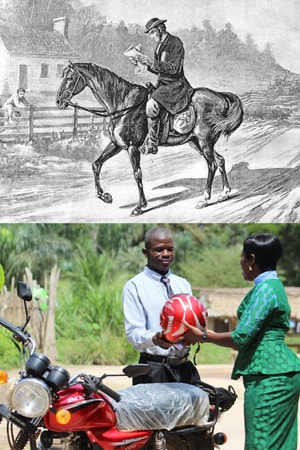 The first circuit riders traveled on horseback. United Methodist pastors today sometimes ride motorcycles. Top image courtesy of the United Methoidst General Commission on Archives and History. Lower photo by E Julu Swen, United Methodist Communications.
On the road
Thirteen years earlier, Wesley sent Asbury to America to serve as a lay preacher. He would never leave.
In his nearly 45 years in North America, Asbury never owned a home. He spent his entire life on the road, traveling more than 300,000 miles in his lifetime. At night, he stayed with hospitable preachers and members who opened their homes to him.
At about the same time, a similar movement was happening among some German Reformed and Mennonite leaders in America. Philip Otterbein, a pastor born in Germany, accepted a call to come to America. He participated in Asbury's ordination service.
Martin Boehm, a Mennonite preacher, also led a movement within his tradition. When he and Otterbein met, the two recognized their kinship in the faith. They would later form the Church of the United Brethren.
Boehm, Otterbein and Asbury worked together regularly, encouraging people of faith to grow in their discipleship. It would take until 1968, however, for the churches that grew from their ministries to join together as The United Methodist Church.
In the early days, Methodist preachers were called circuit riders because they, like Asbury, were always on the move. Traveling predominately on horseback, these men and women rode among the churches in their assigned region to preach, organize the congregations, and administer the sacraments.
Around the world
While Asbury, Otterbein, Boehm, and the circuit riders were traveling dusty roads, Coke took to the sea. He made nine round-trips between England and America, and led early Methodist mission work in the West Indies. In route to the East Indies to begin mission work there, Coke unfortunately died and was buried at sea.
The Church of the United Brethren and the Methodist Episcopal Church continued Coke's work. Members like Susan Angeline Collins served as missionaries to Africa, the Philippines and Europe.
Today, The United Methodist Church has members on four continents and continues in mission around the world and around the corner. More than 300 United Methodist missionaries in over 60 countries serve as pastors, evangelists, teachers, doctors, nurses, and more.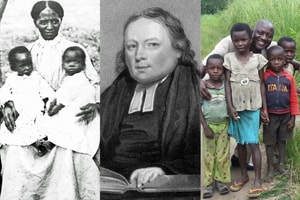 Missions in the Methodist Episcopal Church were started by Thomas Coke (c) and passed on through missionaries such as Susan Angeline Collins (l) and Alfred Zigbuo (r). Photo illustration by Vicki Brown, United Methodist Communications.
We build churches, clinics and schools. We provide medical training and communication tools. We bring assistance in disaster and work for justice. We reach out to serve the spiritual and physical needs of people wherever they are.
The movement continues
Four young people started a movement. They were following Jesus and inviting others to join them. We continue that ministry today.
At worship and school board meetings, in coffee shops and faraway lands, during quiet moments alone and boisterous times of advocacy, as individuals and as a global church, we go where Jesus calls.
We praise, connect, share, build, heal, worship, serve, study, grow, speak up, and move. In many ways and in many places, we seek to follow God's call of making disciples of Jesus Christ for the transformation of the world—yesterday, today, and forever.
We are the people of The United Methodist Church.
Joe Iovino works for UMC.org at United Methodist Communications. Contact him by email.
This story was published October 12, 2018.