A plan to put the different geographic regions of The United Methodist Church on equal footing has received two key endorsements that it is heading in the right direction.
The Connectional Table meeting and the Standing Committee on Central Conference Matters meetings online in July each unanimously affirmed the work so far on a regionalization proposal for the global denomination.
The Connectional Table coordinates denomination-wide mission, resources and ministries. The standing committee is a permanent committee of General Conference, the denomination's top lawmaking assembly, and deals with matters in central conferences — seven church regions in Africa, Europe and the Philippines. The standing committee is the most internationally representative body in the denomination outside of General Conference.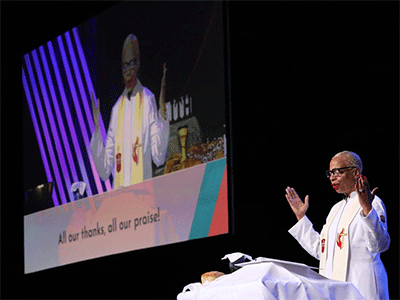 Bishop Tracy S. Malone blesses the communion elements during a service at the East Ohio Annual Conference on June 8. Malone is the convener of the joint task force that brought together members of the Standing Committee on Central Conference Matters, the Connectional Table and developers of the Christmas Covenant to refine proposed legislation that would put the different geographical regions of the global church on more even footing. File photo courtesy of East Ohio Conference Communications.
Your support of The General Administration Fund apportionment implements trustworthy administrative oversight like the General Conference sessions.
Together, the two United Methodist leadership bodies in February agreed to form a joint task force to combine two regionalization proposals that aim to provide parity between the U.S. and the central conferences. The successive July meetings gave both bodies a chance to review the task force's work.
"It was our objective to determine which path will lead us to a regional plan that could be supported by the General Conference to allow us to move into a new future," East Ohio Conference Bishop Tracy S. Malone, the convener of the task force, told the standing committee. Malone also is president-designate of the denomination's Council of Bishops.
The task force worked to integrate the Connectional Table's proposal to create a U.S. Regional Conference and the Christmas Covenant, a plan that central conference leaders introduced shortly before Christmas in 2019. The Christmas Covenant incorporates the U.S. regional conference and goes further to transform the existing central conferences into regional conferences with equal authority.
In combining the plans, Malone said, the task force's work also included some revision.
excerpt from a story by Heather Hahn, assistant news editor, UM News
One of seven apportioned giving opportunities of The United Methodist Church, the General Administration Fund implements trustworthy administrative oversight, supports the legislative processes of the church and curates The United Methodist Church's rich history. Please encourage your leaders and congregations to support the General Administration Fund apportionment at 100 percent.