In response to recent tornadoes in central Alabama and central Georgia and flooding in California, the United Methodist Committee on Relief (UMCOR) approved early relief grants to meet immediate needs in three annual conferences.
Your gifts on UMCOR Sunday helps support the foundation for the United Methodist Committee on Relief (UMCOR) to share God's love with communities everywhere.
On Jan. 12, multiple tornadoes slammed the southeastern United States, killing at least seven and destroying numerous communities.
Assessing needs in hard-hit Selma, Alabama, a leadership team from the Alabama-West Florida Conference noted that approximately 600 households were affected by more than a dozen tornadoes. "It would not surprise me," said the Rev. Chris Ackerman, conference disaster response coordinator, "if the total number of houses affected is over 1,000."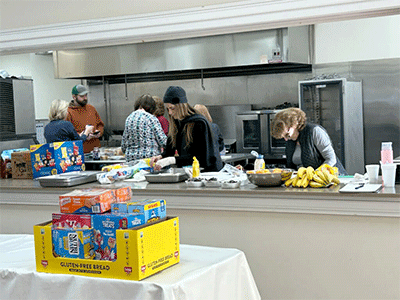 Church Street UMC served 500 meals to residents affected by tornadoes in Selma, Alabama, the day of and the day after the storms struck. Photo Courtesy of AWF Conference.
"From the moment the warning was activated in Dallas County," recalled the Rev. Diane Everette, Church Street United Methodist Church, Selma, "our UMC connection stayed in touch with me to ensure that I was personally safe as well as our church members. While Thursday was, perhaps, one of the most terrifying days of my life, I was never alone, thanks to my brothers and sisters in Christ in this conference. It will be a long road ahead for Selma, but our conference disaster response team will walk with us every step of the way."
In the North Georgia Conference, 200 homes were destroyed by winds and hail in a multicounty area, according to the Rev. Scott Parrish, conference disaster response coordinator.
Griffin, Georgia, was among the communities impacted by a confirmed tornado. Griffin First United Methodist Church opened as a Red Cross shelter, and their trained Early Response Team (ERT) deployed Jan. 13. By the weekend, ERTs from Alpharetta First UMC, Northside UMC, Canton First UMC and St. James UMC, Atlanta, had joined the effort.
Steven Redmond, the disaster response warehouse manager for the North Georgia Conference, delivered UMCOR cleaning buckets and hygiene kits assembled by North Georgia UMC congregations to Meriwether County. In addition, the South Georgia Conference sent a shower trailer to a newly established Red Cross shelter in Locust Grove, also in Meriwether County.
Urging volunteer response through established channels, Parrish said, "Our coordinated response upon invitation is a hallmark for our United Methodist connection and one reason we are a trusted partner of GEMA (Georgia Emergency Management), VOAD (Voluntary Organizations Active in Disaster) and others."
In the West, recent rainstorms produced significant flooding in a number of communities, including Half Moon Bay, California. The Pilarcitos Creek flooded about 20 homes in an affordable housing community for low-income and agricultural workers.
Steve Elliott, disaster response and missions coordinator for the California-Nevada Conference, expressed appreciation for UMCOR's immediate response. "We will be providing further assistance to this flooding recovery and others as needed," he said. He requested additional cleaning buckets, as well as donations to the disaster-response ministry
Prayer and generous gifts, either to individual conferences or to UMCOR, are encouraged. Gifts to UMCOR U.S. Disaster Response and Recovery greatly increase UMCOR's ability to support conference disaster response ministries across the U.S.
story by Barbara Dunlap-Berg, freelance writer and editor in Carbondale, Illinois. Communicators from Alabama-West Florida, California-Nevada and North Georgia annual conferences contributed to this story.
One of six churchwide Special Sundays with offerings of The United Methodist Church, UMCOR Sunday calls United Methodists to share the goodness of life with those who hurt. Your gifts to UMCOR Sunday lay the foundation for the United Methodist Committee on Relief (UMCOR) to share God's love with communities everywhere. The special offering underwrites UMCOR's "costs of doing business." This helps UMCOR to keep the promise that 100 percent of any gift to a specific UMCOR project will go toward that project, not administrative costs.
When you give generously on UMCOR Sunday, you make a difference in the lives of people who hurt. Give now.