When Gene Mason was young, he remembers a cousin by the name of Bobby. Bobby had intellectual disabilities. He recalls a group picking people for a football game, and Bobby did not get picked. Someone said, "I am not choosing the stupid retard."
"That is when I realized that Bobby was different. He ended up in a facility where I saw him strapped to his bed."
Gene Mason is a leader for Circle of Friends Ministry and a member of Open Heart United Methodist Church in Rapid City, South Dakota. "Bobby motivated me then, and I am still passionate about it today. The big thing is to get people to interact, build relationships and make people feel included."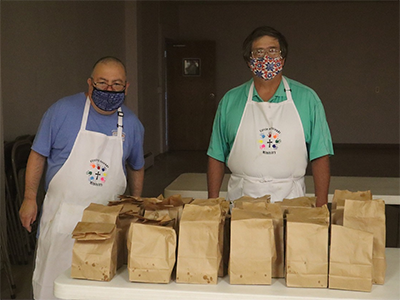 Circle of Friends Ministry gathers to bake muffins each Monday at Open Heart UMC. Photos courtesy of Circle of Friends Facebook Page.
Open Heart United Methodist Church is a part of the Dakotas Annual Conference.
Circle of Friends is a group of people with intellectual disabilities who are growing in their faith and inviting others to spread the love of God. Gene Mason, a member of Open Heart, coordinates the ministry. Mason worked for Black Hills Works for 15 years and said he wanted to connect the people he was serving with a faith community.
Greg Salono, a resident that Gene Mason worked with at Black Hills Works, would get up every Sunday morning and turn on different church programs and worship services on TV.
"That was a sign that maybe he wanted to go to church," says Gene. "After I observed Greg's desire, I was driving down Highway 79, and I read a billboard that said, 'Are you running on empty?' The billboard was an invitation to join the Spring Creek United Methodist Church. I took Greg to Spring Creek UMC. Greg is a person that collects autographs. The Sunday at Spring Creek, Pastor Joel Higgins had everybody sign t-shirts to get to know one another. So that was a true sign that this was the church for Greg."
Circle of Friends ministry started that day. Other people at Black Hills Works joined Greg at worship. Mason began activities like attending Sunday morning worship, a praise band, promoting Circle of Friends camp.
Circle of Friends shifted to Canyon Lake United Methodist Church and Open Heart United Methodist Church.
When COVID-19 hit, everyone at residential facilities for people with disabilities became isolated. Attending worship services or a ministry event at a church was not possible. So Mason, with the help of Circle of Friends, started Muffin Mondays.
Each Monday, Circle of Friends bakes and delivers more than 400 muffins to Rapid City's residential homes. The muffins are prepared at Open Heart United Methodist Church. Volunteers at Open Heart drive persons from Circle of Friends around to deliver the muffins.
Open Heart UMC is a logical home for Circle of Friends Ministry. The Indiana Home, one of the residential facilities of Black Hills Works, is located right next door to the church. There are also six other residential homes within three miles of the church, home to 180 individuals. One of the residents at the Indiana home is Al Weber.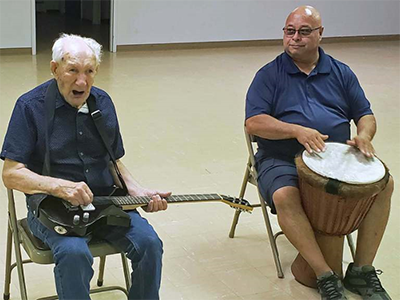 Al Weber plays the guitar. Courtesy photo.
Al likes to sing. So Open Heart created Mr. Al's Rattle Band. Weber strums the guitar and sings his favorite songs, "You Are My Sunshine" and "Jesus Loves Me."
Open Heart invited Al and members of his band to sing in front of the congregation, "You Are My Sunshine," says Gene. "Music is a way for individuals who are not verbal to express themselves. Open Heart is open."
Mason credits a team of volunteers from Open Heart United Methodist Church and Canyon Lake United Methodist Church for providing support and fuel for Circle of Friends Ministry. These essential volunteers all have a passion for supporting individuals with a disability.
excerpt from a story by Doreen Gosmire, director of communication, Dakotas UMC
This story represents how United Methodist local churches through their Annual Conferences are living as Vital Congregations. A vital congregation is the body of Christ making and engaging disciples for the transformation of the world. Vital congregations are shaped by and witnessed through four focus areas: calling and shaping principled Christian leaders; creating and sustaining new places for new people; ministries with poor people and communities; and abundant health for all.