Building trust was the first order of business when the University of Houston College of Nursing Health Clinic opened at St. Paul's UMC, Houston in the fall of 2021. The clinic offers free basic medical care to the city's homeless and working poor. Staffing is provided by the college's nursing students and their professors.
St. Paul's United Methodist Church is a part of the Texas Annual Conference.
"At first, it was just a waiting game to see if anyone would come," Rev. Andrew Wolfe, chair of the clinic's advisory board, said.
He explained that the new healthcare facility needed to gain the confidence of the individuals it aimed to serve. At the same time, the staff of the clinic was gaining an understanding of the unhoused and uninsured community.
Hosting a blood pressure screening event ended up moving the needle, according to Dr. Shainy Varghese, director of the Health Clinic.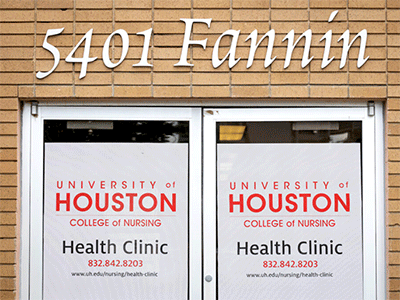 Photo by Annie Mulligan.
The facility shares a space on St. Paul's campus with the Emergency Aid Coalition (EAC), an interfaith nonprofit that provides food, clothing and assistance to those in need. The organization feeds about 250 individuals each day.
The UH College of Nursing Health Clinic decided to erect a tent and offer free blood pressure screenings to the EAC clients. "Several people had high blood pressure and were not on meds," Varghese said. "Some didn't know where to go."
She sent them inside the clinic, where healthy snacks were also waiting. "It was making us visible – and building trust," she said.
In the meantime, flyers went out and sandwich boards were raised directing patients to the clinic. Soon, word of mouth spread. "After about six months, it just exploded," Wolfe said.
Once wary, patients were now becoming regulars and asking if the clinic could be their home for primary care. "It's a totally different experience, a different approach to medicine, a different model," Wolfe said.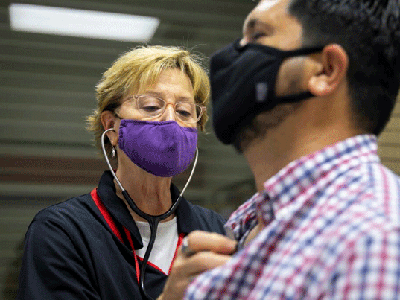 Photo by Annie Mulligan.
In its first year and a half of operation, the clinic has expanded its hours – from operating one day a week to two. Now, the facility is open from 8:30 a.m. to 2 p.m. on Mondays and Thursdays.
Varghese said about seven patients are served each day – and the goal is 10. Patients are seen for wellness exams, management of acute and chronic conditions and treatment of minor injuries, colds and flu. The clinic is connected to a pharmacy.
Over time, the services offered at the clinic have also grown. Partnerships have been fostered, as well.
Last semester, UH nursing students joined the clinic staff. Their professors ran the facility until it was ready to become a training site.
Now, the goal is to add mental health care to the clinic – and to eventually expand to three days a week.
Wolfe envisions that other churches could follow in St. Paul's footsteps and provide space to health care practitioners.
After all, he explained, most congregations have unused space during the week.
Wolfe continued, "The church needs to think about ways to care for the community – and how to address real health care disparity. It's a way for the church to reclaim the healing ministry of Jesus, a way to reimagine what it means to love your neighbor."
Rev. Horton said the clinic exemplifies how a church can join forces with other institutions to make a positive impact in the community.
Horton explained that the clinic, EAC and St. Paul's all build each other up. She looks forward to helping the clinic gain more recognition – and continuing to expand its services.
excerpt from a story by Lindsay Peyton, Texas Annual Conference
This story represents how United Methodist local churches through their Annual Conferences are living as Vital Congregations. A vital congregation is the body of Christ making and engaging disciples for the transformation of the world. Vital congregations are shaped by and witnessed through four focus areas: calling and shaping principled Christian leaders; creating and sustaining new places for new people; ministries with poor people and communities; and abundant health for all.