The UMCOR Asylum Project ("Leading with Welcome"), a partnership that includes UMCOR, National Justice for Our Neighbors and Church World Service, helps a family from Honduras win their asylum case on the grounds of religious persecution.
Your gifts on UMCOR Sunday helps support the foundation for the United Methodist Committee on Relief (UMCOR) to share God's love with communities everywhere.
"I am a person of faith. My story is real, and I was trusting in the purpose of God to get through. I'm a Christian, and that was the main issue."
Miguel and Maria* had a comfortable life in Honduras with their son Andre, who was just four when Miguel left Honduras to try to make it to the United States. Miguel had been working in Honduras and made a good living. He decided to open a small business in his area. Business started out great, but then, he ran into trouble when a gang that monitored small businesses in his neighborhood told him he wasn't following the rules.
But Miguel says it was one of his neighbors that turned him in – for a different reason.
"I am a person who evangelizes; I tell people about God. A member of the gang wanted to stop me. He said nothing was greater than the gangs and their weapons. He spoke against God. I said I believe in God, not a gun. He got mad."
Before long, Miguel received messages that threatened his life and the lives of his family.
"I decided to leave. My life was insecure, and I feared for Andre as he grew older. All this suffering was because of my faith."
Miguel started his trek before the Migrant Protection Protocols, better known as "MPP" or "Remain in Mexico," forced asylum-seekers to stay in Mexico to await their asylum hearings.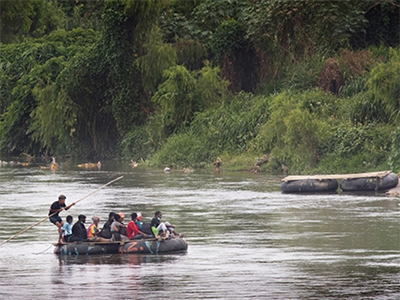 A guide using a raft made from inner tubes ferries people across the Suchiate River from Guatemala into Mexico near Ciudad Hidalgo. Migrants, many of them fleeing violence, routinely cross the border into Mexico here, many of them hoping to eventually make their way to the United States. PHOTO: MIKE DUBOSE, UM NEWS.
Once Maria and her son entered the U.S., they were able to pay bond in Texas and fly straight to New York. Miguel lined up a lawyer to take their case and paid her a handsome price. But the lawyer kept stringing them along, asking for more money.
Miguel tried on his own to get a work permit. After a few years, he was desperate.
"I felt like God had abandoned us for a little while. I didn't even know we had a strong case."
COVID-19 greatly disrupted asylum seekers' ability to enter the United States. A backlog of cases and a lack of immigration judges put off cases for years, exacerbating an already long backlog.
Miguel managed to cross into all three areas of this project, but it wasn't until he had lost his money to his former lawyer and given up all hope that he found the New York JFON in 2021. He learned about JFON from a friend who had found help at the Hicksville United Methodist Church JFON clinic.
Asylum seekers must prove they have either experienced persecution or have a well-founded fear of future persecution because of one of five protected grounds: race, religion, nationality, political opinion or membership in a particular social group.
The minute the judge pronounced "I grant you the right to stay in this country," the lives of this family changed forever as their legal status in the United States changed. They were now here to stay.
Today, Andre has two more siblings, both U.S. citizens born after Miguel and Maria settled in the United States. They found a church home where Miguel provides leadership through music and singing.
* The names for all family members have been changed to protect their identities.
excerpt from a story by Christie R. House, consultant writer and editor, Global Ministries and UMCOR.
One of six churchwide Special Sundays with offerings of The United Methodist Church, UMCOR Sunday calls United Methodists to share the goodness of life with those who hurt. Your gifts to UMCOR Sunday lay the foundation for the United Methodist Committee on Relief (UMCOR) to share God's love with communities everywhere. The special offering underwrites UMCOR's "costs of doing business." This helps UMCOR to keep the promise that 100 percent of any gift to a specific UMCOR project will go toward that project, not administrative costs.
When you give generously on UMCOR Sunday, you make a difference in the lives of people who hurt. Give now.