Planning a big family wedding with dozens of people coming in for a weekend is challenge enough.
But imagine trying to bring more than a thousand people together from four continents for a gathering that lasts two weeks.
They speak 10 languages, have various dietary needs, require multiple hotel rooms and must be able to come together to pray, worship and make decisions that affect millions of United Methodists. Hundreds of these visitors also need visas just to attend.
Making sure United Methodist delegates, bishops and others can come together for the denomination's top legislative assembly is the responsibility of the Commission on the General Conference.
Your support of The General Administration Fund apportionment implements trustworthy administrative oversight like the General Conference sessions.
That international commission gathered May 21-24 for its first in-person meeting since 2019 to determine some of the final details for next year's General Conference. The theme for the gathering will be "…and know that I am God" from Psalm 46.
Kim Simpson, the commission's chair, said that focus on God is critical, especially in this tumultuous time.
For the past three years, the commission's planning has been hampered by the COVID pandemic and resulting travel complications — leading the commission to postpone General Conference three times. The assembly, originally planned for 2020 in Minneapolis, is now scheduled for April 23-May 3, 2024, in Charlotte, North Carolina.
The Judicial Council, The United Methodist Church's top court, opened the door for more General Conference delegate elections this year.
The Rev. Gary Graves, the secretary of General Conference, is still receiving information about how many such vacancies currently exist worldwide. At this point, he told UM News he is aware of seven General Conference delegation vacancies in the U.S.
General Conference delegates also can expect stricter requirements for their credentials after an investigation in 2019 found four ineligible people cast votes during that year's special General Conference using credentials of absent delegates.
Because of disaffiliations, deaths, resignations and other changes within delegations, a number of annual conferences — the denomination's regional bodies — are holding elections this year to fill vacancies in their General Conference delegations.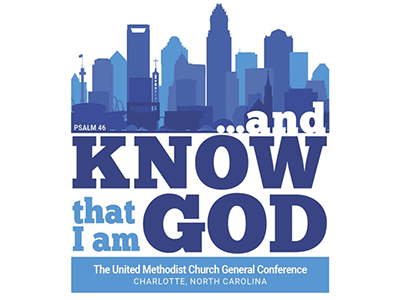 The updated logo for the postponed 2020 General Conference to be held April 23-May 3, 2024 at Charlotte Convention Center in Charlotte, North Carolina. Image by United Methodist Communications.
The coming General Conference is to have 862 voting delegates — 55.9% from the U.S., 32% from Africa, 6% from the Philippines, 4.6% from Europe and the remainder from concordat churches that have close ties to The United Methodist Church. Half are to be clergy and half lay. Bishops preside at General Conference sessions but do not have a vote.
Amid all the shifts, the commission still has planning to do. To that end, the group addressed logistical details for delegates elected to General Conference.
Even under normal circumstances, General Conference often can be a grueling experience where people spend weeks far from home, relying on interpreters for communication and debating issues of faith that they hold dear.
But commission members, throughout their May meeting, remarked that they expected the coming General Conference — with a denominational separation already happening — not to be business as usual.
With that in mind, the commission approved a motion by member Marie Kuch-Stanovsky to have Simpson, its chair, form a "think tank" with other denominational leaders on ideas for conducting General Conference.
Specifically, those other leaders are to be from the Council of Bishops; the Connectional Table, which coordinates denominational resources and ministries; and the General Council on Finance and Administration, the denomination's finance agency.
Johnson, a new commission member from the Texas Conference, said he hopes such a "high-level" think tank might make recommendations for helping the General Conference delegates do their best work.
excerpt from a story by Heather Hahn, assistant news editor, UMNews.
One of seven apportioned giving opportunities of The United Methodist Church, the General Administration Fund implements trustworthy administrative oversight, supports the legislative processes of the church and curates The United Methodist Church's rich history. Please encourage your leaders and congregations to support the General Administration Fund apportionment at 100 percent.