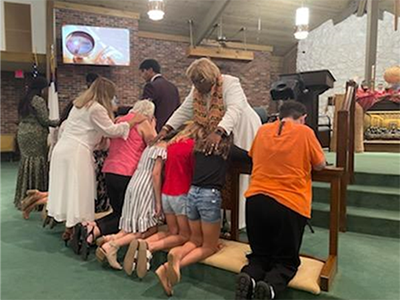 The different campus pastors prayed over those who came to the altar. Courtesy photo.
On Sunday, October 3, 2021, Wesley Memorial United Methodist Church of Fort Myers celebrated World Communion Sunday by showcasing the languages and cultures of all four congregations who share its campus.
Your gifts on World Communion Sunday, supports the Ethnic Scholarship which enables The United Methodist Church to equip gifted, qualified students from around the globe to become the world changers God created them to be.
El Shaddai Haitian UMC Mission Church, Free Methodist Church Brazilian, Venezuelan Church Five Solae, and Faith in the Word African church joined together with Wesley Memorial for a multicultural service to offer a worship offering to the Lord in Creole, Portuguese, Spanish, Banyang (African Dialect), and English.
"This is what the Church should look like every Sunday," said Rev. Dr. Debbie Daley-Salinger.
Sunday's service included a communion sacrament given in multiple languages. Pastor Max Pierre, of El Shaddai Haitian Mission; Pastor Milly, Brazilian, Pastor Dagmi, Venezuelan, Pastor Ekwa, African, along with Pastor Debbie all took part in inviting the congregation to break bread and take the wine together.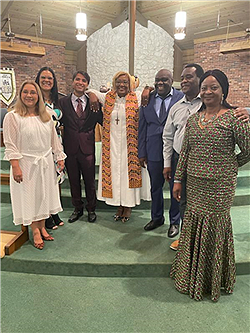 All the campus pastors pose for picture. Courtesy photo.
"Isn't it amazing," Lorna Pierre said, before she led the congregation into "Because He Lives." "Different colors, Different nationalities, all coming together, for the LOVE of Christ!"
The worship selections were as diverse as the congregants. Music selections ranged from English-language classic "That Old Rugged Cross," to "Siyahamba," an African hymn, the title of which means "We Are Marching."
As Sarah Markle Wesley Memorial's Liturgist said during the Prayer of Illumination, "Today was a reminder that no matter where we live, what beautiful language we speak, we all worship the same God."
Story by Emilisse Ortiz, Wesley Memorial UMC, Fort Meyers, FL
One of six churchwide Special Sundays with offerings of The United Methodist Church, World Communion Sunday calls the church to reach out to all people and model diversity among God's children. The special offering provides World Communion Scholarships, the Ethnic Scholarship Program and the Ethnic In-Service Training Program.
When you give generously on World Communion Sunday, you equip gifted, qualified students from around the globe to become the world changers God created them to be. Give now.