"Social media is an opportunity to be surrounded by a lot of different people," says D.G. Hollums, pastor at Zia United Methodist Church, "but it needs to be intentional."
Social media can be a place to share our faith while also finding likeminded persons who encourage us in our lives. Navigating these spaces, however, takes care and intention.
Though he predated social media, John Wesley may have given us the simplest directive for how to interact on social media.
"As Methodists, we know the rules: Do no harm, do good, communicate grace," the Rev. Ryan Dunn, minister of online engagement for United Methodist Communications. reminds us. "If you do that, you're fine."
Do no harm
Hollums, who created A Friary of the Order of the Trinity, an online prayer community suggests asking a couple of key questions when joining a group: Where can I go to hear God the clearest? Does this sound like Jesus?
As you become more active on social media, you may experience friends or acquaintances posting words that surprise, anger or hurt you. People often will say things online that they would not say in person.
"People go on social media to express themselves, sort of their own free speech lawn," says Derrick Scott III, executive director of Campus to City Wesley Foundation. CCW uses social media extensively to reach its audience across numerous platforms, with Studio Wesley being the newest CCW online community.
Do good
Sometimes, social media can become toxic, with the potential to fracture longstanding relationships. The Rev. Michael Parker, pastor at Church of the Redeemer who has led an online Facebook prayer group for five years, recommends setting boundaries. Your social media account is your account and you can allow people you want in that space.
"When posts from someone become too much for you, unfollow or unfriend, if necessary. Unfriending someone on social media doesn't mean you are unfriended in real life," Parker points out.
Conversely, considering how your posts may affect others is key.
"In the same way you take Jesus to work, take Jesus to your Facebook page," Scott suggests, adding that every post doesn't have to be overtly faith-based, but your posts should reflect your faith.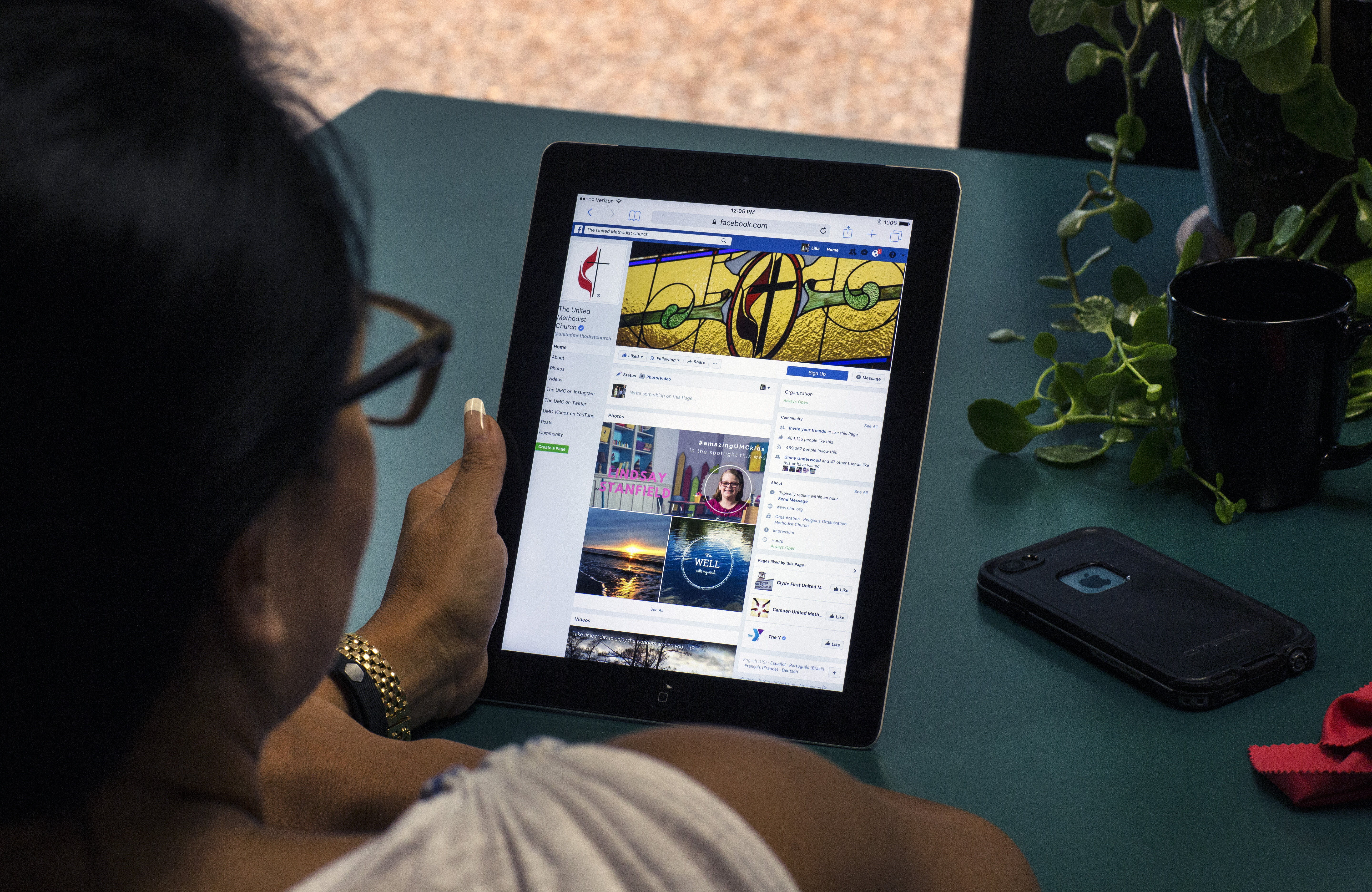 Connect with The United Methodist Church on social media
Communicate grace
"In church, even if you disagree with the sermon, you don't stand up and blast the sermon," Scott notes. "What social media has done is put microphones into our private spaces and turned them into public spaces."
When this happens, Scott suggests doling out a large helping of grace.
"Remember that words on a screen are not the totality of a person," he points out. "If I'm going to be a United Methodist person of grace, I have to give people room to be more than what they post and tweet."
One test of how much your faith influences your social media is to objectively look at your accounts with an eye toward what people would learn about you from your social media pages.
"When we decorate our homes, we decorate with items that show what we value," points out the Rev. Ryan Dunn, minister of online engagement for United Methodist Communications. "In the same way, we want to be mindful of what we share on our public spaces. Do they show what we value?"
Crystal Caviness works for UMC.org at United Methodist Communications. Contact her by email or at 615-742-5138.
This content was published June 21, 2021.