No time is the right time for a massive storm that claims 159 lives and causes more than $80 million in damage, but Frank and MaryEllen Azack were put in a particularly bad place when it happened to them.
The Azack home in Toms River, N.J., was one of the 346,000 homes damaged or destroyed in the state by Superstorm Sandy in October 2012. At one point there was 4 feet of water in the structure.
Frank Azack reflected on the storm on the occasion of its 10th anniversary in October 2022.
"I was retired from work due to disability 30 days before the storm," Azack recalled about Sandy, the largest Atlantic hurricane on record with tropical storm-force winds spanning 1,150 miles off the coast of the northeastern U.S.
It took five months to get his first disability check, and he had three surgeries around the same time, two for his foot and one for appendicistis. On top of that, one of the family cars was totaled in a wreck and the other quit working. MaryEllen, who has multiple sclerosis, went to live with her mother while Frank worked on getting the house repaired.
"It was a challenge," he said.
A future with hope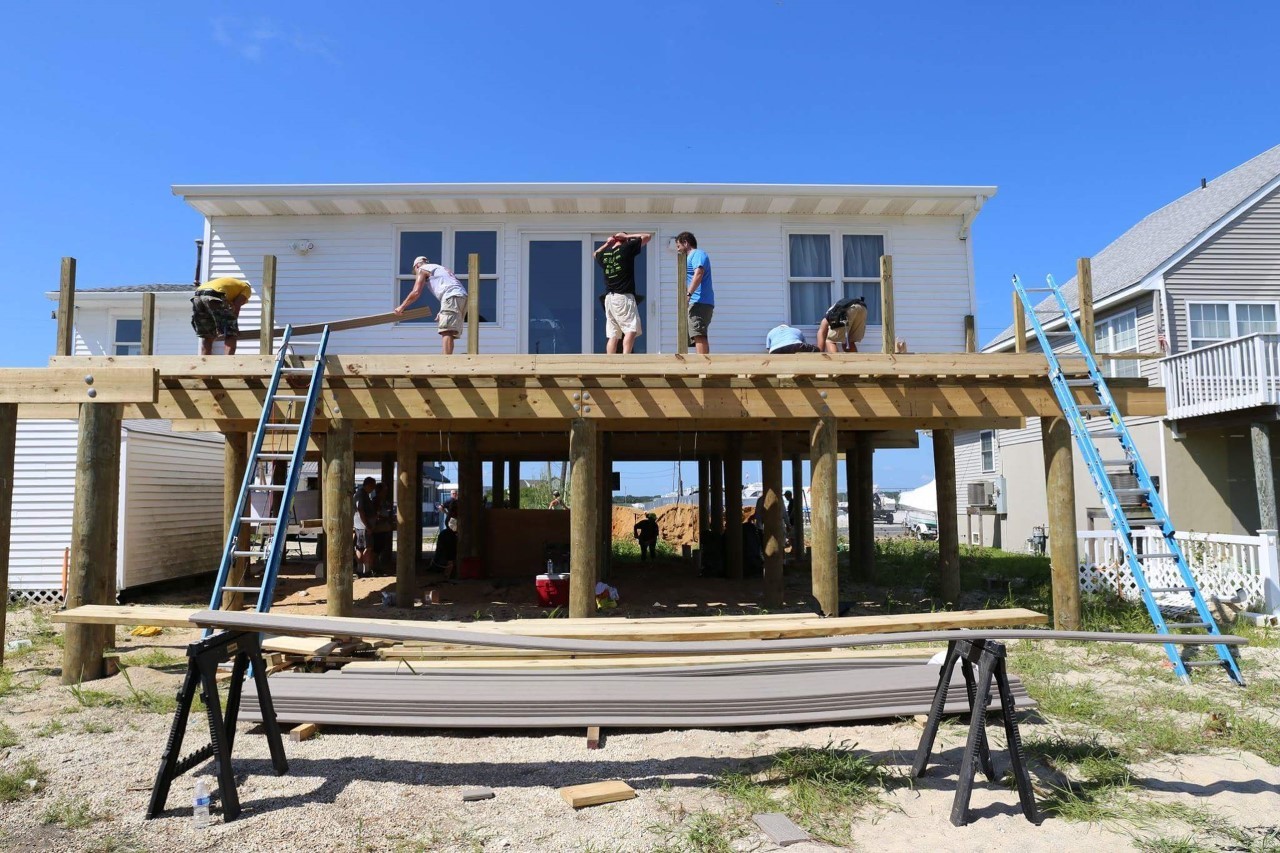 A Future with Hope, founded by United Methodists in Greater New Jersey, offered recovery assistance following Superstorm Sandy in 2012. The organization now is helping with 2021's Hurricane Ida recovery.
That's where A Future with Hope came in. The organization was founded by United Methodists in the Greater New Jersey Annual Conference after Sandy to help with the recovery. The organization is now helping with recovery from Hurricane Ida, which struck last year.
"We built 30 new homes and we repaired another 250 (after Sandy)," said Bobbie Ridgely, a member of the United Methodist Church of Red Bank who was executive director of A Future with Hope until 2018. "The other thing we did, which was pretty large, was we had a general contractor that worked with us, and he was the general contractor for several house lifts."
The house lifts were important to homeowners who couldn't get approval from codes unless they rebuilt their house higher up to protect it to some extent from future weather events.
"A lot of these houses down here, it was a shore community, and a lot of them were outdated bungalows," Azack said. "Now with the new building codes, they … have to raise them up on piers or totally replace them and build them to higher standards."
Because their home cracked after the storm and sunk into the ground, the Azacks' house had to be totally rebuilt.
"We went to a seminar about rebuilding the houses, where we hooked up with A Future with Hope," Azack said. "Without them, I don't think the house would have been rebuilt, because they helped me through the whole process."
There was a huge demand for paperwork, he said.
"It was a full time job," he said. "I was on the computer for 10 hours a day. It's no exaggeration. … Sometimes they lose your paperwork and that became a real nightmare."
The Azacks went through two printers during the five years it took to rebuild their home, he said.
"As far as getting the paperwork done, helping with rent assistance, dealing with the insurance and a builder, (A Future with Hope) were a big help," he said. "I could never have got it done without them."
Some things are irreplaceable
Like many families, the Azacks lost things in the story that can't be replaced.
"My sister had sent me a shoebox full of old photographs that were taken from my whole life from the 1960s and 70s," he said. As his first project after retirement, he had planned to digitize the photos.
"Well that box of photos was on my desk and the water came on the top of the desk and ruined them," he said. "Everything's lost."
Despite such irreplaceable losses, it was uplifting to see up close how many people reached out to help, Ridgely said.
A beautiful connection
"It felt very large and overwhelming at the time," she said. "But it was amazing to … experience that Methodist connection. We just got all kinds of donations and phone calls and people reaching out from all over the country. That was really pretty touching, offers of support, donations and people offering to come and help.
"It was really, really beautiful."
Jim Patterson is a Nashville, Tennessee freelance writer. Contact him by email.
This content was published December 14, 2022.