Many of us have been startled by how this season of social distancing and changing social dynamics has altered our perceptions of many things we once saw as mundane and unremarkable. A trip to the store is now a major event!
Old suppositions have changed, too. For example, when a friend asked for my impression of a familiar story, my reaction was unfamiliar.
A difficult text
What's your take on this interaction?
Jesus left that place and went away to the district of Tyre and Sidon. Just then a Canaanite woman from that region came out and started shouting, 'Have mercy on me, Lord, Son of David; my daughter is tormented by a demon.' But he did not answer her at all. And his disciples came and urged him, saying, 'Send her away, for she keeps shouting after us.' He answered, 'I was sent only to the lost sheep of the house of Israel.' But she came and knelt before him, saying, 'Lord, help me.' He answered, 'It is not fair to take the children's food and throw it to the dogs.' She said, 'Yes, Lord, yet even the dogs eat the crumbs that fall from their masters' table.' Then Jesus answered her, 'Woman, great is your faith! Let it be done for you as you wish.' And her daughter was healed instantly. (Matthew 15:21-29 NRSV)
I've read that passage a hundred times and was never comfortable with it. Why did Jesus call her a dog? That interaction does not reflect a side of Jesus I consider part of his godly nature. Still, I could explain it in the past. Jesus was testing her—making sure her faith was real and not simply some hysterical plea of desperation. She passed the test by providing a measured, thoughtful and faithful response.
But now? I am not so sure that Jesus was testing the woman. Perhaps he responded that way because that was what it was like in first-century Palestine. Perhaps this story provides some insight into the human nature of Jesus. Here, we see Jesus being fully human and displaying some of the weariness of our broken human condition.
Isolated, but not alone
We are in a season unlike any other we have encountered. Threats of sickness and interpersonal fear keep us distant from one another. We are disconnected. I rarely get to see friends. I have not attended a worship service in-person in nearly six months. Though I try to connect with others, virtual meetups and social media messages feel stunted. There is something missing. Despite the effort, I feel disconnected.
At this time when I'm almost completely isolated—it means something that Jesus was fully human and shared my experiences. Jesus was with me. Jesus is with me.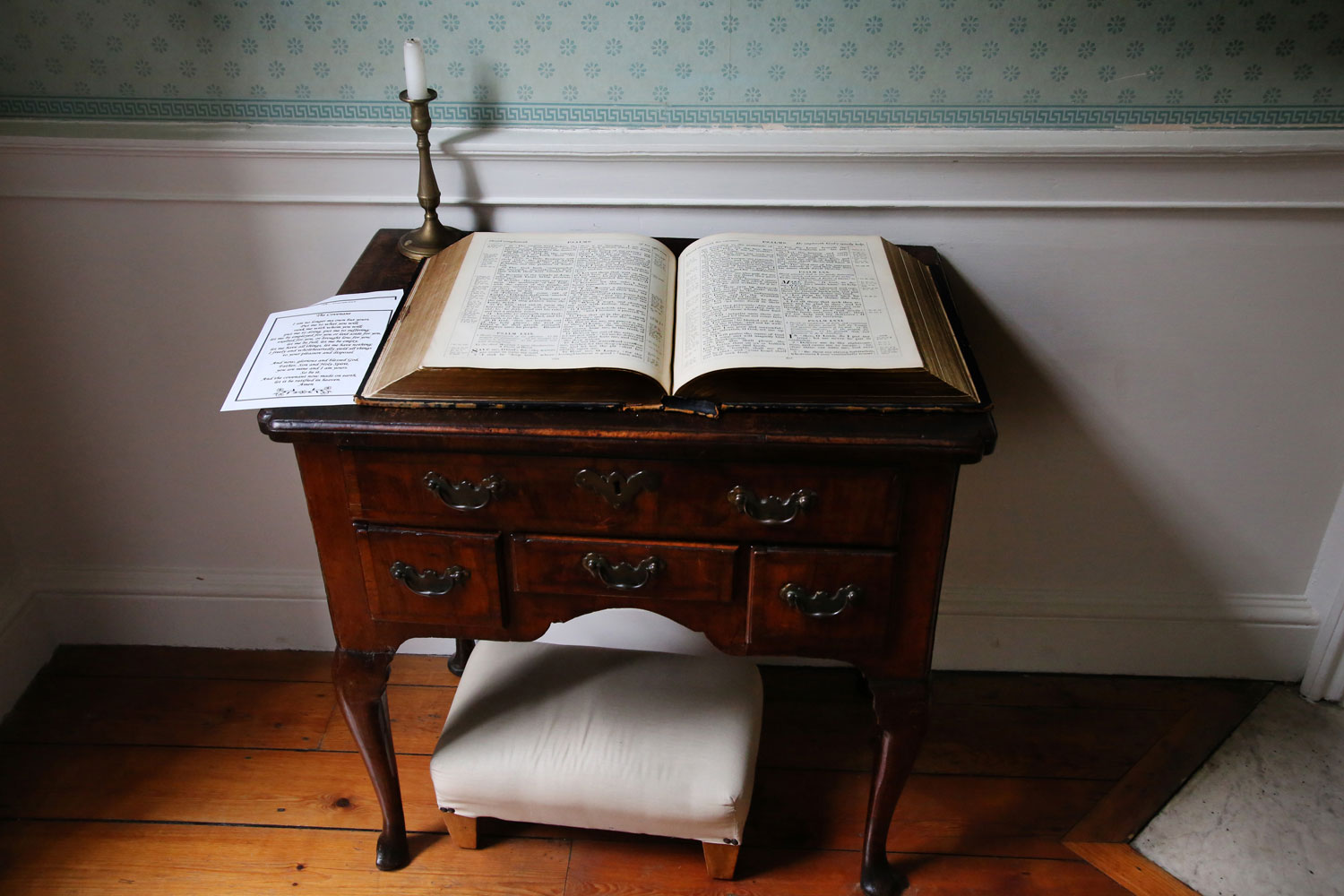 John Wesley had a room in home for prayer and Bible study. Photo by Kathleen Barry, United Methodist Communications.
The glimpse of Jesus' humanity reminds me that I do not walk through my unique circumstances alone. I'm wearied by this season of brokenness—just as Jesus must have been wearied by the brokenness he encountered. I long to see more human kinship—we read several stories of Jesus longing for that, too. Sometimes I want to be alone, sometimes I don't. Sometimes I'm frustrated, other times I'm joyful. We have stories of Jesus experiencing all of that.
Bringing our experience to the text
Even though I've read these stories of Jesus quite a few times before, there is meaning in reviewing them. They remind us of Jesus' existence—his human, flesh-and-bone existence.
And in this time, these stories hold new meaning.
As United Methodists, we are encouraged to read the Bible regularly. John Wesley wrote a plain admonition: "Whether you like it or not, read and pray daily" (John Wesley to John Premboth on August 17, 1760).
We keep going back to these stories because they speak to us anew in the midst of our changing life circumstances. We bring new understandings to the stories—and in turn they deliver new understanding to us.
Tips when reading
John Wesley provides some recommendations for reading through scripture—and they could provide more freshness to the practice of reading scripture. To paraphrase his recommendations out of his preface to the Old Testament:
Set aside regular, deliberate time to read. Wesley recommended reading in the morning and the evening.
Keep the size of your readings manageable. If you have time, read from both the Old and New Testaments—but don't set out to read so much that it feels daunting.
Read with an eye for God's will. When you discern what God is communicating through the text, act on it.
Ask how this text connects with big theological themes like Original Sin, Justification by Faith, New Birth, Inward Holiness and Outward Holiness. How does the text move us from a place of brokenness to a state of Christian Perfection?
Pray before you read, while you read, and after you read.
Take pauses to reflect on what was just read. Let this be a meditative practice that refreshes for immediate action.
With these new lenses—both of Wesley's recommended practices and our current situations—we are bound to encounter new meanings in the living words. More importantly, we are bound to feel a sense of connection: both with God and our common humanity.
*Ryan Dunn is the Minister of Online Engagement for the Rethink Church team at United Methodist Communications. Contact him at rdunn(at)umcom.org.
This story was published August 26, 2020.