28 annual conferences of The United Methodist Church maintained their investment in the Africa University Fund (AUF) apportionment at 100 percent in 2019. Their support, along with a very strong showing across all five jurisdictions in the United States, resulted in an overall AUF investment of 90.3 percent.
Your support of the Africa University Fund apportionment supports the general operating expenses of Africa University including faculty and staff salaries and vital infrastructure.
In every jurisdiction, giving exceeded 91 percent. Despite a 4.5 percent decline in investment between 2018 and 2019, the AUF is still, in terms of the percentage given, the best supported of the seven general funds of The United Methodist Church.
"In light of the uncertainties in The United Methodist Church, it is clear to us that when local churches and annual conferences are made aware of what is needed to do ministry, they respond," said James Salley, the associate vice chancellor for institutional advancement for Africa University.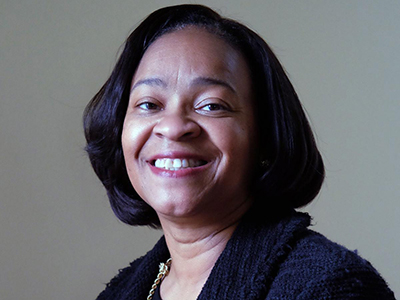 Bishop Sharma Lewis.
For the first time since AUF apportionment was established in 1989, the Virginia Conference achieved a 100 percent investment of its asking.
"We want to be a part of continuing the education of students," said Bishop Sharma Lewis of the Richmond Episcopal Area. Since being assigned in 2016, she has sought diligently to discern new avenues for mission partnership with Africa University—including potential collaborations with Shalom Farms and Ferrum College.
"Recognizing the importance of our global connection, we wanted to make the apportionment giving 100 percent," said Lewis. The churches of the Virginia Conference gave sacrificially to make it happen but found themselves with a shortfall as the year-end approached.
"To achieve 100 percent apportionment giving for Africa University, the Virginia Conference was blessed by an anonymous donor who values higher education and felt a calling to make up the difference…we would not have been able to reach 100 percent without this generous gift," said Bishop Lewis.
"Thank you to all the ministry partners who went the second and even third mile in supporting the AUF," said Salley. "I don't see gloom and doom. I see the hope that comes when people of faith respond to the Word of God. 'Those who are gracious to the poor lend to the Lord, and the Lord will fully repay them' (Proverbs 19:17)."
Andra M. Stevens, Director, Communications, Africa University Development Office
One of seven apportioned giving opportunities of The United Methodist Church, the Africa University Fund transforms Africa by educating and empowering students from across the continent through Africa University, the first fully accredited, United Methodist-related educational institution on the continent. The Africa University Fund supports the general operating expenses of Africa University including faculty and staff salaries and vital infrastructure. Please encourage your leaders and congregations to support the Africa University Fund at 100 percent.