Storms generating multiple tornadoes swept across three regions of the U.S. in April, leaving at least 32 people dead and creating widespread and severe property damage, including at three United Methodist churches in Arkansas.
Arkansas Conference Bishop Laura Merrill visited Wynne, in east Arkansas where a massive tornado there killed four people and leveled much of the town.
The United Methodist Committee on Relief reached out with a $10,000 solidarity grant.
Your gifts on UMCOR Sunday helps support the foundation for the United Methodist Committee on Relief (UMCOR) to share God's love with communities everywhere.
Wynne First United Methodist Church suffered major exterior and interior damage, as photos shared by the bishop made clear.
"The steeple was taken off the top, turned on its side and then kind of injected into the side of the building. It was really something to see," Merrill said by phone.
The church held a brief outside worship service on April 2, but will be looking for a place to meet inside for Easter.
Amboy United Methodist Church in North Little Rock was the third Arkansas Conference church known to have been severely damaged in the storms.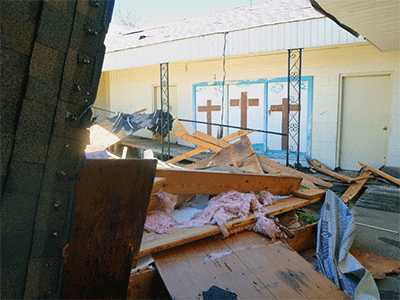 Amboy United Methodist Church in North Little Rock, Ark., is one of three Arkansas Conference churches badly damaged by tornado-spawning storms that hit March 31. Photo courtesy of the Arkansas Conference.
The storms that first hit on March 31 came just a week after the tornado destruction in and around Rolling Fork, Mississippi. The latest storms sparked tornadoes in the South, the Midwest and on into the Northeast.
Death reports came in from scattered locations, including McNairy County in west Tennessee. Nine people were killed there.
Morris Chapel United Methodist Church in nearby Hardin County was badly damaged, news reports showed. The Rev. Robert Craig, disaster response coordinator for the Tennessee-Western Kentucky Conference, got a look at the destruction during a visit April 3, and took photos.
Five districts of the Indiana Conference were touched by the storms.
"No churches were damaged, but congregants and communities were affected," said the Rev. Jennifer Huff, conference missions coordinator. "We are preparing our Indiana early response teams to send them out for tarping roofs, debris cleanup and assessments."
Some conferences, including Arkansas, are asking for donations for their disaster relief ministries.
Merrill said she's been moved by hearing of all the memories people have connected with church buildings devastated by the recent storms in her state.
But there's hope to be found in this hard time, she said.
"Even if the building is lost, nothing is lost in the economy of God … . God can take faithful hearts and stories of faithfulness and do something new."
To help with recovery efforts for the long haul, you can give to the United Methodist Committee on Relief's U.S. Disaster Response and Recovery through Advance #901670.
To support the United Methodist disaster response in Arkansas, donations can be made online to the conference's disaster relief ministries.
excerpt from a story by Sam Hodges, Dallas-based writer, UMNS.
One of six churchwide Special Sundays with offerings of The United Methodist Church, UMCOR Sunday calls United Methodists to share the goodness of life with those who hurt. Your gifts to UMCOR Sunday lay the foundation for the United Methodist Committee on Relief (UMCOR) to share God's love with communities everywhere. The special offering underwrites UMCOR's "costs of doing business." This helps UMCOR to keep the promise that 100 percent of any gift to a specific UMCOR project will go toward that project, not administrative costs.
When you give generously on UMCOR Sunday, you make a difference in the lives of people who hurt. Give now.