During this time of social distancing, Cokesbury and United Methodist Publishing House have made the videos for "Unafraid" and other studies available free here.
Fear is part of our God-given warning system. Our ability to sense danger and respond is vital. It keeps us from stepping in front of a speeding car or getting too close to the ledge of a cliff.
"Our brain is constantly on the lookout for potential threats," explains the Rev. Adam Hamilton, pastor of the United Methodist Church of the Resurrection and author of "Unafraid: Living With Courage and Hope in Uncertain Times" in a Get Your Spirit in Shape podcast episode. A study guide for "Unafraid" has been made available free of charge during this time of social distancing.
When that system malfunctions, we worry excessively over what Hamilton calls false fears.
"We sometimes misperceive possible threats," he continues, "finding ourselves paralyzed by fears, or needlessly struggling with worry or anxiety."
As United Methodists, our Christian faith can help keep us from unnecessary fear, and allow us live into all God has in store for us.
Learn more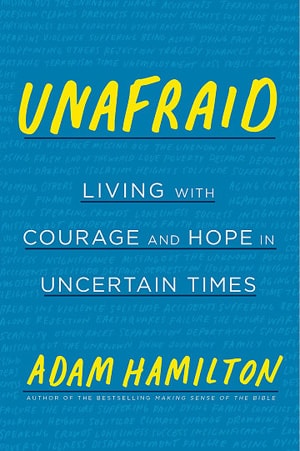 The Rev. Adam Hamilton offers ways we can overcome our false fears with faith. Photo via AdamHamilton.org.
Anxiety, fear, and false fear
Lauren Gaskill, a blogger, podcaster, and author of "Into the Deep: Diving into a Life of Courageous Faith" (Abingdon Press), also knows about fear. Gaskill has Hypermobile Ehlers-Danlos Syndrome (EDS), a connective tissue disorder that includes a "predisposition to anxiety and depression," she shares.
As a high school student, long before her EDS diagnosis, Gaskill exhibited signs of anxiety. "I would be fine during the day," she recalls, "and then have panic attacks at night."
Both Hamilton and Gaskill are careful to distinguish false fears from issues like anxiety disorders. "We've done mental health a disservice," Gaskill explains, "because there hasn't been enough of a distinction made between worry, and true anxiety and depression."
Addressing false fears with faith
False fears are more than a nuisance. Advertisers, politicians, and others prey on our fears to influence how we spend our money, what we do with our time, and how we vote. Left unchecked, false fears can motivate and shape us in unhealthy ways.
In "Unafraid," Hamilton suggests ways to address a wide array of fears including crime, cultural and racial differences, failure, climate change, missing out, financial insecurity, and the classic fears of illness, old age and death. To help us remember his four key strategies, he presents them as the acronym FEAR.
F – Face your fears with a bias of hope. Taking steps to do the things we fear often extinguishes them. While this may create a level of discomfort, we remember that God is in control.
"I can imagine the worst possible scenario in every situation and I'll be afraid," Hamilton clarifies. "Or I can use the same emotional, cognitive energy to imagine the best possible outcome, and I won't be afraid."
He teaches his congregation that as people of the Resurrection, we know that "the worst thing is not the last thing." Christians are people who live with a bias of hope.
Similarly, when Gaskill is having a difficult day, she focuses on "trusting God that not every day is going to look like today." Our faith is a source of hope that encourages us when we're afraid.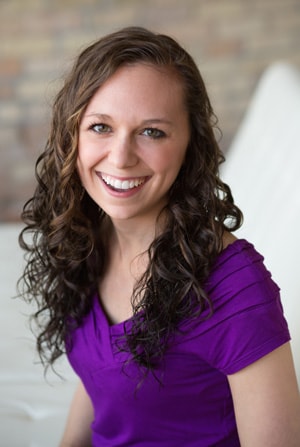 Lauren Gaskill is a blogger, podcaster, and author of "Into the Deep: Diving Into a Life of Courageous Faith." Photo via LaurenGaskillInspires.com.
E – Examine your assumptions in the light of the facts. Throughout "Unafraid," Hamilton presents evidence to counter some of our false assumptions that lead to fear. Rewiring our brains with more accurate information is a technique called cognitive restructuring.
"Question the facts as you understand them," he challenges. "Try to find accurate or actual facts. Pretty soon, if you get enough of those facts and you reinforce it with experience, you begin to find your fear level going away."
A – Attack your assumptions with action. Fear's role is to move us to action. Doing something that addresses our worries can lessen their power in our lives.
Gaskill, for example, follows a regimen to help reduce the effects of EDS. "I do what I can to keep my body in good physical shape because that's the best thing that people with my condition can do," she explains.
We can also apply this technique when we worry over things like finances, relationships, and social issues.
"If you're afraid about climate change, then get involved," Hamilton encourages. "If all you do is sit and think about it, nothing is going to change. But if you get involved with action, it actually dissipates the fear."
R – Release your fears to God. As Christians, we offer our lives to God. Hamilton shares Scriptures and spiritual disciplines to help us trust God and let go of fear.
From the Bible, Gaskill offers some tools God's people relied on to overcome their fears. She calls them the three Ps. They rested in God's promises, trusted God's provision, and persevered (see Hebrews 11).
"I have a list of God's promises in scripture," reports Gaskill. It includes verses like, "He gives power to the faint, and strengthens the powerless" (Isaiah 40:29), "No weapon that is fashioned against you shall prosper" (Isaiah 54:17), and "When you pass through the waters, I will be with you" (Isaiah 43:2).
"Keep that list handy and go back to it," she advises. "If we can speak God's promises over a situation and if we can believe that God is going to provide for us, we can resolve to persevere as Christ persevered," she teaches. "Then we can overcome whatever fear we're facing."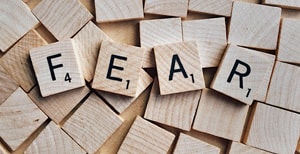 Fear is part of our necessary, God-given warning system. When it over functions, our faith can help us overcome unnecessary worry. Photo by Wokandapix via Pixabay.com, CC0.
Fear is inevitable
We can never rid ourselves of fear. We need it to survive. But we can address our false fears that affect our sleep and keep us from all God has in store for us.
"Just because you have a bad day, doesn't mean that you have a bad life," Gaskill concludes. "There will be better times—I don't know when those will be — but that's what I hold onto."
*Joe Iovino works for UMC.org at United Methodist Communications. Contact him by email or at 615-312-3733.
This story was published on April 23, 2018.