Quessua United Methodist Mission, (Advance #3022272), was destroyed during Angola's war of independence and its civil war. Once a renowned place of learning, its buildings and agricultural fields were demolished and surrounded by land mines. In 2005 the rebuilding began.
In 2015 Kutela Katembo, an agriculturalist from Congo, was commissioned in Helena, Montana as a missionary with the United Methodist Church. Since then he has transformed the area around the mission into productive agricultural land and is introducing ways to improve the lives of Angolans.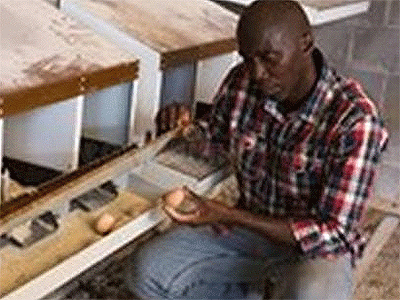 Courtesy photo.
Villagers in Angola need protein! Agricultural possibilities in Angola are great, but there are many challenges in reaching its potential. Kutela is working hard to provide simple, effective agricultural technologies to improve community lives.
Malnutrition, especially in children, is a scary, growing problem. To address this, Kutela wants to introduce raising chickens to provide eggs to families. Eggs are an affordable protein for villagers in Angola and the project will also be a learning opportunity for the agricultural students at Quessua.
The project will happen in two phases. Phase one is the construction of a chicken coop building. Phase two is layer production, raising the chicks into laying hens.
We need you to be part of bringing better nutrition to the children in villages around Quessua. Kutela plans to raise 2000 chickens. A $10 donation will buy 10 chicks. Let's fill the hen house for our friends in Angola!
You may give using Advance #3022272- Quessua Agriculture memo: Poultry
story by Sally McConnell, MSC East Angola Advocate
The Advance is the accountable, designated-giving arm of The United Methodist Church. The Advance invites contributors to designate support for projects related to the General Board of Global Ministries. Individuals, local churches, organizations, districts and annual conferences may donate to The Advance. One hundred percent of every gift to The Advance goes to the project selected by the giver. Gifts to missionaries support the entire missionary community.