One of the unique and defining factors of the United Methodist Church is that we are connectional. One way we show this connection is through apportioned giving.
"Our United Methodist connection is a powerful witness to the world of God's love," says Bishop Bruce R. Ough, resident bishop for the Dakotas-Minnesota Area of The United Methodist Church. "Through the power of our connections and our collective gifts of generous resources, we bring the love of Jesus to many."
Apportioned giving is a term that describes how the money you give to your church each week is divided and distributed throughout the United Methodist Church. Through you and your support of apportioned giving, we can participate in the United Methodist Church's ministry and mission both locally and around the world.
Apportionments are fuel for ministry. They enable us to meet the needs of many people through collaborative ministry.
When we work together as God's children and pool our giving, we can see the word 'apportionment' not as a constricting budget item but as a vehicle bringing God's grace into our churches, our conference, and beyond.
When you give to your local United Methodist Church, your giving is divided into many pieces and travels to many different places. It generally goes to support two significant areas: your church and the ministries of the Dakotas Conference.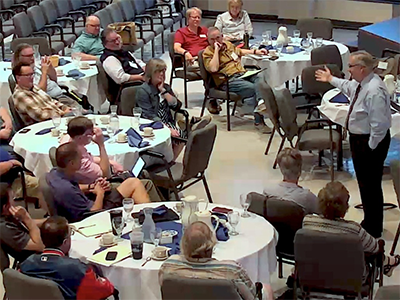 Bishop Ough leads a discussion about the future of the Dakotas Conference. Photos by Dave Stucke.
Local churches are being equipped, amidst the COVID-19 pandemic, through apportionments by:
Welcoming 14 new clergy to serve local churches.
Providing Breakthrough Ministry Grants to start or enhance 27 new ministries.
Guiding more than 115 churches in virtual worship experiences and other ministries.
Hosting 18 webinars and virtual events that ignite new ministry models including REACH, congregational care, Financial Foundations, doing worship virtually, creative children's and youth ministry, Christmas and Easter TV worship.
Providing congregations with resources and advice to set-up electronic offerings.
Assisting local churches with PPP loans and other grants.
"Apportioned giving is not just about the local church. It provides a means for collaborative witness and ministry across the Dakotas and into the world," says Ough.
Here are some ways apportionments fuel collaborative ministries in the Dakotas:
Launching 11 new worshipping communities, three that have just begun during the pandemic.
Supporting the total wellness of 198 pastors serving local congregations, during these trying times, through mentoring and coaching, training, and spiritual support.
Sustaining our five signature Dakotas Conference mission ministries—Bakken Oil Rush Ministry in Watford City, Bakken Out in Faith Ministry in Williston, Solar Oven Partners, Spirit Lake Ministry, and Tree of Life Ministry.
Maintaining our three camp and retreat centers—Lake Poinsett, Storm Mountain, and Wesley Acres, as they suspended the camping season during the pandemic.
Connectional giving is making a difference in the Dakotas Conference.
"These are troubling times that challenge the spirit of generosity," says Rev. Bob Ruedebusch, dean of the Dakotas Conference Cabinet. "The Dakotas Conference is grateful for the generous giving of all of the churches throughout North and South Dakota."
"The Holy Spirit is breaking through in the Dakotas even during the pandemic," said Jeff Pospisil, Dakotas Conference Treasurer. "Praise the Lord for this. Thank you to all of our churches that have given so generously."
excerpt from a story by Dakotas Conference Cabinet and Doreen Gosmire, director of communication, Dakotas UMC

This story represents how United Methodist local churches through their Annual Conferences are living as Vital Congregations. A vital congregation is the body of Christ making and engaging disciples for the transformation of the world. Vital congregations are shaped by and witnessed through four focus areas: calling and shaping principled Christian leaders; creating and sustaining new places for new people; ministries with poor people and communities; and abundant health for all.