In a year when one disaster seemed to follow another, the United Methodist Committee on Relief's longtime investment into the training and support of church members who respond — both in the U.S. and globally — is paying off.
Your gifts on UMCOR Sunday helps support lay the foundation for the United Methodist Committee on Relief (UMCOR) to share God's love with communities everywhere.
As directors of UMCOR and its parent agency, the United Methodist Board of Global Ministries, learned during their annual meetings, UMCOR currently is working 38 active grants of $19 million in the U.S. and has supported responses to 99 unique emergencies so far in 2020.
"If that sounds like a large number, it is," said Lara Martin, interim director of U.S. disaster response for UMCOR.
The pandemic was both a complicating factor and "a silver lining" as online presentations were perfected for disaster response training events at the conference level. In the end, UMCOR was able to conduct 72 mostly remote trainings that reached 1,287 individuals, Martin told the relief agency's directors during their Oct. 28 virtual meeting.
The mission agency's work in disaster relief, health and sustainability continues even in the face of budget cuts and staff reductions over the past few years.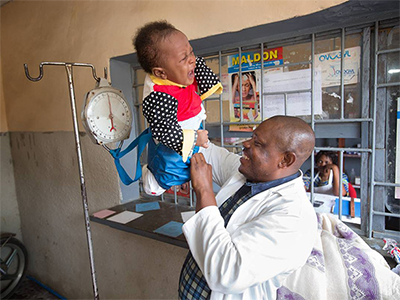 Lofato Feliobola removes a baby from the seat used to weigh him at The United Methodist Church's Mangobo Health Center in Kisangani, Democratic Republic of Congo. The denomination's Abundant Health campaign, coordinated by the Global Health unit of the United Methodist Board of Global Ministries, completed its goal of reaching one million children with lifesaving interventions by 2020. File photo by Mike DuBose, UMNS.
"There's been a decline in income, that's one reality we've got to face," said Roland Fernandes, top executive for Global Ministries and UMCOR. In an October 2020 meeting the UMCOR directors approved $1.15 million in new grants and authorized $6.4 million in disbursements.
A total of $180,978 was approved for large international disaster response grants, including $81,605 to the Davao Episcopal Area disaster management office to mitigate the risk of flooding. The constructing of four pedestrian bridges will allow residents of Barangay Lamlahakby in Mindanao, Philippines, to safely evacuate and remain connected to essential services.
Overall, her unit awarded 35 grants in 16 countries this year, totaling more than $2.9 million, and closing 21 completed projects, she said. "A majority of our responses have been to cyclones and flooding," she added.
Directors approved $607,040 in Global Health grants in Africa for Imagine No Malaria, maternal and child health and the strengthening of United Methodist health systems.
Also in 2020, the Sheltering in Love Rapid Response program for COVID-19 relief provided over $2.3 million in 230 grants in 54 episcopal areas, 43 countries and 43 U.S. states and territories.
Migration continues to be a focus for The United Methodist Church.
An UMCOR grant to Church World Service is providing "light" as it supports a call system for information for asylum seekers. In recent months, the Rev. Jack Amick explained, the call system has become a COVID hotline for undocumented immigrants seeking advice or translation help about services available to them.
Justice for Our Neighbors — a United Methodist-related program that provides immigrants and asylum-seekers with legal assistance — also has kept its work going during the pandemic
Executive director Rob Rutland-Brown told UMCOR directors that new sites in Lexington, Kentucky, and Fayetteville, North Carolina, were opened in 2020. The program currently is working with teams planning new locations in the Delaware Valley and Texas.
excerpt from a story by Linda Bloom, assistant news editor, UMNS, based in New York.
One of six churchwide Special Sundays with offerings of The United Methodist Church, UMCOR Sunday calls United Methodists to share the goodness of life with those who hurt. Your gifts to UMCOR Sunday lay the foundation for the United Methodist Committee on Relief (UMCOR) to share God's love with communities everywhere. The special offering underwrites UMCOR's "costs of doing business." This helps UMCOR to keep the promise that 100 percent of any gift to a specific UMCOR project will go toward that project, not administrative costs.
When you give generously on UMCOR Sunday, you make a difference in the lives of people who hurt. Give now.