Berthia Mugwagwa, 20, knew exactly which university she wanted to attend to make her dream of running a large farm come true.
"Africa University has the best agricultural university in Africa," she said. "I told my mom it was my only option." Mugwagwa is enrolled in the College of Health, Agriculture and Natural Sciences.
Your support of the Africa University Fund apportionment supports the general operating expenses of Africa University including faculty and staff salaries and vital infrastructure.
Family finances were difficult. Her father is disabled, so one of his younger brothers agreed to pay her school fees.
In an interview during the recent celebration of United Methodist-related Africa University's 30th anniversary, Mugwagwa tearfully said her uncle died at his job in South Africa just a few days before.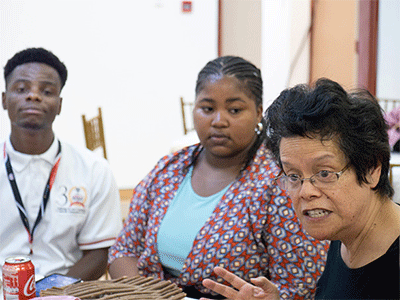 The Rev. Jennifer Jue (right) of the Michigan Conference talks with scholarship recipients at Africa University in October. Jue said the students talked about the unique way the university brings together people from different countries throughout Africa. Jue has started an endowed scholarship for a female student in the theology department. Photo by Kathy L. Gilbert, UM News.
"I was crying. I thought I would have to drop out," she said. School officials assured her they would find someone to sponsor her with a scholarship.
"I am so grateful," she said. "My school fees are a lot, and my mom would not be able to pay."
After the Sunday worship service in October, Mugwagwa and a group of scholarship recipients spoke to visitors and donors from the U.S. who came to celebrate the milestone for the university in Mutare, Zimbabwe.
One donor, the Rev. Jennifer Jue, is pastor of Brookside and Trinity United Methodist churches in Jackson, Michigan. She brought another $10,000 donation for an endowed scholarship she established in 2007 for a female theology student.
She was inspired to set up an endowed scholarship fund after she heard the Rev. Beauty Maenzanise, then dean of Theology at Africa University, give a presentation on the school.
An endowed scholarship fund requires a minimum gift of $10,000, and a fully funded endowment is $130,000.
"The understanding is that the gift amount is never touched," said Andra Stevens, director of communications and creative services for the Africa University Development Office. The initial gift accrues interest, and awards are made from earned interest income after three years. School fees are $5,765 annually for a year of study.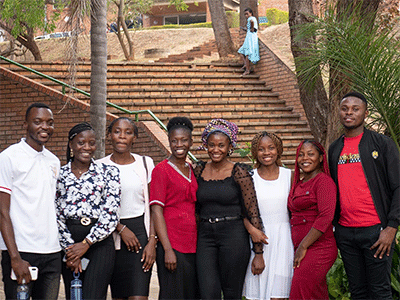 A group of Africa University scholarship recipients met to talk to donors and sponsors from the U.S. during the 30th anniversary celebration of Africa University in October. The school provides financial aid or scholarships for two-thirds of the students enrolled at the United Methodist-related university in Mutare, Zimbabwe. Photo by Kathy L. Gilbert, UM News.
Another scholarship recipient, Belinda Numbi, 22, is in her senior year at AU. Enrolled in the College of Business, Peace, Leadership and Governance, she is studying in the department of business sciences.
"I am the firstborn of eight children," she said. "I want to run a company or a business in order to support my siblings. I have a lot of responsibilities."
Numbi added, "I have never met my sponsor. I would be so grateful to say 'thank you.' I pray for them. May God bless them."
During the anniversary celebration, Claflin University president Dwaun Warmack and his family donated $10,000 for an endowed scholarship fund. Located in Orangeburg, South Carolina, Claflin University is one of the 11 historically Black schools and colleges in the U.S related to The United Methodist Church.
The 80-plus visitors that were part of a charter group from the U.S. took up a special collection during their time in Africa. They gave $6,300 in direct scholarship aid in honor of the Africa University Development Office.
Another $3 million has been given to endow scholarships as part of the U.S.-based endowment's celebration.
The 30th anniversary also marked the beginning of the African endowment for scholarships, Salley said. The original goal was to raise $100,000.
"We surpassed that goal," Salley said. "It is a dream come true."
Several gifts came from Zimbabwe businesses, including $25,000 from CIMAS Medical Aid Society, the university's health insurance services partner, designated for laboratory equipment.
Other Zimbabwe businesses and many individual gifts from alumni, faculty and staff donated to support the Africa-based scholarship endowment effort.
Salley called the African-based endowment "the ultimate empowerment story."
excerpt from a story by Kathy Gilbert, freelance writer for UMNews, Nashville, Tennessee.
One of seven apportioned giving opportunities of The United Methodist Church, the Africa University Fund transforms Africa by educating and empowering students from across the continent through Africa University, the first fully accredited, United Methodist-related educational institution on the continent. The Africa University Fund supports the general operating expenses of Africa University including faculty and staff salaries and vital infrastructure. Please encourage your leaders and congregations to support the Africa University Fund at 100 percent.