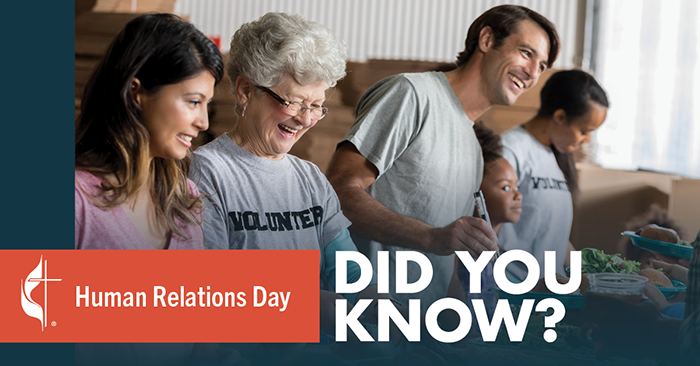 33% of giving on Human Relations Day
supports

the United Methodist Voluntary Services program?

United Methodist from across the connection help bridge the gap between church and community by participating in the Human Relations Day offering. 33% of The Human Relations Day offering is allocated for United Methodist Voluntary Programs administered by the General Board of Global Ministries. Volunteers build churches, assist in community health programs, advocate for social justice, build leadership skills, and help after a disaster.

Putting our faith into action is at the very heart of our Christian calling. By volunteering to serve through programs such as United Methodist Volunteers in Mission or the Mission Volunteers program of The General Board of Global Ministries, every person in the church has the opportunity to serve and to live their calling more faithfully.
ABOUT HUMAN RELATIONS DAY (HRD)
The United Methodist Church celebrates Human Relations Day to further the development of better human relations by involving congregations in community and youth outreach through Community Developers Programs, United Methodist Voluntary Services Programs, and Youth Offender Rehabilitation Programs. It is celebrated on the Sunday before the observance of Martin Luther King, Jr.'s birthday. This offering was originally established in 1972 to fund Self-Determination Projects, The Black Community Developers and the Police-Community Relations Program. In 1988, the offering was designated to support ministries of social justice and outreach to at-risk youth. Specific ministries include the Community Developers Program, United Methodist Voluntary Services Program and the Youth Offender Rehabilitation Program. The fund is administered by the General Board of Global Ministry and the General Board of Church and Society.