When John and Gayle Rose were asked to create a piece of art that reflects their Christian faith, they found themselves where they often find themselves — at the foot of the cross.
Literally.
The Greensboro, N.C. couple, members of that city's West Market Street United Methodist Church, had been asked to participate in the church's 2021 Easter-themed Art Walk, a creative journey that incorporated art to bring the events of Holy Week to life for the congregation. Several individuals or groups within the congregation created art pieces of various media to represent the 14 Stations of the Cross, from Jesus praying in the garden to His body being placed in the tomb.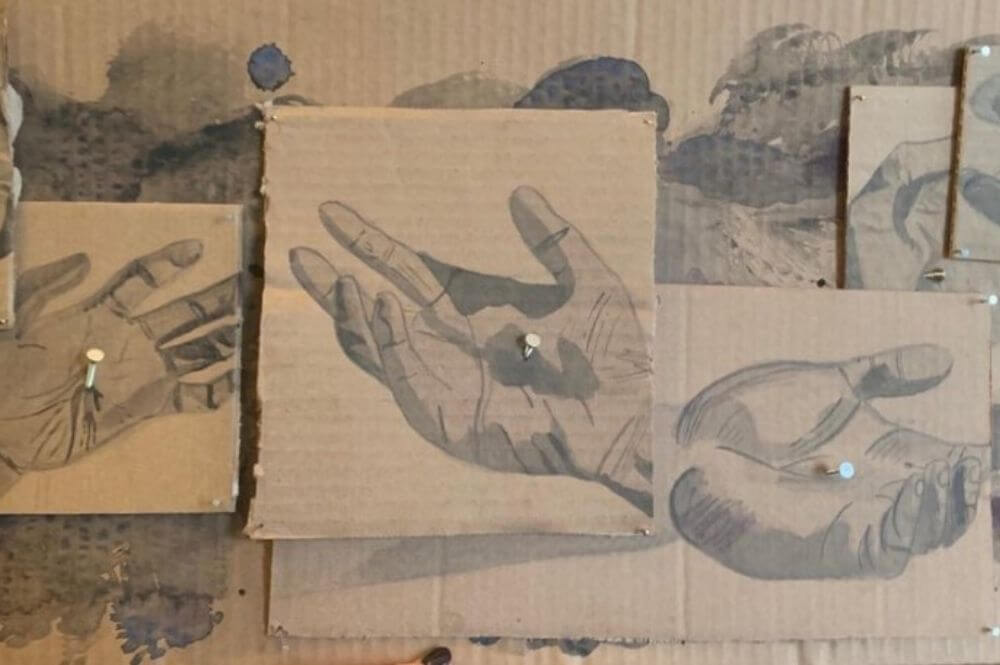 The Roses were tasked with representing Station 8, when Simon of Cyrene takes up the cross of Christ and carries it for Him. For their piece, they fashioned a cross similar to the one Simon carried, focusing on its size, its weight and its ruggedness, but even more so on its significance.
"Jesus tells us we must take up our own cross, whatever that is, and follow Him," John says. "So that got us thinking, what is it that comes between us and Jesus? What keeps us from taking up our cross and following Him?"
To that end, as Art Walk journeyers arrived at the Roses' cross, they were challenged to write on a piece of paper what it was that came between them and Christ — Anger? Fear? Doubt? — and nail the paper to the cross, symbolically giving it over to the Lord.
"It was pretty powerful," John says. "There were a lot of heartfelt responses that really resonated."
That's the idea behind the Art Walk, which the church will host again this year on Good Friday.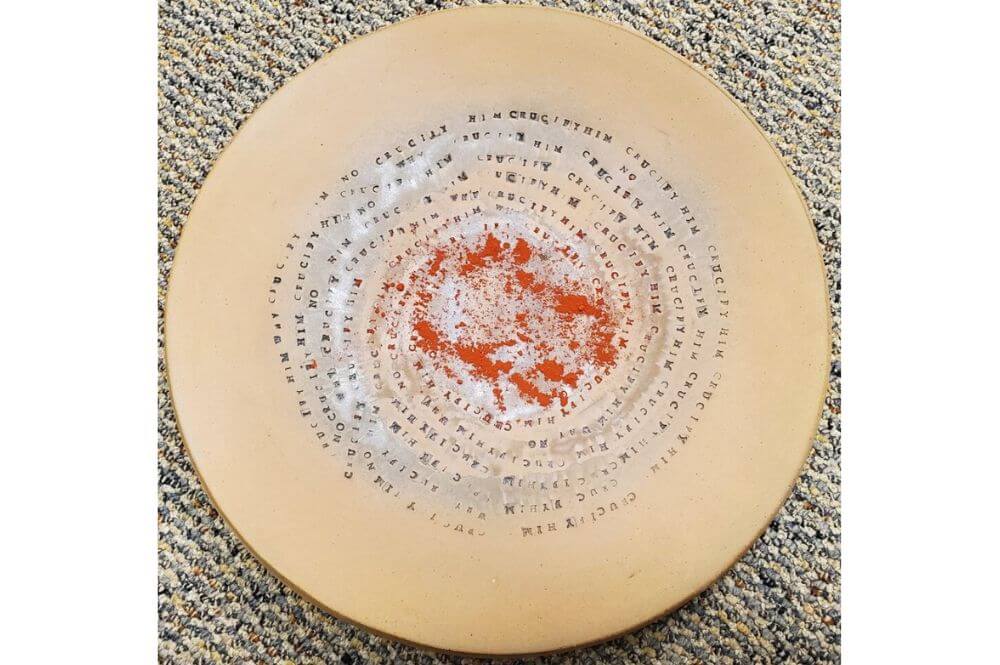 Artist Sara Gray created a pottery bowl with red iron powder in the center, which turned red when water was added to symbolize Pilate washing his hands of Jesus' blood. Photo courtesy of West Market Street UMC.
"(The Art Walk) causes people to have to think a lot more," suggests Carol Key, a church member who created an oil painting of Jesus carrying His cross to Golgotha. "When you experience the Art Walk as an observer, you're having to see things through someone else's eyes or someone else's interpretation, and that forces you to reflect on their interpretation."
Like Key, other artists turned in dramatic paintings for the Art Walk: A simple crown of thorns. Christ on the cross, speaking words of compassion to Mary and John, even as He was dying. An abstract rendering of Jesus and the two thieves talking as they're being crucified.
Another particularly powerful piece was a ceramic bowl made by a potter in the church. In the center of the bowl was a red iron powder, which turned red when water was added to it, symbolic of Pilate washing his hands of Jesus' blood.
Even the children of the church got involved, creating a Lego brick depiction of Christ praying in the Garden of Gethsemane. The youth used fabric and mirrors to design the final Station of the Cross, the placing of Christ's body in the tomb. They titled their piece, "Seeing Ourselves in the Great Sacrifice."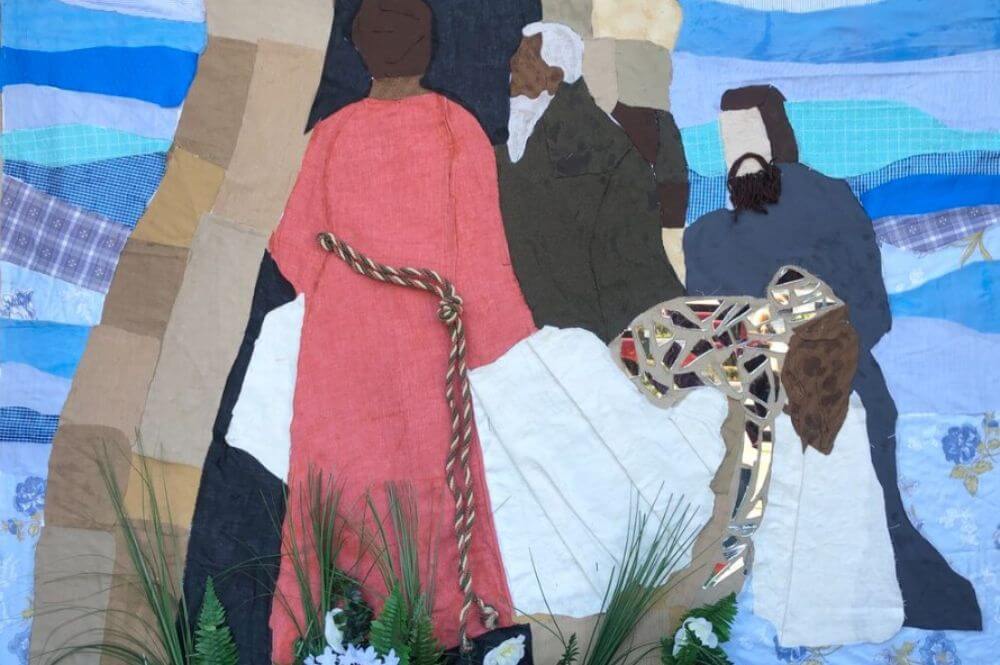 West Market Street UMC youth created a mixed medium piece to represent Jesus' body being laid in the tomb. Photo courtesy of West Market Street UMC.
In creating their art pieces, the artists were asked to think and pray about the Scripture associated with their particular station, and let those thoughts mold their art. They also shared a brief paragraph or two about their pieces for the Art Walk brochure, reflecting on the significance of what they created.
"Visual artists have a unique way of thinking," explains church staff member Dreama Lovitt, who heads the project. "I think it's really powerful to give them voice in their faith and see what they create and hear what they say about the process. It's like allowing them to minister to us through their art."
Jimmy Tomlin is a High Point, N.C.,-based freelance writer. United Methodist Communications contact is Crystal Caviness.
This content was published March 24, 2023.