When Elisha Friday Ishaya, Allen S.D. Zomonway and Elalie Tshipeng Kambaj graduated from Africa University, they were excited about providing the best health care possible. They looked forward to working with patients, serving with competent medical teams, garnering financial support from generous donors and improving health outcomes for the communities they serve.
Your support of the Africa University Fund apportionment supports the general operating expenses of Africa University including faculty and staff salaries and vital infrastructure.
Then COVID-19 hit. By Aug. 9, the 55 African Union Member States reporting COVID-19 data had recorded more than a million cases and 22,966 deaths. According to the World Health Organization (July 29), more than 10,000 health workers in the 40 African countries that report such data had been infected.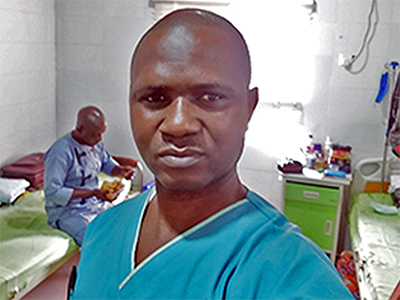 Elisha Friday Ishaya, a perioperative nurse, takes a selfie while in quarantine at the Federal Medical's Isolation Treatment Center in Keffi, Nigeria. The Africa University graduate was one of 17 on a 50-member medical team who tested positive for COVID-19. Photo courtesy of Africa University.
"Despite the fact that the pandemic has been ongoing globally for over five months," Elisha said, "many still don't believe that the coronavirus exists. All over the major cities, people can be seen not adhering to social distancing guidelines, not using masks, and not wearing gloves or sanitizing their hands."
A 2015 AU alumnus with a bachelor's degree in nursing, Elisha serves as a perioperative nurse at Federal Medical Centre Keffi in Nigeria. When his hospital became an official care center for the pandemic, the number of patients admitted for treatment and emergency surgery increased significantly. "Most of the [other] hospitals," he said, "are no longer accepting patients due to fear of COVID-19."
Allen Zomonway, a registered nurse and the hospital administrator at Ganta United Methodist Mission in Liberia, holds both undergraduate and graduate degrees from AU. He recently earned a master's degree in Leadership from Oklahoma City University in the United States.
Focusing on community health, Allen ensures that the entire staff, from medical doctors to cleaners, wear masks and take other necessary precautions. Everyone entering the hospital must be masked.
Soliciting financial support is more important than ever. "Most of the patients can't afford the minimum services fees we charge," he noted. Liberia's already-high unemployment rate is now compounded by the pandemic.
"The hospital depends on fees," Allen added, "to pay staff salaries and other running costs, but because the intake has reduced, we have a problem buying fuel to provide continuous electricity."
As COVID-19 cases are diagnosed, patients are referred to county health-isolation centers. "Diversified support," Allen said, "helps us to strengthen our Infection Prevention and Control measures, positioning Ganta Hospital as a providential safety net."
Elalie Kambaj is a health services administrator in the Democratic Republic of Congo. She mediates between South Congo Annual Conference health facilities and the United Methodist Health Board. She records patient data, writes health-strengthening system reports, oversees project fund management and does market studies.
COVID-19 forced Elalie to work from home. When she worked in an office, three staff members shared an internet connection. Now she has no internet access.
The biggest worry, she admitted, is contracting the virus. "We are unable to make site visit to facilities for follow-up as we did previously," she said. "Ongoing and approved projects are on standby, due to limited financial resources." As funding decreases, fear of unemployment grows.
Still, she said, "I impact my community in health and other social services."
She participated in a pandemic-prevention project, teaching people hygiene measures. "We distributed hand soap, face masks and sanitizers," she explained. "I organized logistics for all sites. We even went to remote areas with no internet access.
"I am proud to have saved lives with my time and skills."
excerpt from a story by Barbara Dunlap-Berg, freelance writer and editor, retired from UMCom
One of seven apportioned giving opportunities of The United Methodist Church, the Africa University Fund transforms Africa by educating and empowering students from across the continent through Africa University, the first fully accredited, United Methodist-related educational institution on the continent. The Africa University Fund supports the general operating expenses of Africa University including faculty and staff salaries and vital infrastructure. Please encourage your leaders and congregations to support the Africa University Fund at 100 percent.