Africa University graduates from Mozambique are using their education to enrich churches and communities.
Mozambican Arlindo Jossias Sambo graduated from AU in 2008 with a degree in economics.
"The study program I did at AU allows me to serve in any part of human life," he said.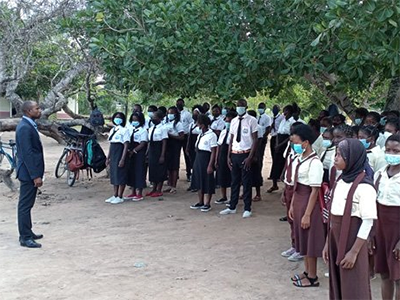 The Rev. Belmiro Jotamo speaks to students before classes begin at Bispo Henderson Secondary School in Muxungue (Sofala), Mozambique. Photo by Abilio Salvador Huo
Sambo, who has worked at the National Roads Administration — Public Institute (ANE-IP) since graduation, currently serves in Mueda, Mozambique, on an ANE road-related project and is the financial representative of the African Bank. (He is not related to the Rev. Joao Sambo who wrote this article.)
Africa University held its 28th graduation ceremony June 11th. With 746 graduates from 23 African countries, the class of 2022 is the second-largest for Africa University to date. It includes the university's first three doctoral degree recipients from the College of Health, Agriculture and Natural Sciences' Department of Public Health.
Sambo credits Africa University with shaping him, both scientifically and spiritually. "AU brings back good memories," he said. "I have recommended many to be trained there. I would like to be a student at AU again if they provide a Ph. D. program in economics."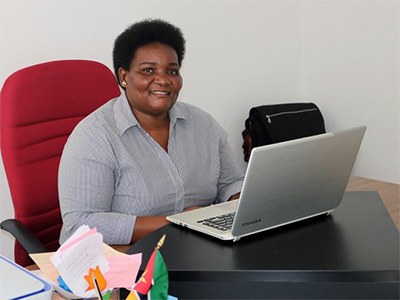 The Rev. Olga Maria Raimundo, principal of the United Methodist Secondary School in Malhazine, Mozambique, graduated from Africa University with a theology degree in 2007 and a master's in 2010. File photo by João Filimone Sambo.
In the North Mozambique Conference, another Africa University graduate — the Rev. Belmiro Jotamo — is a pastor and a teacher. Before going to AU in 2014, he was a pastor in the South Conference. Since graduating in 2019, he has served as principal of Bishop Henderson Secondary School in Muxungue (Sofala).
Jotamo highlighted AU's cultural and pan-African diversity. He appreciates that Africa University "enables young Africans to seek solutions to the common problems that afflict their countries — and the continent as a whole."
The Rev. Olga Maria Raimundo enrolled at AU in 2003 and took intensive English before pursuing the degree program in theology, graduating in 2007. A year later, she returned to pursue a master's degree, which she earned in 2010.
Since 2012, Raimundo has been an educator in secular and church schools.
"I am a lecturer at Seminario Unido de Ricatla (Ricatla United Seminary) and the Universidade São Tomas de Moçambique (University of São Tomas in Mozambique)," she said. "I am a visiting lecturer at the United Methodist University in Cambine. I feel that I am making a valuable contribution to the church and society."
Another graduate who is making a difference in Mozambican church and society is Júlio André Vilanculos, who entered Africa University in 2003 and graduated in 2009 with two academic degrees.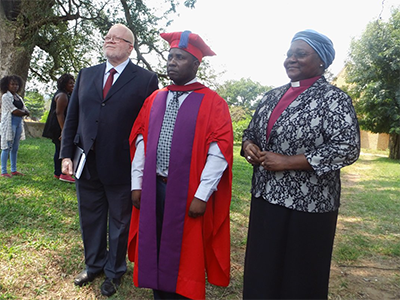 The Rev. Julio Andre Vilanculos (center) during his inauguration as rector of the United Methodist University of Mozambique in Cambine, in 2018. File photo by Francisco Cumbe.
Vilanculos focuses on teaching, supervision and leadership of educational institutions in Mozambique.
He remembers entering Africa University without knowing a word of English, the language of instruction.
"I was convinced that I could do it," he said of overcoming the language barrier. "I managed to graduate with two university degrees."
He added: "AU is a university of recognized international merit."
excerpt from a story by João Filimone Sambo, Africa lusophone correspondent, UMNews.
One of seven apportioned giving opportunities of The United Methodist Church, the
Africa University Fund
transforms Africa by educating and empowering students from across the continent through Africa University, the first fully accredited, United Methodist-related educational institution on the continent. The Africa University Fund supports the general operating expenses of Africa University including faculty and staff salaries and vital infrastructure. Please encourage your leaders and congregations to support the Africa University Fund at 100 percent.