Africa University and Claflin University are preparing to launch a master's degree program in biotechnology through online learning. The Master of Science degree in biotechnology, expected to begin in 2022, is an exciting new component of a partnership between the two institutions that began in 2017.
Your support of the Africa University Fund apportionment supports the general operating expenses of Africa University including faculty and staff salaries and vital infrastructure.
In May, leaders from both institutions—Africa University's Acting Vice Chancellor, Professor Peter Mageto, and Associate Vice Chancellor for Institutional Advancement, James Salley, and Claflin University President Dwaun Warmack, Provost Dr. Karl Wright, and Interim Vice Provost, Dr. Verlie Tisdale—met to review their four-year collaboration and finalize plans to expand the partnership.
"We see biotechnology as a program that will strengthen our relationship with Claflin," said Mageto. "We also see this as an opportunity to develop an international program that will attract students from beyond our borders and impact how governments will begin to think about biotechnology and climate change."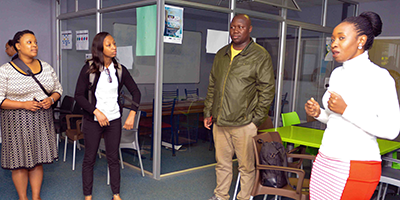 Claflin U faculty at AU, visiting the i5Hub on campus. Courtesy photo.
The collaboration, which received seed financing from the Black College Fund of The United Methodist Church, Initially focused primarily on faculty/student exchange.
"The master's in biotechnology program will significantly enhance our historic partnership with Africa University," said Warmack. "A master's degree in biotechnology will increase employment opportunities considerably for their students in the global workforce. The program also expands Claflin's brand throughout the continent. This will help us recruit talented diverse scholars, faculty, and researchers from Africa and other countries."
Although COVID-19 interrupted the partnership's faculty/student exchange initiative, Africa University and Claflin University administrators continued their strategic planning through virtual communications platforms. Much like colleges and universities throughout the U.S., Africa University's academic programs transitioned to 100 percent online during the pandemic.
Andra M. Stevens, Director, Communications, Africa University Development Office
One of seven apportioned giving opportunities of The United Methodist Church, the Africa University Fund transforms Africa by educating and empowering students from across the continent through Africa University, the first fully accredited, United Methodist-related educational institution on the continent. The Africa University Fund supports the general operating expenses of Africa University including faculty and staff salaries and vital infrastructure. Please encourage your leaders and congregations to support the Africa University Fund at 100 percent.