"Societies become great when old men and women plant trees under whose shade they know they will never sit."
There was wisdom to be gleaned from this paraphrase of an old Greek proverb shared by Mr. James Salley, associate vice chancellor for Institutional Advancement & president/CEO of AU Tennessee, Inc., during the April 12 ground-breaking for the new residence hall for female students on the campus of Africa University. The dorm for 90 female students is being built and furnished with the $1.5 million raised and collected through the East Ohio Conference Teach • Reach • Bless campaign will benefit students for generations to come.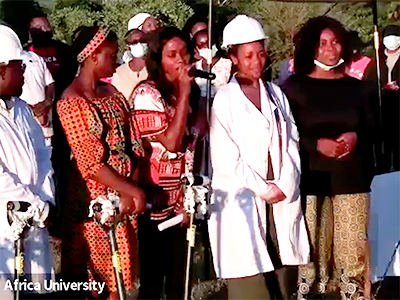 Courtesy photo.
The Teach • Reach • Bless campaign, endorsed by East Ohio Conference leadership, and supported by clergy and laity, was the vision of Bishop Tracy S. Malone who saw the need to create more on-campus housing for female students so that they could focus on their educations instead of worrying about commuting far distances and being vulnerable to unsafe and untenable situations.
"Education is the key to unlocking the world, a passport to freedom," Malone said during her remarks, sharing that the quote from Oprah Winfrey had been resonating with her of late. "During these past five years I have had many opportunities to spend time on the campus with these students, hearing their stories. Listening to their hopes, listening to their dreams. And I have witnessed first-hand how an education at Africa University is unlocking these students' lives and their future potential as transformational leaders in their families, in their communities, in their villages and across the continent of Africa and throughout the world. Education is passport to freedom to sustainability to possibility to hope. The passport to freedom is what this groundbreaking ceremony is about today."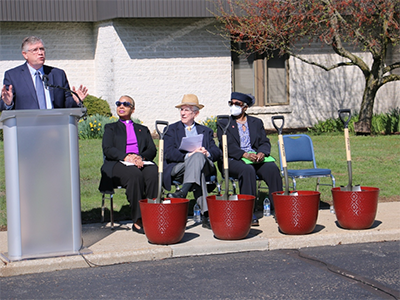 Courtesy photo.
After several days of rain, the sun shone brightly on celebrants in East Ohio as they listened to students on the other side of the world share their excitement about the new residence hall, watched a video about Africa University, enjoyed the sounds of the world-renown AU choir, and turned dirt in North Canton immediately after ground was broken on campus in Zimbabwe.
In her remarks, Teach • Reach • Bless campaign Co-Chair Dr. Maggie Jackson spoke of the strong ties AU and the East Ohio Conference share.
After celebrating donors, co-chair Bill McFadden turned his focus to what the new residence hall will mean to those who will live there as the East Ohio Conference plays a role in shaping Africa yesterday, today, and tomorrow.
"Today we anticipate. We anticipate what it will mean when female students will come with their dreams of becoming nurses, teachers, pastors, entrepreneurs, business leaders, advocates for peace and justice, and a myriad of other dreams to be fulfilled. But most of all, I think, we anticipate that some of those who come will include the daughters and the granddaughters of graduates of Africa University and they will begin that line of legacy that will extend generation after generation into the future."
"This is so much more than an investment in a residence hall," shared Bishop Malone. "We are investing in an education, investing in leadership, investing in safe and secure housing. We are investing in students' lives!"
excerpt from a story by Brett Hetherington, Communications specialist for the East Ohio Conference of The United Methodist Church.
A World Service Special Gift is a designated financial contribution made by an individual, local church, organization, district or annual conference to a project authorized as such by the Connectional Table. Current World Service Special Gifts projects include the Africa University Endowment Fund, the Leonard Perryman Communications Scholarship for Ethnic Minority Students, the Methodist Global Education Fund, the National Anti-Gambling Project and the Lay Missionary Planting Network.