Friends and leaders from across the Alaska Conference and Western Jurisdiction gathered this Spring in Anchorage to celebrate the chartering service of Ola Toe Fuataina United Methodist Church, a primarily Samoan congregation.
Ola Toe Fuataina United Methodist Church is a part of the Alaska Annual Conference.
Bishop Cedrick Bridgeforth of the Greater Northwest Episcopal Area presided over the chartering ceremony, which he said is a first for him as well.
Though it is now one of the newest United Methodist churches, Ola Toe Fuataina United Methodist Church has been worshipping together since 2010.
The Rev. Fa'atafa Fulumu'a leads singing during the chartering service for Ola Toe Fuataina United Methodist Church. Photo by Mike DuBose, UM News.
The Rev. Fa'atafa "Tafa" Fulumu'a, the church's pastor, said the name Ola Toe Fuataina means "new beginning."
Fulumu'a, who lived in Hawaii and belonged to the California-Pacific Conference, said he was brought to Alaska by a recurring dream where his wife was calling him on the phone but he didn't answer. A pastor friend who relocated to Alaska also had asked if he wanted to come start a church there.
"I said, 'No, it's too cold for me,' but he kept calling."
One night while he and his wife were watching TV, Fulumu'a fell asleep and dreamed about Alaska.
"I woke up and cried, and told my wife that if this is God's calling, we have to go," he said.
He explained his dream to his district superintendent, who told him, "Tafa, you have to go."
March 7, 2010, was the last Sunday at his church in Hawaii. A week later, he met with the community of Samoan United Methodists who wanted to start a new church in Anchorage
They worshipped for several months without a permanent home before Fulumu'a spoke with leaders at East Anchorage United Methodist Church, who were in need of an organist. Fulumu'a, who played piano and organ for several churches, offered to be East Anchorage's organist if the Samoan congregation could meet there.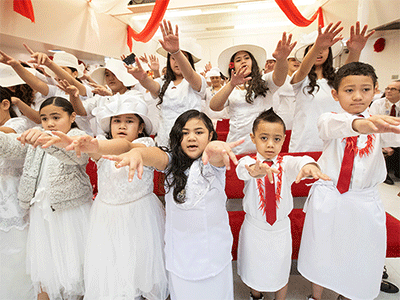 Members of the choir sing during the chartering service for Ola Toe Fuataina United Methodist Church in Anchorage, Alaska. Photo by Mike DuBose, UM News.
Unfortunately, they lost their church home in 2016 when East Anchorage was discontinued. An Episcopal church hosted their worship services for several years, and they were able to move back to their original home in 2019 when the Alaska Conference began a new church start in the building and its pastor invited them to share the space.
"When I came here and we were looking at what to do with the building, I found out they were still looking for a home so I reached out to see if they wanted to come back," said the Rev. Murray Crookes, pastor of Every Nation United Methodist Church. "I love Tafa to pieces and I celebrate (the charter) with them. It's so amazing."
Not long after their return, the coronavirus pandemic put a halt to in-person worship, so Fulumu'a posted sermons on the church's Facebook page until the congregation could return.
Through all its hurdles, Ola Toe Fuataina has continued to grow its membership, including many young people. The youth featured prominently in the chartering celebration, performing most of the music.
Galoane Taiula, who oversees the youth programs, said that the most important thing is keeping kids involved in the life of the church.
As a child, Taiula said, she only went to church because her parents took her, but outreach programs at a United Methodist church drew her in during a "dark time of life" for her.
Taiula said she can see the youth hunger for more after an event like the chartering service. Two more joined the church afterward.
Fulumu'a attributes the church's growth to his practice of home visits. Many Samoans work Sundays and can't come to worship so he spends weekends visiting families.
Fulumu'a said he hopes to keep growing, which might mean the church will have to seek a larger worship space.
excerpt from a story by Joey Butler, multimedia producer/editor, UMNS
This story represents how United Methodist local churches through their Annual Conferences are living as Vital Congregations. A vital congregation is the body of Christ making and engaging disciples for the transformation of the world. Vital congregations are shaped by and witnessed through four focus areas: calling and shaping principled Christian leaders; creating and sustaining new places for new people; ministries with poor people and communities; and abundant health for all.