Tendai Musandaka graduated high school in 2017, scoring well on her Advanced Level exams. However, the 21-year-old was unable to afford higher education so she returned to her rural home without any prospects for the future.
That all changed when she was chosen for a farming project led by The United Methodist Church's Ministry with Women, Youth and Children. Now, she is determined to turn the opportunity into a steppingstone to transform her life and that of her five siblings.
"I am strong minded that with this project a lot will be transformed in my life and that of my siblings, especially in advancing in our education," Musandaka said.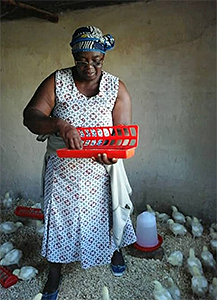 Irene Chitere tends to baby chicks in Marange, Zimbabwe. Fifty women and girls received chicks as part of an UMCOR-funded farming project.
The ministry has embarked on an aggressive empowerment program in the Marange District to avert the effects of the El Nino-induced drought. During the 2018-19 farming season, most farmers in Marange and many other districts lost their crops, leaving farmers struggling to provide for their families.
As part of the ministry project, 50 women and girls received chicks aimed at generating income and supplying meat for families' consumption. The women received a day of training led by Mutare's Department of Crop and Livestock to learn how to care for the animals.
The project was funded by a $15,200 grant from the United Methodist Committee on Relief, part of the denomination's Board of Global Ministries.
Lorrie King, WASH/Food Security/Livelihoods programs manager for UMCOR, said supporting the project was important to the relief agency.
"To quote the wisdom of my colleague Lorraine Charinda (a Global Ministries missionary serving in Congo), 'Unless women and girls are allowed to reach their full potential, the agricultural sector can't reach its full growth and expansion.' This is why UMCOR's food security portfolio prioritizes programs that focus on small-scale female farmers," she said.
The Ministry with Women, Youth and Children distributed 1,250 day-old chicks, 150 feeding and water troughs, 50 ropes and 6,250 tons of feed to the women.
Each beneficiary received 25 chicks and supplies. One group with four members close by are rearing the chickens as a group. When the animals are sold, the women will plough money back into the project.
Musandaka said she is optimistic that the project is going to be a breakthrough in her life.
"Our father passed away in 2003, leaving the five of us in the custody of our mother … a housemaid in Mutare earning $80 per month, meant to cater for her welfare, us — the children — and our grandmother who is staying with us in rural areas.
"Life can be tough, but I am determined that this project is a step forward to a better life where I am looking forward to enroll at a university. I do not want to get married early before achieving my educational goals, as my sisters ages 23 and 19 did," she said.
excerpt of a story by Kudzai Chingwe Chingwe, communications coordinator for the Zimbabwe East Conference.
One of six churchwide Special Sundays with offerings of The United Methodist Church, UMCOR Sunday calls United Methodists to share the goodness of life with those who hurt. Your gifts to UMCOR Sunday lay the foundation for the United Methodist Committee on Relief (UMCOR) to share God's love with communities everywhere. The special offering underwrites UMCOR's "costs of doing business." This helps UMCOR to keep the promise that 100 percent of any gift to a specific UMCOR project will go toward that project, not administrative costs.
When you give generously on UMCOR Sunday, you make a difference in the lives of people who hurt.
Give now
.