Faithful Survivors in Bulgaria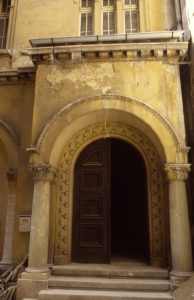 Sophia Methodist Church door; photo by Marcia Berry.
The following story is submitted by Rev. Keith Berry. Rev. Berry visited Bulgaria with his late wife Marcia in 1992 while a member of the World Methodist Council.
In the capital city, Sophia, Bulgaria, the Methodist building was confiscated by the Communists in 1947, just as the young pastor, Zdravko Beslov was preparing to give his first sermon there. The government imprisoned the pastor and turned the old church building into a rehearsal hall for the nearby opera house.
Forty-two years later, in 1989, the property was returned to the surviving remnant of its former congregation. After remodeling, one room was re-opened for worship in 1992.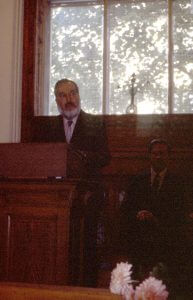 Pastor Beslov; photo by Marcia Berry.
Pastor Beslov, then 72 years old and disabled from beatings he had received during his 12 years in prison, stood behind the new pulpit. And for the first time in 44 years, the people rose and sang the Doxology in their own building.
As one man said, "Those years [of Communist oppression] were not lost years, because our children are still with us in the church." The number of young pastors in Bulgaria is increasing, and the number of vibrant churches is growing.