First indigenous Filipino missionary and founder of independent Filipino Methodism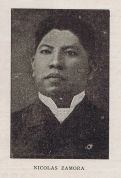 Source: Wikimedia Commons https://commons.wikimedia.org/wiki/File:Bishop_Nicolas_Zamora_in_1904_newspaper.png
One Sunday in July 1899, the interpreter for missionary Arthur W. Prautch failed to appear at services in Manila. Prautch asked one of the congregation, Paulino Zamora, to speak. Zamora did so briefly and then bowed out in favor of his son Nicolas, who he said could speak better than he. Young Zamora came forward, and surprised the small group by delivering an eloquent and effective sermon. His preaching was so impressive that Prautch placed the Sunday afternoon services in his hands.
Paulino's uncle was Father Jacinto Zamora, one of three Filipino secular priests executed by the Spanish government for subversion, though generally believed to be quite innocent. The Zamora family became bitterly antifriar, and Paulino, breaking the Church's tabu against private reading of the Bible, secured a copy of the Scriptures from a sea captain, read it, became a Protestant, moved out of Manila in order to pursue his Bibles studies in safety, and began introducing the Bible to his neighbors. For this he was arrested and exiled but returned to Manila after the start of US occupation.
Nicolas Zamora, just under twenty-five when he preached his first sermon, had studied in Santo Tomas University, a Roman Catholic institution in Manila. Spurred by correspondence with his father, he too studied the Bible privately and became a convinced evangelical. Soon after his first efforts as a preacher, Nicolas Zamora began devoting all his time to study and pastoral work. Under his leadership, the Spanish-language congregation at the Soldiers' Institute began to grow, until by October there were 130 attendants. This increase was won in the face of public opposition from Roman Catholic sources.
At this point, Prautch and Zamora started a second Filipino congregation, in a private home in San Miguel, beginning with forty attendants. Zamora did the preaching, and an exhorter was engaged for house-to-house teaching and to invite people to the services.
On his second visit to Manila in 1900, Bishop James Thoburn was impressed by Nicolas Zamora—by his preaching ability and by his success as an evangelist—for Zamora was the leading spirit in the Filipino work that now was being conducted in seven congregations in Manila and its vicinity. Thoburn decided to receive him into the Methodist ministry and cabled Mission Secretary A. B. Leonard to arrange for him to be voted Conference relationship and ordination by an Annual Conference in the United States. The South Kansas Conference responded, receiving him on trial, electing him Deacon, and then transferring him to the Malaysia Mission Conference, which had oversight for the Philippines. They notified Thoburn of all this by cable. On 10 March, a few hours before leaving Manila, Thoburn ordained Zamora a Deacon, thus making him the first Filipino to become an ordained Protestant minister. He became a full member of the Malaysia Conference in 1903.
The congregation in Pandacan, where Zamora preached regularly, became Methodism's first organized Filipino church. It soon rented the site of a house burned down the year before in fighting between the United States and the Filipino soldiers and built for a few hundred dollars a simple thatch-roofed chapel that held about a hundred people. With Bishop Warne officiating, on August 12, 1900, this became the first formally dedicated Protestant church in the Philippines.
Through Zamora's evangelistic leadership, Methodism continued to spread in the Philippines, with additional congregations and preaching points started. He served as an itinerant evangelist. In 1906, he preached nearly seventy-five times in more than twenty-five places in and beyond the capital city. For three years, beginning in 1906, Zamora served as head of the Tondo Circuit. In that capacity, he held a group of secessionists within the Chuch and opened an intensive evangelistic campaign, preaching every evening for three and a half months.
Zamora, however, became restive in his position as a Filipino minister under American missionary direction and after a time identified himself with the very separatist influences he had sought to curb. For several years, he had been chafing under the American Methodist harness. He was a preacher of extraordinary effectiveness, and the missionaries were quite happy to have his talents available, but within limits set by themselves. Like the other Filipino preachers, he had been bound for years by a missionary field policy that forbade using funds from appropriations for the purpose of paying salaries to Filipino workers. He was recognized as the outstanding Filipino Protestant minister in the Islands. Nevertheless, the Tondo Circuit was the highest ministerial post to which he was appointed.
More broadly, Zamora was sensitive to the inferior position of the entire Filipino corps of Methodist workers. Although the evangelization of the Methodist field on Luzon had been carried out mostly through their efforts, their sacrifices, and their acceptance of hardship and persecution, even the ordained men among them had no determining voice in the ruling councils of the Mission. Policy was fashioned and administrative decisions were made by the missionaries. The District Superintendents were all Americans, and serving under them were supervising Americans designated as missionaries-in-charge, who directed the activities of all the Filipino preachers and other workers.
Once Zamora decisively identified himself with those who were discontented with the Filipinos' second-class position in the Church, he naturally became their leader. On Sunday, 21 February 1909, Zamora stood in the pulpit of St. Pauls' Church, Tondo, and told his congregation that he was about to leave the ministry and membership of the Methodist Church. His position was that he cherished the doctrines and customs of the Methodist Church but had decided to sever himself from it and start a new church. Almost all the Filipino lay workers present at once voiced their determination to follow Zamora out of the Methodist Church and proceeded to turn in their licenses.
Out of the days of confusion, excitement, and harsh charges and countercharges that followed Zamora's secession emerged a new church, La Iglesia Evangelica Metodista en las Islas Filipinas, which Zamora headed until his death in 1914. Into it went during the first year, in addition to the three ministers who withdrew from the Methodist Episcopal Church, twenty-five evangelistic workers (about a fourth of those engaged in full-time work) and fifteen hundred church members and probationers (about 5 per cent of the total for the Conference).
Adapted by David W. Scott from J. Tremayne Copplestone, History of Methodist Missions, Vol. IV: Twentieth-Century Perspectives (New York: The Board of Global Ministries, 1973); 185-99, 211-5, 225-8.