"When I recall my childhood, I always remember the times playing with my friends at the playground in front of our house. Our life was simple – no gadgets. We played with dirt and other things we could find around the house. I had a wonderful childhood" said Sara Bless C. Sanchez.
"My teenage years were memorable and at the same time challenging. I had to adjust to a new environment especially during my high school years. It was not easy for me because I had to be independent and make new friends. I experienced bullying and sometimes I felt I didn't belong with my classmates. I am thankful that my parents encouraged me to get involved in church activities," continued Sanchez.
During those years, Sanchez served as the United Methodist Youth Fellowship officer in her home church, Bayombong United Methodist Church, Nueva Vizcaya, Philippines and became a Sunday school teacher, Bible study leader, and dance ministry leader. Additionally, she helped organize youth activities at the local church and annual conference level. "I discovered my talents, said Sanchez, when I got involved in church activities. I found a way to use my talents to connect with people."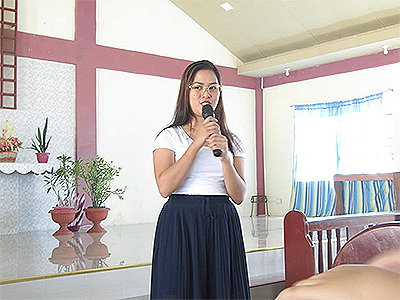 Sara Bless C. Sanchez. Courtesy photo.
When Sanchez began attending college, at first, she envisioned becoming a nurse but later took a psychology course and fell in love with the discipline. She recognized how valuable a ministry in psychology could be to her country.
"There are a lot of mental health issues that are arising. These are the reasons why I am encouraged to pursue a career in psychology," explained Sanchez.
When a friend informed her about the World Communion Sunday scholarship, she applied and was awarded the Leadership scholarship.
Your gifts on World Communion Sunday, supports the Ethnic Scholarship which enables The United Methodist Church to equip gifted, qualified students from around the globe to become the world changers God created them to be.
"Receiving the scholarship has taught me to never doubt what God can do. Because of the scholarship, I am more excited and motivated to do mental health ministry. I am confident because I know God is with me in this journey," said Sanchez. She is presently pursuing a doctorate in Clinical Psychology at Far Eastern University in the Philippines.
"One day I hope to establish a clinic to serve low-income clients; I would like to train mental health advocates so that there will be more people who will be equipped to help and design mental health programs for the local church. I want to create change by being an advocate of mental health," said Sanchez.
Elsie Cunningham, freelance writer, UMCom retiree, now living in Jamaica
One of six churchwide Special Sundays with offerings of The United Methodist Church, World Communion Sunday calls the church to reach out to all people and model diversity among God's children. The special offering provides World Communion Scholarships, the Ethnic Scholarship Program and the Ethnic In-Service Training Program.
When you give generously on World Communion Sunday, you equip gifted, qualified students from around the globe to become the world changers God created them to be. Give now.