Child of a United Methodist pastor and a deaconess and second of five children, Karl Wesley E. Dillozon was used to a "happy simple life" in the Philippines but life became complicated when his father got sick. "My father had cancer and died when I was 9. The biggest challenge for me was when my father died. It was not easy to see my father suffer, battling cancer. This was also the reason why I decided to study medicine and be a doctor," sad Dillozon.
"When my father died, we were at our lowest point; we struggled financially," explained Dillozon. My mother didn't earn much as a deaconess but I grew up with a lot of people loving me and my family. Later my older sister became a nurse and she helped my mother support the rest of us."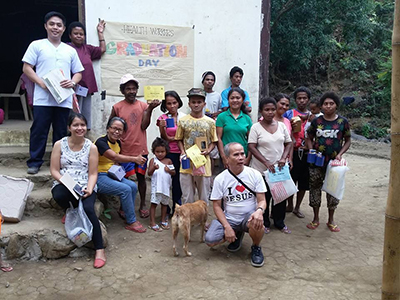 Dr. Karl Wesley E. Dillozon (far left) takes group photo with some of the clinics' patients.
Dillozon's heart for helping others spurred him to become a nurse earlier in his career. But today, he is a second-year medical student at Centro Escolar University in Manilla City, Philippines."I owe it all to The United Methodist Church. I have been to a lot of medical missions and the church exposed me to people who need doctors. The World Communion Sunday Leadership scholarship means a lot to me. Medical school is very expensive, and not all aspiring doctors are given the opportunity to become doctors because we need financial support. Without this scholarship, I wouldn't be in medical school. It gives me a mindset of doing my best because I don't want to waste the opportunity given to me," continued Dillozon.
Your gifts on World Communion Sunday, supports the Ethnic Scholarship which enables The United Methodist Church to equip gifted, qualified students from around the globe to become the world changers God created them to be.
After medical school, Dillozon plans to share God's love through his career. "My calling is to be a doctor and God wants me to use my knowledge and skills to help others. In the Philippines, there are a lot of people dying without even seeing a doctor. To be able to reach out to those people will make an impact. I think being a Christian taught me that God called us to love every patient regardless of their condition. It inspires me because I know that it is not individuals I am serving but, God.
I also want to inspire other kids to dream. World Communion Sunday scholarship gives under-served students the opportunity to study. They will someday give back to the church and people for God's glory," shared Dillozon.
Thank you for giving generously to the World Communion Sunday offering.

Elsie Cunningham, freelance writer, UMCom retiree, now living in Jamaica
One of six churchwide Special Sundays with offerings of The United Methodist Church, World Communion Sunday calls the church to reach out to all people and model diversity among God's children. The special offering provides World Communion Scholarships, the Ethnic Scholarship Program and the Ethnic In-Service Training Program.
When you give generously on World Communion Sunday, you equip gifted, qualified students from around the globe to become the world changers God created them to be. Give now.