Heritage Landmark for first Methodist work in Oregon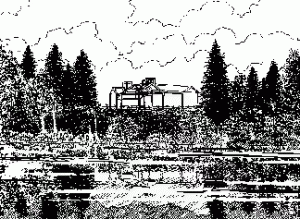 In 1831, four Flathead Native Americans from The Oregon Country walked to St. Louis "seeking a book containing directions on how to conduct themselves in order to enjoy" the favor of "the Great Spirit." Their story, told in a letter which appeared in The Christian Advocate and Journal, caused a sensation. In short order the Board of Missions of the Methodist Episcopal Church appointed the Rev. Jason Lee (1803-1845) Missionary to the Flathead.
With a small party of co-workers, Lee traveled west with a fur trading expedition. Upon arrival in The Oregon Country in 1834, he established a mission on the Willamette River.
Lee soon recognized that his mission was not only to the rapidly disappearing Native Americans but to all who were to immigrate to the area.
A second contingent of missionaries sailed to The Oregon Country via Cape Horn and Hawaii in 1837. They included several women, among them Anna Maria Pittman who soon became Mrs. Jason Lee.
In 1839, "The Great Reinforcement" sailed for Oregon. Never before had the Board of Missions sent out such a large contingent of missionaries. It included five preachers, four mechanics, four teachers, two farmers, an accountant, and their families. Among them were George Abernathy, The Oregon Country's future first governor and Ira Babcock, who became Oregon's first Supreme Judge.
Historically, the mission site has both spiritual and secular significance. The missionaries' leadership in education, farming, and manufacturing made an important difference in Oregon's social, cultural, and economic future. Lee's support of United States ownership of The Oregon Country, ownership which was contested by Great Britain, made him an important early political figure as well.
In 1843, reports sent east to the Board from a disgruntled missionary prompted it to replace Lee with a new superintendent who dissolved the mission and sold its property, an action the Board later regretted.
Jason Lee spent less than ten years in The Oregon Country and died before this area became The Oregon Territory in 1848. Today there are statues of Lee on the Oregon State Capitol grounds and in Statuary Hall in the United States Capitol.
Taken with permission from Heritage Landmarks: A Traveler's Guide to the Most Sacred Places in The United Methodist Church, by the General Commission on Archives and History. For more information, see http://www.gcah.org/research/travelers-guide/willamette-mission