As a United Methodist, you are probably aware that General Conference, the once-every-four-years official meeting of the church is happening May 5-15 in Minneapolis. What may be far less clear, however, is what happens there and what it means to your local congregation.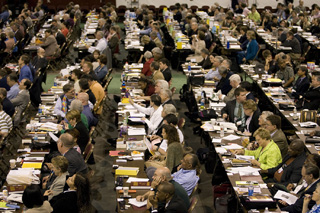 The legislative work accomplished at General Conference impacts life in the local church. File photo of the 2008 General Conference by Mike DuBose, United Methodist Communications.
Work
The best-known aspect of General Conference is the legislation. General Conference is the body that determines direction and speaks officially for our denomination. More than 850 delegates elected by their annual conferences will consider many items. Half the delegates are clergy and half are laity. Bishops lead the sessions but have neither voice nor vote.
Amendments to The Book of Discipline that guides the work of local churches, pastors, annual conferences, general agencies, and bishops, are adopted. Delegates also vote on resolutions that give the official positions of The United Methodist Church on social issues which are published in our Book of Resolutions.
The General Conference covers a wide array of issues that affect all levels of our church. A small percentage of them receive a great deal of attention. Others will pass or fail without much fanfare, but will have lasting impacts in the life of our local churches.
At General Conference, legislation will be presented and debated on human sexuality, the budget of the general church, a more global church structure and much more.
Whether widely publicized or not, General Conference legislation directs our work globally, regionally, and locally in our congregations.
Read a summary of proposed major legislative issues.
General Conference receives reports, votes on legislation, and passes a budget, but it is more than a business meeting.
The General Conference sessions are the only time The United Methodist Church gathers from across the globe in a single location. In that sense, it is something akin to a family reunion — albeit a ridiculously large one. When we come together every four years, we take the opportunity to worship, remember, and celebrate.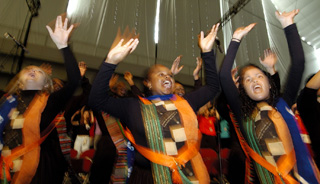 Worship at General Conference represents many cultures and worship styles. File photo of 2004 General Conference by Paul Jeffrey, United Methodist Communications.
Worship
When the United Methodist family gathers, we come from Africa, Asia, Europe, and North America. We come together as one in our faith in Jesus Christ and our love for The United Methodist Church. There are, however, a variety of languages and cultures represented.
The worship of General Conference celebrates our unity and diversity.
The worship reminds us that we are part of something much larger than our local congregation. We are a connectional church, united to do wonderful work across the globe. We will share on billboards, trains, and elsewhere around Minneapolis that united in faith, millions serve God and our neighbors.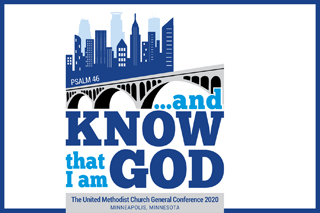 The theme for the 2020 General Conference, "…and know that I am God," is based on an excerpt from Psalm 46:10.
… and know that I am God
The activity of General Conference can seem far removed from our home congregations, but that could not be farther from the truth. The work, worship, celebrations, and remembrances at General Conference are the activity of all the people of The United Methodist Church.
"The mission of the Church is to make disciples of Jesus Christ for the transformation of the world. Local churches provide the most significant arena through which disciple-making occurs." General Conference meets every four years to facilitate this work happening in each of our churches.
General Conference can seem far removed from our home congregations, but that is not the case.

TWEET THIS
*Joe Iovino works for UMC.org at United Methodist Communications. Contact him by email or at 615-312-3733.