College students returning home on break or for the summer often long to reconnect with old friends, their former youth leaders, and others in the church who were an important part of their faith development. That is not always as easy as it sounds.
After years of being active in your church they are no longer part of the youth ministry, and not ready for adult ministries yet. So how can churches minister to their college students when they return for break?
Send exam survival kits
Before they return, consider sending each college student an Exam Survival Kit. The days before breaks are typically filled with writing final papers, finishing projects, and studying for exams. This can mean sleepless nights and stress-filled days. Fill boxes with both sugary and healthy snacks, maybe a gift card to a coffee shop, and other goodies to help a student through the home stretch. Personalize the kits as much as possible and include a note or card of encouragement, which also lets them know you are looking forward to seeing them during their break. Invite the whole congregation to participate by donating the items for the kits.
Host a youth group reunion
Opportunities for young adults to be together are important during this time, and planning a youth group reunion or young adult Christmas party during winter break or pool party during the summer, will give old friends time to reminisce and catch up.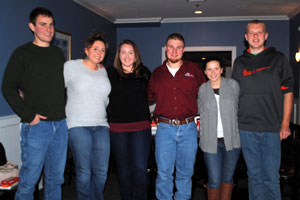 Evy Nickerson enjoyed this year's youth group reunion with some of her alumni. Photo courtesy Evy Nickerson.
Evy Nickerson, youth leader of Northside United Methodist Church in Brewster, Massachusetts, held a reunion for her former students during Thanksgiving break.
She invited those who graduated from the youth group in the last 10 years to a local restaurant for a night of memories. A slideshow of pictures from their youth group years was presented, some of their regular chaperones and Sunday school teachers were there, and each alumnus had an opportunity to talk about life after high school.
"Everyone had a great time," Nickerson reported, "and we planned to have another dinner."
Organize a young adult service opportunity
A group service project is not only a great ministry to the community, it also provides opportunities for the young adults in your church to spend time together. Arrange a time for them to serve together with a local service organization or deliver gifts and meals to people in need. The young adults and the people they serve will be blessed.
Invite students to serve as worship leaders
While they are worshiping with you, invite your students to serve as guest musicians, liturgists, soloists, choir members, ushers, greeters, and the like. You will be giving them an opportunity to use their gifts again, something they might not have an opportunity to do at college. As a bonus, it also makes them visible to the largest number of congregants, who will then be more likely to greet them and welcome them back to church.
Send them back with a gift and a prayer
Before sending them back to school, give students a gift that lets them know their home church is thinking about them while they are away. For example, ask members of your congregation to crochet or knit prayer shawls or blankets for each of them. Then have your pastor, youth leaders, Sunday school teachers, and others, pray over the blankets before presenting them to the students. Not only will the shawls keep them warm, but they will also cover them with prayer — even when they are away.
Plan how you will stay connected
Many churches are good at staying connected to college students in the fall, but fewer continue those ministries in the spring. Plan now to send more "survival kits" not only in November-December, but also in April-May, and get ready to welcome students back to church whenever they are coming home!
*Joe Iovino works for UMC.org at United Methodist Communications. Contact him by email or at 615-312-3733.
This story was originally posted December 4, 2014.