There were whoops of joy from some of the recipients after getting their vaccinations for the coronavirus at Asbury United Methodist Church in Tulsa, Oklahoma.
"It's really cool to see an 85-year-old walk out all but hooting and hollering because they got their vaccine," said Jim Davis, director of outreach at Asbury. "Almost every single patient leaves happy."
United Methodists are stepping up to connect people in their communities — especially the elderly and people who struggle with language barriers and computer skills — with the assistance they need to get vaccinated.
"We've gotten a lot of thank you notes from non-members, and a handful of them have sent checks," Davis said.
Kendra's COVID Coaches
Kendra Wright wanted to spread the feelings of relief she experienced after her father, who resides in an assisted living facility, was vaccinated. So, she founded Kendra's COVID Coaches.
"I was just so grateful," said Wright, a small business owner and member of Bee Creek United Methodist Church in Spicewood, Texas. "I had such a weight lifted off me."
Wright has about 70 volunteers helping people with technological issues and non-English speakers to get vaccinated. She has a weekly email newsletter and spreadsheet available for those who want to book appointments on their own. Kendra's COVID Coaches also partnered with Walmart to help fill their vaccination timeslots.
"We've gotten many thousands of people vaccines," Wright said.
Like Wright, staff members at St. John's United Methodist Church, in Rock Hill, South Carolina, got interested in helping set up COVID-19 vaccinations after their parents struggled with it.
Registration clinic
"We started to realize that it was a little more complicated than it seemed like it ought to be," said Sarah Crockford, director of ministries at St. John's. "For some folks who haven't touched a computer in years, or never have, or who don't have a computer or even an email address, you're pretty much left out."
Reaching out to city officials, Crockford learned that there were plenty of vaccines and volunteers to administer them. The biggest impediment was getting people scheduled.
"The registration clinic came from that," she said.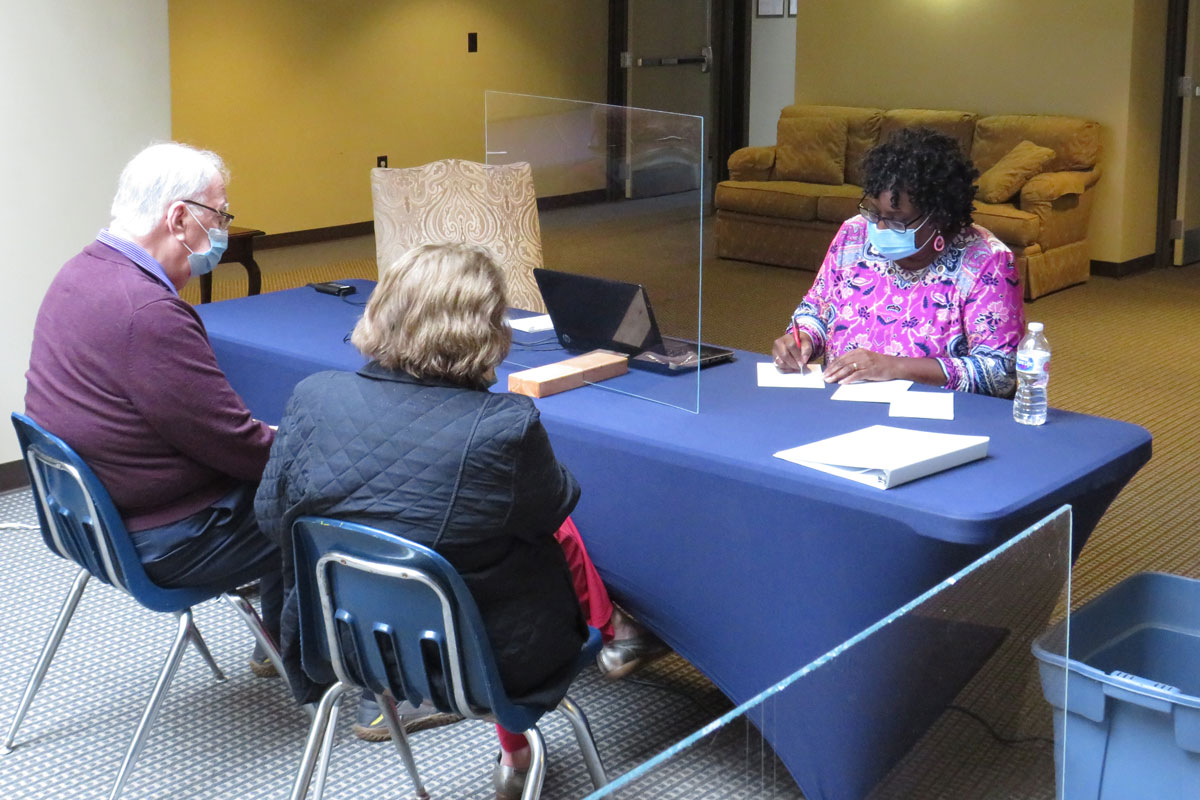 Staff members at St. John's United Methodist Church, in Rock Hill, South Carolina, have been helping people schedule times for COVID-19 vaccinations. Photo courtesy of St. John's United Methodist Church.
Church volunteers working twice a week are booking seven to 20 people a day, Crockford said.
"Everything from setting up a Gmail for them so that you can make the appointment to securing the appointment for them while they are sitting there," she said.
Building trust
The Rev. Samuel Lopez of La Puerta Abierta UMC in St. Paul, Minnesota, is a local licensed minister and a community health worker for WellShare International. The Minneapolis, Minnesota-based nonprofit works to reduce health disparities by reaching underserved communities.
"My job is to educate, resource and provide information," Lopez said. "A lot of it is (combatting) mistrust of medical institutions and government, especially in the Hispanic community."
In the Twin Cities, WellShare is disseminating COVID-19 information to the local Somali, Latinx, Oromo, Hmong and Karen communities, said Jessica Leisz, communications and development specialist.
Asbury, in Oklahoma, has also partnered with a private health company. After being told by the county and state health departments that their help wasn't needed, Asbury was approached by Passport Health, known for providing vaccines and medical care for travelers.
"We had a connection with (Passport) already, because we do a lot of international mission trips and they do all our vaccines for us, and also one of their employees goes to church here," Davis said.
Physical and spiritual care
The Oklahoma Health Department delivered vaccination doses to Passport, asking them to get them into people's arms as quickly and efficiently as possible.
"That was on a Sunday, and the next Saturday we vaccinated 500 people," Davis said.
Asbury has distributed more than 6,000 doses to date, Davis added.
In Hawaii, there is no hesitancy about getting vaccinations in the Korean American community, said David Suh, an attorney and lay leader at Christ United Methodist Church in Honolulu and vice president of the United Korean Association of Hawaii.
"The Koreans are trusting the medical medicine technology and they're very trusting of the healthcare providers and doctors," Suh said.
Back in Oklahoma, church officials decided to use the 15-minute waiting period after the vaccine is administered for some spiritual work.
The Asbury sanctuary served as the waiting area, and prayer-team members were available to pray with the patients, if they desired.
"We gave everyone a 5-by-7-inch card that says, "You are loved" on one side and a Gospel message on the backside," Davis said. "We want to provide physical as well as spiritual help to our community."
Jim Patterson is a Nashville freelance writer. Contact him by email.
This story was posted April 19, 2021.