Property Issues Lead to House Church Growth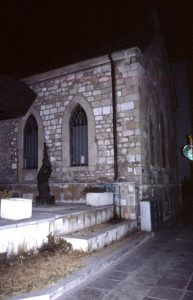 Old Methodist church building; photo by Marcia Berry.
The following story is submitted by Rev. Keith Berry. Rev. Berry visited Bulgaria with his late wife Marcia in 1992 while a member of the World Methodist Council.
In the city of Varna, on the Black Sea coast, the Methodist church was confiscated by the Communist government in 1961. The government turned it into a puppet theater for the city's children. But the government collapsed in 1989, and in 1990 the old building was offered back to the remnant congregation. However, the church leaders refused to take back their former church house. They did not want to deprive the city's children of the theater which they enjoyed.
In turn, the city gave the congregation a prime piece of land next to the public art museum, where they could build a new church equipped to distribute food and medicine as well as offer worship and study for the city's residents.
Many new people became church members, because they wanted to support the Christian faith at this crucial time in their nation's history.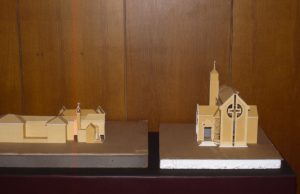 Architect's model for new Methodist church; photo by Marcia Berry.
But something unexpected happened the next year. The new government backed out of their agreement and stopped construction on the new building. Many people were forced back into their homes for prayer and Bible study. To their surprise, several of the construction workers who had lost their jobs when the project was stopped, said that they wanted to join with the church people for Bible study and worship in their homes.
So, instead of having one central church in Varna, the result by 1997 was having 15 house churches scattered throughout the city. New people continued coming to the new house congregations because these were the people who had been unselfish in the practice of their faith by leaving their old building to continue as a puppet theater for their children.