Haven King-Nobles is very proud of his United Methodist heritage. He says, "I'm a pastor's kid, but both my grandfathers were also pastors (one of them in the UMC). The fact that both my parents are United Methodist pastors defined my childhood: I grew up in the church. I cherish many memories of running around doing activities at church, of complaining about how we were always the last ones to leave, and about all the adults who weren't part of my biological family but who helped guide and shaped me nonetheless. Being a pastor's kid gives people certain expectations of you. I remember feeling at times that I just wanted to be normal, like everyone else," said King -Nobles.
King-Nobles' parents recommended the United Methodist Gift of Hope scholarship, supported by the offerings received on United Methodist Student Day Sunday, to him and he enrolled at Oberlin College.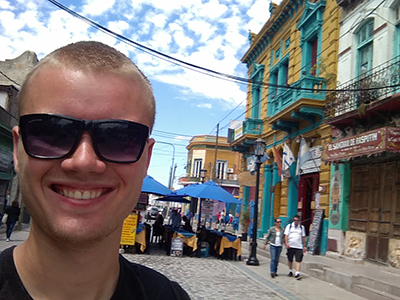 Haven King-Nobles on holiday.
"Receiving this scholarship, said King-Nobles, has allowed me to worry less about finances and focus more on the things that are important in this stage of my life —education, relationships, and career-building".
Your gifts on United Methodist Student Day, enables The United Methodist Church to supports the Gift of Hope Scholarship so that students can prepare for life in uniting faith with knowledge.
Students are the future of The United Methodist Church (UMC). Unfortunately, higher education keeps growing more and more expensive and less accessible each year. By investing in our students, the Church helps us realize the potential in students like me who will one day pay the investment forward to society.
While at Oberlin College, King-Nobles founded Effective Altruism, Oberlin, a chapter that is part of the wider the Effective Altruism movement. Members of the group meet and discuss different ways to have a positive impact, volunteer, schedule speakers, and donate to the projects. He is also involved in the Oberlin animal rights group which works to decrease systemic animal abuse in various modern industries. The group's activities also include lobbying corporations to improve the conditions of the animals they source, volunteer at animal sanctuaries, and other activities.
"Oberlin College has given me a solid foundation in both philosophy and computer science, with a combination of hard and soft skills that are broadly applicable. Perhaps more importantly, it has further inspired my focus on social impact and opened my eyes to different problems in the world that I hadn't considered before," said King-Nobles.
"My largest consideration in choosing a career is how much good I expect it to be able to do in the world. "I am spending a lot of time thinking about the next steps and what I hope to accomplish with my life. I'm not sure about the finer details, but I know I want to spend it working for "the least of these." " I hope to be able to find a job that allows me to have a large positive impact on the world, either by working at some pre-existing nonprofit or by founding a new one.
Thank you for your faithful giving to the United Methodist Student Day offering. Your gifts help students like King-Nobles create a better world.
Elsie Cunningham, freelance writer, UMCom retiree, now living in Jamaica
One of six churchwide Special Sundays with offerings of The United Methodist Church, United Methodist Student Day calls the church to support students as they prepare for life in uniting faith with knowledge. The special offering provides scholarships for qualified United Methodist applicants.
When you give generously on United Methodist Student Day, you support students as they prepare for life in uniting faith with knowledge. Give now.