"I had a tingle," is how 10-year-old Miranda Braswell (Shiloh United Methodist Church, Gaston, N.C.) describes the moment she found out she was going to be able to help hundreds of others in need for her birthday.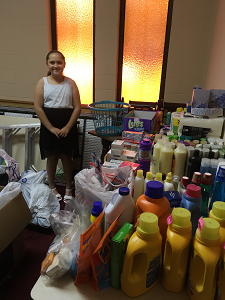 Miranda Braswell received so many donations that she had to borrow a room at the church to store the items. Photo courtesy of Michele Braswell.
That's right. Instead of receiving birthday presents, Miranda decided to give. It's something she's done the past two years.
For her ninth birthday, Miranda collected stuffed animals, coloring books and letters to create gift baskets for children hospitalized at Halifax Regional Medical Center.
She wanted to continue the tradition of helping others this year, so she asked her mom, Michele, about other non-profit organizations in their community.
After a rundown, Miranda decided to help Angel's Closet (an ecumenical ministry that focuses on the needs of school children), Hannah's Place (dedicated to helping prevent and eliminate domestic violence and sexual assault), and the local Department of Social Services.
Michele helped her daughter set up meetings with the local organizations so she could get their permission to collect donations.
When word got out, so many donations started pouring in that Miranda had to borrow a room at the church to store the items. Soon it began to overflow.
In the end, Miranda collected $450 in monetary donations, 225 personal care items, 175 food items and 40 large bags of clothing. She divided the donations and delivered them to the organizations.
Hannah's Place was so impressed, they contacted the local newspaper. Miranda was reluctant to tell them her story until Michele reassured her that it would inspire others to be selfless.
"It makes me feel good to help others," Miranda explained. "God expects me to do it. Some people need more things than others."
Miranda is not alone. Other children who attend United Methodist churches have traded traditional birthday bashes for donation drives.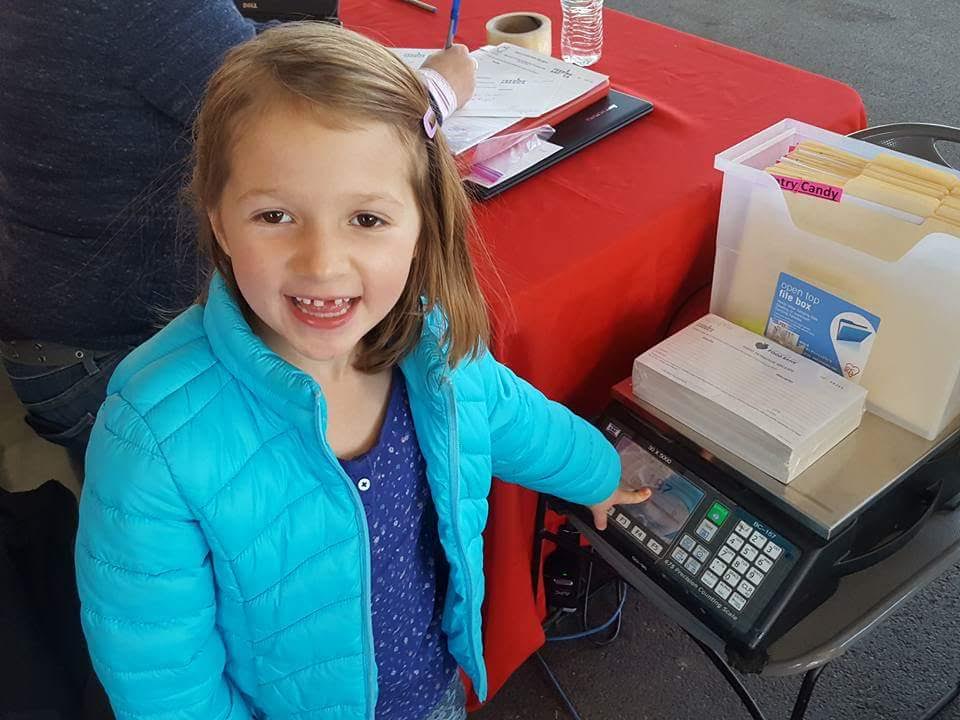 Ronyn Kelley wanted to collect items for a food bank for her birthday. Photo courtesy of the Kelley family.
During a Wednesday night service at church, little Ronyn bravely stood in front of the congregation and asked them for their help.
"I wasn't really scared," she said. "I was nervous - between nervous and happy."
On December 2, Ronyn delivered 192 pounds of food and enough monetary donations to provide 360 meals to Share Your Christmas, an annual televised food drive for the Chattanooga Food Bank that is hosted by a local TV station.
"I felt great because I got to donate all that food to the people that actually needed it," said Ronyn.
Ronyn encourages other children to use their birthdays as an opportunity to help those in need. "I would say that children need to do something else than ask for presents for yourself," she said. "It is a good idea to help other people than be selfish and have all the presents."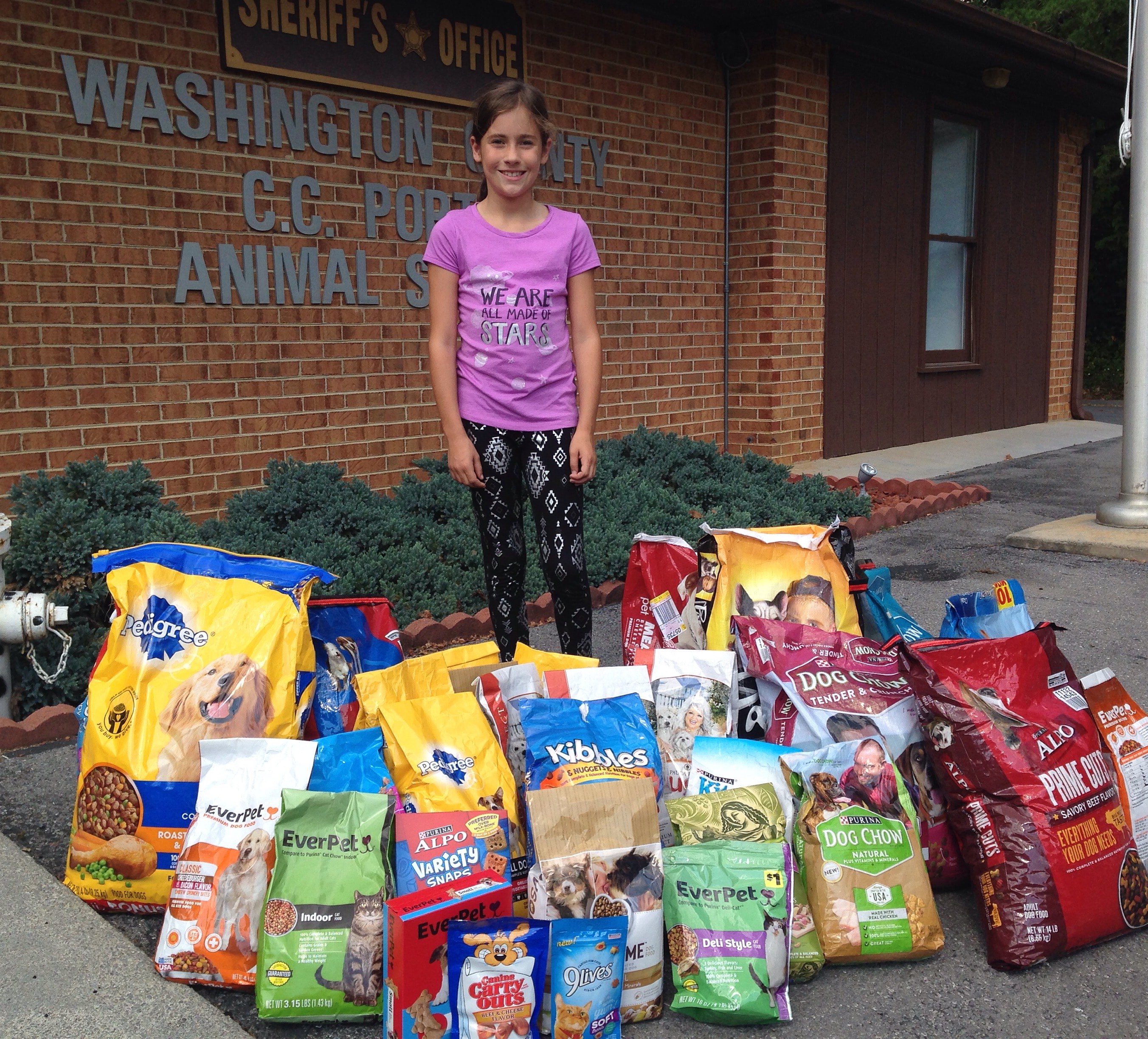 Marley Jane Musser collected about 30 bags of food for the Washington County C.C. Porter Animal Shelter. Photo courtesy of the Musser family.
Another child making a difference is Marley Jane Musser (Damascus United Methodist Church, Damascus, Va.). Marley Jane turned 10 last September. For the second year, she asked her friends and family to bring bags of cat and dog food to her birthday party instead of presents.
She then donated that food, about 30 bags, to the Washington County C.C. Porter Animal Shelter.
"I've always loved animals, and I just felt that I already had a lot of stuff," explains Marley Jane, whose pet family includes a cat and two dogs, one of whom was rescued from a shelter. "I was happy to do that. The animals need all the help they can get."
Marley Jane says she felt sad at first when delivering the food to the shelter, seeing all of the animals without a home. "But then I felt really good because I knew I was helping them and the shelter out," she adds.
Pet food tops of the list of animal shelters' wish lists, so Marley Jane's donation was a welcome donation. "They were really surprised and grateful," said Marley Jane. "The food came at a good time because they said their food supply was low."
The soon-to-be 11-year-old plans to make pet food collection a birthday tradition, one that she hopes grows in quantity each year. "If more kids do this, then it could help out their own shelters too," says Marley Jane.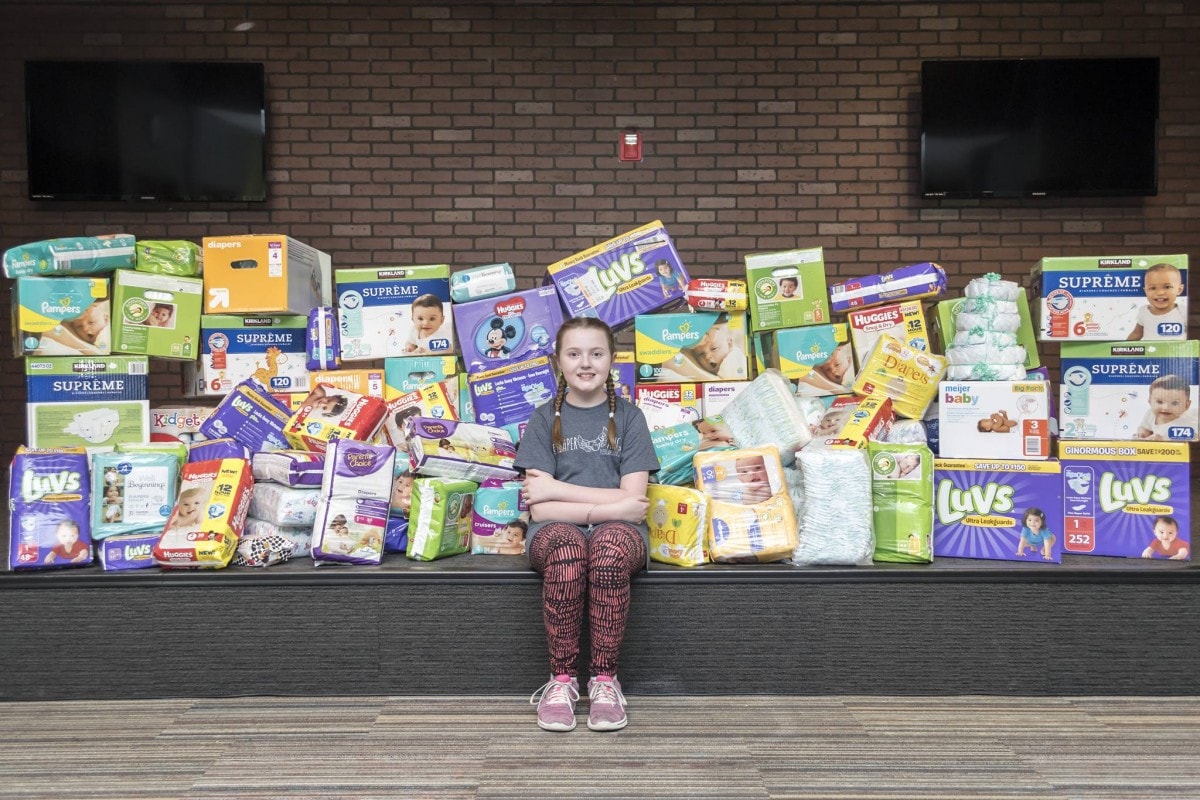 Kayla Smith hopes to have a storage warehouse for Diaper Angels, part of the National Diaper Bank, a network of 300 community-based diaper banks. Photo courtesy of the Smith family.
Eleven-year-old Kayla Smith (Jerome United Methodist Church, Plain City, Ohio), also planned to help a local animal shelter for her birthday, but she pivoted during a discussion on the way to church. She asked her mom, "Why not diapers?"
Kayla and her mother, Amy, spearhead the Diaper Angels ministry at their church.
"It was my mom's friend who really started it," said Kayla. "She had a baby and noticed the need for diapers and how they are really expensive."
For her tenth birthday, Kayla's goal was to collect 10,000 diapers. She received 12,000. This year, her goal was 15,000 diapers. She exceeded it again by collecting 16,000.
"The funniest part was every day we'd get diapers in the mail. The mailman was like, 'Why is she getting so many diapers?'" Kayla laughed.
She's just getting started. Her goal is to one day have a storage warehouse for Diaper Angels, which is part of the National Diaper Bank, a network of 300 community-based diaper banks.
"I think it will be even bigger. Our goal is to have a Huggies truck delivered," said Kayla. "To receive a truck of Huggies, we have to have a loading dock. So the goal is to one day have a storage warehouse."
Here's Kayla's advice: "Just go with what your heart tells you to do."
Miranda, Ronyn, Marley Jane and Kayla were featured on The United Methodist Church Facebook page as part of summer 2017's #AmazingUMCKids campaign.
*Natalie Bannon is a freelance writer based in Nashville, Tenn. Media contact at United Methodist Communications is Laura Buchanan, at 615-742-5413.