Elena Villarreal is an award-winning hunger hero at just 14 years old.
But why wouldn't she be after all the work she's put into helping Bethlehem House of Bread, a United Methodist Ministry sponsored by the Tigard United Methodist Church.
Bethlehem House of Bread started in 2013 in what was once Metzger UMC southwest of Portland.
Elena has been volunteering her time at the food pantry and community center since she was in 5th grade as part of her Girl Scouts volunteerism. She's working on her silver award. But her time spent at Bethlehem House of Bread has meant more to her than just working toward an award.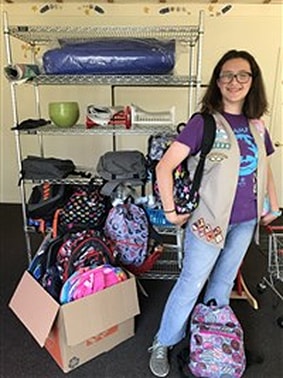 Elena Villarreal stands in front of sign at Bethlehem House of Bread. Courtesy photo.
"I'm excited to help my community and Bethlehem House of Bread is a really cool place," she said.
Bethlehem House of Bread provides food, but also garden beds and classes on healthy cooking and gardening, along with other ministries. Last month they served 333 families, or 1,300 individuals.
"We feed people physically, but we want to feed spirits as well," said coordinator Linda Dove.
Elena's volunteerism really kicked into gear a year ago, when she decided to help the community center convert former preschool rooms into a Free Store and hospitality room. But she didn't do it alone.
Most 13-year-old girls want some sort of party for their birthday. Not Elena. She asked her friends to come volunteer their time painting the room, stocking the food pantry and organizing supplies.
"I was like, 'hey, let's do something cool instead,'" Elena said.
There were 10 young people painting and spiffing up the place.
"What 13-year-old gives up a birthday party to help someone else?" Dove said. "I think this is just something she takes to heart."
Elena and friends did walk over to the nearby pizza place after, though.
"It all paid off in the end," she said, laughing.
Elena's interest in BHOB comes from having attended preschool at the former Metzger church and she attended the nearby Metzger Elementary school. She's being raised Catholic and lives in Tigard. But she always remembered the preschool and had fond memories from her time at the elementary school, so it was easy for her to pick Bethlehem House of Bread as her Girl Scout focus.
She'll be given her Hunger Hero award at the Bethlehem House of Bread fundraising auction on May 4.
"I never expected to get an award for this," she said. "I just wanted to help out."
Kristen Caldwell, Oregon-Idaho Annual Conference