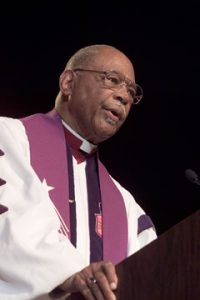 Bishop James Thomas speaks during a service of repentance for racism at the United Methodist Church's 2000 General Conference in Cleveland. He died Oct. 10 at age 91. A UMNS file photo by Mike DuBose. http://archives.gcah.org/bitstream
/handle/10516/2159/8801995.htm?sequence=3
Educator and Leader for Abolishing the Central Jurisdiction
Thomas was born in Orangeburg, South Carolina, and was ordained and became an elder in the South Carolina Conference of the Central Jurisdiction in 1944. After serving as a pastor, he taught at Gammon Theological Seminary. He became associate director of the Department of Education Institutions of the Board of Education of The Methodist Church in 1953. During these years, he wrote thoughtful articles about the Central Jurisdiction, suggesting that its existence contradicted American principles of equality.
Thomas was chair of the Committee of Five, which was created by the 1960 General Conference to develop a plan of desegregation for the denomination. The committee was the group that initiated the call to the Central Jurisdiction's leaders to discuss desegregation. The meeting that took place in Cincinnati in March 1962 was decisive in the approach the church finally took toward desegregation. By rejecting the previous plan that divided the Central Jurisdiction among the other jurisdictions, the conference effectively called for the abolition of the Central Jurisdiction.
Thomas was elected bishop in 1962 and was assigned to the Des Moines Area of the Iowa Conference in the North Central Jurisdiction. He subsequently served as bishop of the East Ohio Conference, from which he retired in 1988. He published Methodism's Racial Dilemma in 1992.
Taken from Linda Gesling, Mirror and Beacon: The History of Mission of The Methodist Church, 1939-1968. (New York: General Board of Global Ministries, The United Methodist Church, 2005), p. 292.