The Navajo Nation encompasses 27,000 square miles in Utah, New Mexico and Arizona. There are approximately 174,000 people living on the Navajo Nation reservation. The reservation currently has the 3rd highest infection rate per capita in the United States (only New York and New Jersey have higher rates of infection).
As of April 20, there were 1,321 COVID-19 cases confirmed and 45 deaths. Attempting to reduce the infection rate, the Nation's government has imposed travel restrictions, nightly curfews, stay-at-home orders and weekend shut-downs. Many reservation residents are having difficulty obtaining food, water, cleaning supplies and infant supplies. This is a humanitarian crisis, and Mountain Sky Conference is responding.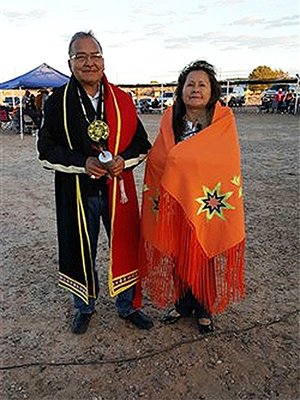 Photos courtesy of Pastor Jean Schwien.
The MSC Disaster Relief committee is granting $15,000 to the newly formed Navajo Nation COVID Relief program; CONAM (Committee on Native American Ministries) is granting $2,500. The relief project will be managed by our own conference's Native Grace Intertribal Fellowship (in Cortez, CO), and First UMC of Cortez--in coordination with the Chapter Houses and official Navajo Nation representatives.
Your gifts on Native American Ministries Sunday helps support the ministries of the Committee on Native American Ministries in their annual conferences. This offering serves to remind United Methodists of the gifts and contributions made by Native Americans to our society.
Our target area will be southeastern Utah since that is encompassed in MSC territory. The New Mexico and Desert Southwest Conferences are responding in New Mexico and Arizona portions of the Navajo Nation. If resources allow, we will expand into northern New Mexico and northern Arizona (Native Grace Fellowship members live in all these areas. Some drive as much as 2 hours each way to attend Native Grace worship services).
Pastor Norman Mark and Becky (left) and the Native Grace Leadership Council will identify needed items and work with Navajo Nation officials to identify families in need. Boxes of supplies will be packed in Cortez, then delivered to homes on the Nation. Pastor Jean Schwien and First UMC of Cortez congregation will assist with ordering and organizing supplies and fiscal management. Please keep the Navajo Nation in your prayers, as well as Native Grace Fellowship and First UMC of Cortez, and Pastors Norman Mark and Jean Schwien.
Native Grace is a ministry by and for Native Americans, hosted by First United Methodist Church in Cortez, Colorado. Native Grace is intertribal and intentionally connects Native traditions with the Christian faith in a safe, accepting, and non-threatening setting.
Pastor Jean Schwien, Cortez, First UMC

One of six churchwide Special Sundays with offerings of The United Methodist Church, Native American Ministries Sunday serves to remind United Methodists of the gifts and contributions made by Native Americans to our society. The special offering supports Native American outreach within annual conferences and across the United States and provides seminary scholarships for Native Americans.
When you give generously on Native American Ministries Sunday, you equip seminary students who will honor and celebrate Native American culture in their ministries. You empower congregations to find fresh, new ways to minister to their communities with Christ's love. Give now.