Missionary, Peacemaker, Activist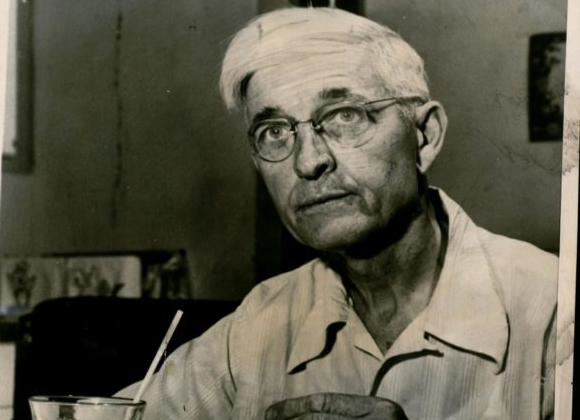 Although exempt from military duty because of his pastoral duties in Vinton, Kansas, Ralph Templin waived that right and became a "Preacher-Soldier" in the 4th U.S. Navy Aero Squadron in 1917. After his return from World War I, Templin entered Southwestern College in Winfield, Kansas. In 1920 he graduated and married Lila Horton, and moved to Boston, Massachusetts. Over the next four years, he earned two degrees at the Boston University, a Bachelor's of Sacred Theology and a Master of Arts that focused on "The Problem of Moral and Religious Education in the Public Schools."
Upon graduation, the Methodist Episcopal Church sent the Templins to India as missionaries. They began in education in 1925, developing a cooperative method that allowed older boys to work and learn alongside others as they built various structures for local villages. Indian nationalism and the nonviolent techniques of Mahatma Gandhi inspired the Templins, and they became ardent supporters of the movement. When asked to take a loyalty oath to do nothing against the interests of the British Empire, they refused. Thus, in 1940 their missionary service came to an abrupt end.
The practice of nonviolent direct action inspired the Templins and Jay Holmes Smith, another Methodist missionary ousted from India. Together they opened the Harlem Ashram in New York City at an intersection of African American and Puerto Rican neighborhoods. The Ashram became a home and center for a number of radical Christian peace activities. Many of the residents were affiliated with the Fellowship of Reconciliation (FOR) and the Congress of Racial Equality (CORE). The interracial community included African Americans such as Pauli Murray, James Farmer, and Wilson Head. It also attracted white pacifists such as John Swomley, Ruth Reynolds, Abraham Zwickel, and Jean Wiley. Other prominent people in the early civil rights movement, such as Bayard Rusin, were frequent visitors.
In 1941, the Templins moved from the city to an agrarian community in Suffern, New York, where Ralph Templin took over the experimental School of Living. The school was the centerpiece of a community of 16 families, who had heeded Ralph Borsodi's call to rebirth Jeffersonian democracy, break free of large corporations, and reconfigure American social life. The school was an adult, practical, life-long learning program that aimed to integrate economic, religious, moral, and political realities in daily practice.
In 1946, Templin completed his Ed.D. from Columbia University and shortly thereafter moved to Yellow Springs, Ohio, where he operated a similar School of Community Living. Even as he was hard at work homesteading, Ralph Templin stayed connected to other radical pacifists. In 1948, he helped found Peacemakers, an organization committed to nonviolent resistance, particularly to the draft and taxes.
Later that year, Templin broke the color barrier and became the first white faculty member at the historically black Central State University in Wilberforce, Ohio. While there, he also became the first white clergyman to be received into the all-black Central Jurisdiction of the Methodist Church. Templin remained at Central State University until his retirement in 1968, teaching sociology.
His concerns were never limited to black-white relations. The Puerto Ricans that Templin met in New York on the heels of his expulsion from India made him aware that the United States practiced its own version of colonialism. Templin became outspoken about American policies in Puerto Rico. He lobbied for independence, wrote about it, and even went on a hunger strike to draw attention to the incongruity between America's language about freedom and its actual practice in the Caribbean.
When called to appear before the House Un-American Activities Committee in 1965, Templin simply refused to appear. He was convinced, as he had been in India, that he was responsible to a higher authority.
This article is taken, with permission, from the History of Missiology: http://www.bu.edu/missiology/missionary-biography/t-u-v/templin-ralph-t-1896-1984/
Bibliography
Primary
Templin, Ralph T. The Kingdom of God Movement in Japan. S.l: s.n., 1936.
Symposium, Is Puerto Rico Fully Self-Governing? Cedarville, Ohio: Ralph Templin, 1953.
"The Role of Education in the Human Community." Journal of Human Relations, Vol. 11, Nr. 4,5. Wilberforce, Ohio, 1963.
Democracy and Nonviolence: The Role of the Individual in World Crisis. An Extending Horizons Book. Boston: P. Sargent, 1965.
Democracy and Nonviolence. the Role of the Individual in World Crisis. Boston, Mass.: Porter Sargent, 1965.
American's Manifesto on Our Unfinished Business of Colonialism: A Call to Free Puerto Rico Now. Cedarville, Ohio?: Author?, 1967.
Secondary
Appelbaum, Patricia Faith. Kingdom to Commune: Protestant Pacifist Culture between World War I and the Vietnam Era. Chapel Hill: University of North Carolina Press, 2009.
Friedman, Andrea. "The Empire at Home: Radical Pacifism and Puerto Rico in the 1950s." In A New Insurgency: The Port Huron Statement and Its Times. Edited by Howard Brick and Gregory Parker. Ann Arbor, MI: Maize Books, 2015.