Missionary Worker in Quéssua, Angola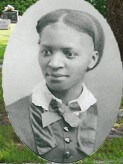 Photo courtesy of Garrett-Evangelical Theological Seminary
Susan Angeline Collins was the daughter of Isaac Collins, who was born in North Carolina in 1808, emancipated in 1845, and served in the Civil War from 1864-1865, and Sarah Ann Joiner Collins, who was born in 1825 and emancipated in 1839. Susan was their fourth daughter. As a young woman, she worked for a pastor, who encouraged her to attend Upper Iowa University for Normal Training. At the age of 24, she enrolled and became the university's first African America student. Later, while living and working as a laundress in the Dakota Territory, she noticed among some clothes wrapped in newspapers an ad for foreign missions training in Chicago. In 1886, she sold her laundry business and moved to Chicago to attend the Chicago Training School.
In 1887, at age 36, she was recruited as a missionary by Bishop William Taylor, the first American missionary bishop of the Methodist Episcopal Church in Africa. The same year, she set sail to the Congo near Banana Point. After two years, Susan went to Angola, beginning her service in Dondo.
From 1889 to 1900, Susan served in Malange, Angola, then relocated to Quéssua, Angola, where she taught and established a school for girls, which eventually grew to house more than 50 boarding students. After nearly 13 years in Africa, Susan returned to America and was told that, because of her age, she would not be able to serve as a missionary to Africa any longer. She spent the bulk of 1901 raising money to support a return trip and, with the help of the Pacific Branch of the Woman's Foreign Missionary Society, returned in 1902, at the age of 50, to Quéssua and stayed another 18 years.
In 1895, she wrote: "Praise God for continued health, and strength, and contentment in the work that He has given to me to do…You may imagine my surprise and delight when I found that the new missionaries who came last fall were all from the training school."
Reprinted with permission from "Susan Angeline Collins," The Center for the Church and the Black Experience, Garrett-Evangelical Theological Seminary.
Bibliography
Garrett sources this article to The Message and Deaconess Advocate; "Official Journal of the North Central Africa Mission Conference;" and "Susan Collins, from the Lima/Albany and Fayette County, Iowa, an extremely successful M.E. Missionary for 33 years in Quessua, Angola, Africa," http://www.iowaz.info/surname/collinssusan.htm
See also, Upper Iowa University Blog, The Bridge Online. Dec 12, 2014 post, https://uiubridge.com/2014/12/12/susan-angeline-collins-grace-gumption-and-grit/#prettyPhoto