A group of female students at Africa University have established a scholarship fund as a way of celebrating their diversity and unity.
Your support of the Africa University Fund apportionment supports the general operating expenses of Africa University including faculty and staff salaries and vital infrastructure.
It's a university tradition for the students housed in the various residence halls on the campus to plan and host a community-building event at the start of each academic year. Typically, students host a party or a BBQ or go out on a sightseeing trip to break the ice and get to know each other better.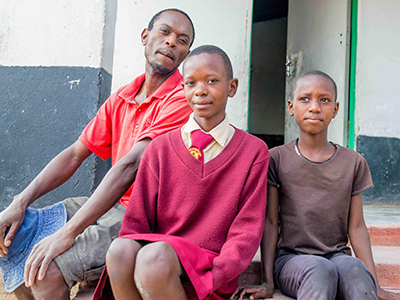 Helen Murinda seated with her sister and Dad. Photo credit: Office of Advancement and Public Affairs (OAPA), Africa University.
However, the 72 young women who reside in the Ben Hill dormitory—constructed in 2003 by the Atlanta-based Ben Hill United Methodist Church congregation—decided that their 2019 community building initiative would change a life and inspire others.
"We wanted to do something different and to have a positive impact on someone's life…our intention was to motivate the other women in our hostel to see the value and importance of community work," said Nyarai Mungure, who serves as resident assistant in the Ben Hill dormitory.
More than 50 percent of the women contributed to the initiative. The students pooled their financial resources and identified a family in need in wider community. They selected a child in that family, tenth grader Helen Murinda, to receive medical supplies, school tuition fees, and encouragement.
For the Murinda family, the essentials of life—food, housing, education and medical care are a challenge. Helen's father, a painter by profession, was retrenched by his employer in 2017. The following year, her mother died of cancer. Currently, keeping up with her school work is a struggle for Helen because an old injury to her leg has not healed properly and is causing her a great deal of pain.
The students are collaborating with the staff of the Bishop Alfred Norris Health Clinic and Africa University Peer Educators Network to provide Helen with ongoing care and supplies. They have also committed to paying Helen's tuition fees until she graduates from high school.
"I do not want this initiative to end with us but to be something continuous that we as a (dormitory) adopt as a part of our community building because building a community does not only imply the Africa University community but also the larger community in which we live," said Mungure.
Adapted from an article by Jeanette Dadzie, staff of the Office of Advancement and Public Affairs at Africa University.
One of seven apportioned giving opportunities of The United Methodist Church, the Africa University Fund transforms Africa by educating and empowering students from across the continent through Africa University, the first fully accredited, United Methodist-related educational institution on the continent. The Africa University Fund supports the general operating expenses of Africa University including faculty and staff salaries and vital infrastructure. Please encourage your leaders and congregations to support the Africa University Fund at 100 percent.